BACK TO BLOG
Decorations in Biltmore House: Christmas 2020 by the Numbers
Holiday Traditions

10/26/20
Written By Amy Dangelico
Join us for a very special Christmas at Biltmore this year as we mark the 125th anniversary of George Vanderbilt first opening the estate to his friends and family on Christmas Eve 1895. In honor of this milestone in our history, this year's theme for decorations in Biltmore House will be "An 1895 Christmas," with a focus on Vanderbilt holiday traditions—especially those that provide a sense of calm and comfort.
Estate archives offered insight to the theme, including George Vanderbilt's request for "barrels of mistletoe and wagonloads of holly" to adorn his new home. Look for holly garlands throughout, plus plenty of classic Christmas reds popping up in the decorations in Biltmore House this year, like bright berry trees in the Vestibule and Entry Hall and deeper claret and burgundy tones in the Tapestry Gallery.
Let's take a closer look at the sheer amount of décor displayed at Biltmore this Christmas season.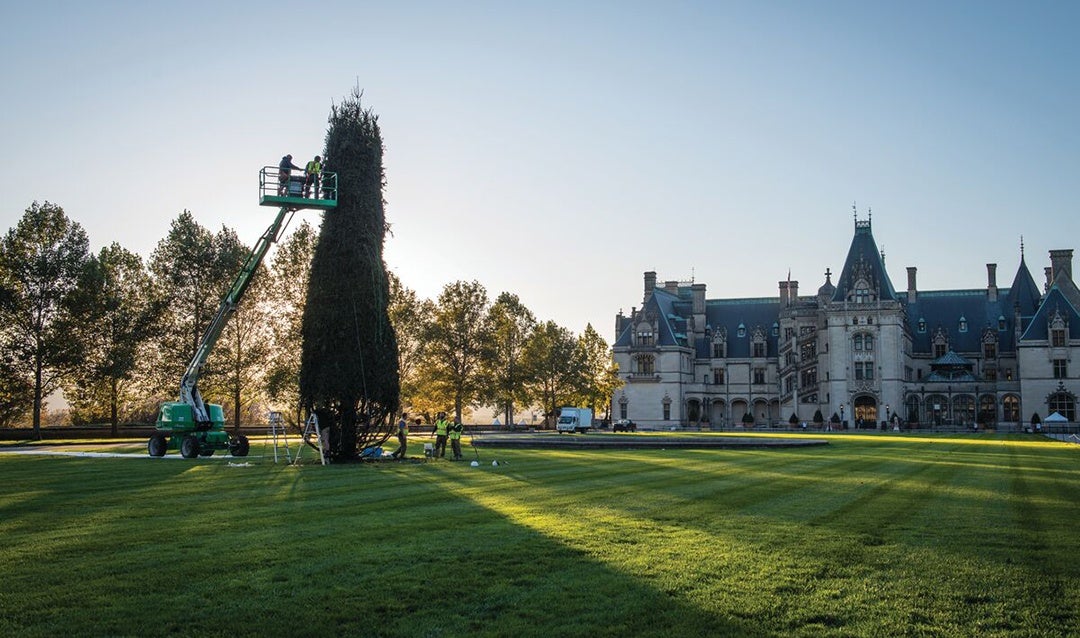 Christmas Trees
There are 55 hand-decorated Christmas trees in Biltmore House for the 2020 celebration.
The smallest tree in America's Largest Home® is a tabletop tree in the Morland Room.
The largest tree is, of course, the Vanderbilt traditional fresh 35-foot-tall Fraser fir in the Banquet Hall.
A lit 55-foot-tall Norway spruce encircled by 36 illuminated evergreens and shrubs decorates the Front Lawn of Biltmore House for Candlelight Christmas Evenings.
A total of 52 additional decorated Christmas trees are at other estate locations, including Antler Hill Village, our Winery, The Inn on Biltmore Estate®, and estate restaurants. The Conservatory will feature Christmas tree-shaped planters with potted plants and other natural materials.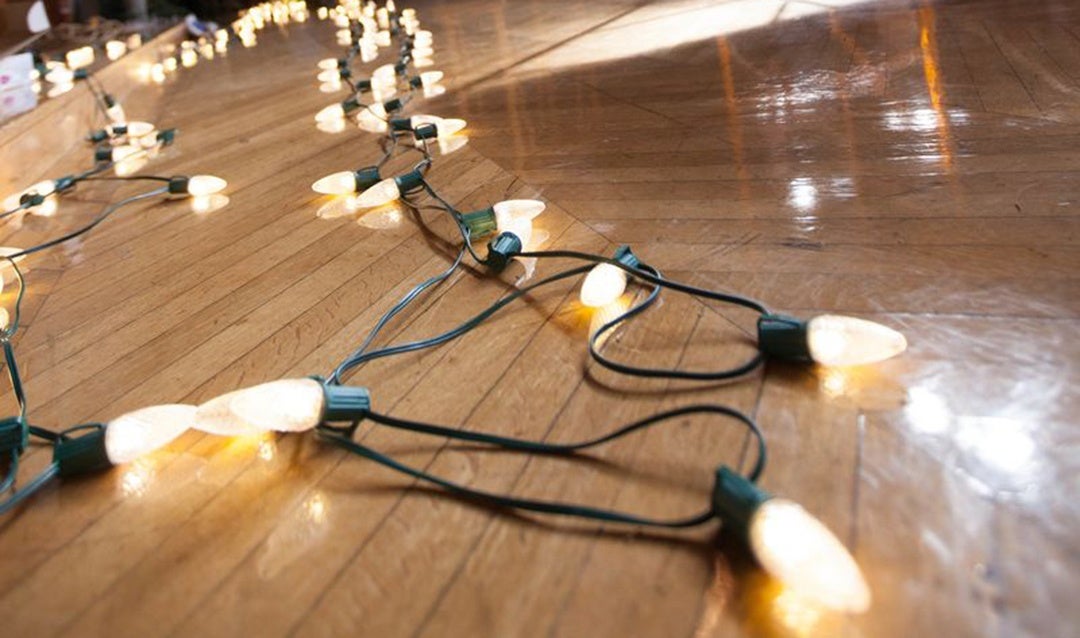 Lights & Candles
There are around 45,000 lights and 150 candles inside Biltmore House. Approximately 135,000 LED and mini lights twinkle around the estate.
More than 55,300 lights illuminate the Front Lawn tree. An additional 33,280 are used on the surrounding trees and shrubs.
Hand-lit at dusk, 250 luminaires line the driveway and Esplanade in front of Biltmore House, welcoming guests for Candlelight Christmas Evenings.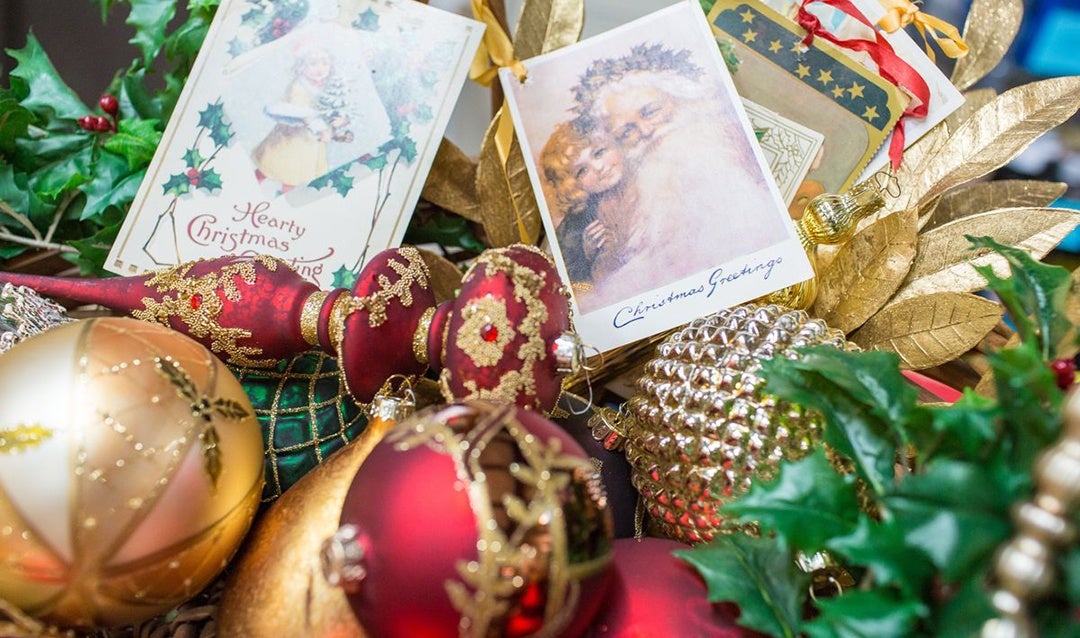 Ornaments
The Banquet Hall tree is trimmed with 500 ornaments and 500 LED Edison-style electric lights, along with an abundance of gift boxes.
Around 13,870 ornaments are hung on the other trees in Biltmore House, and another 13,000 are used to add holiday cheer around the estate.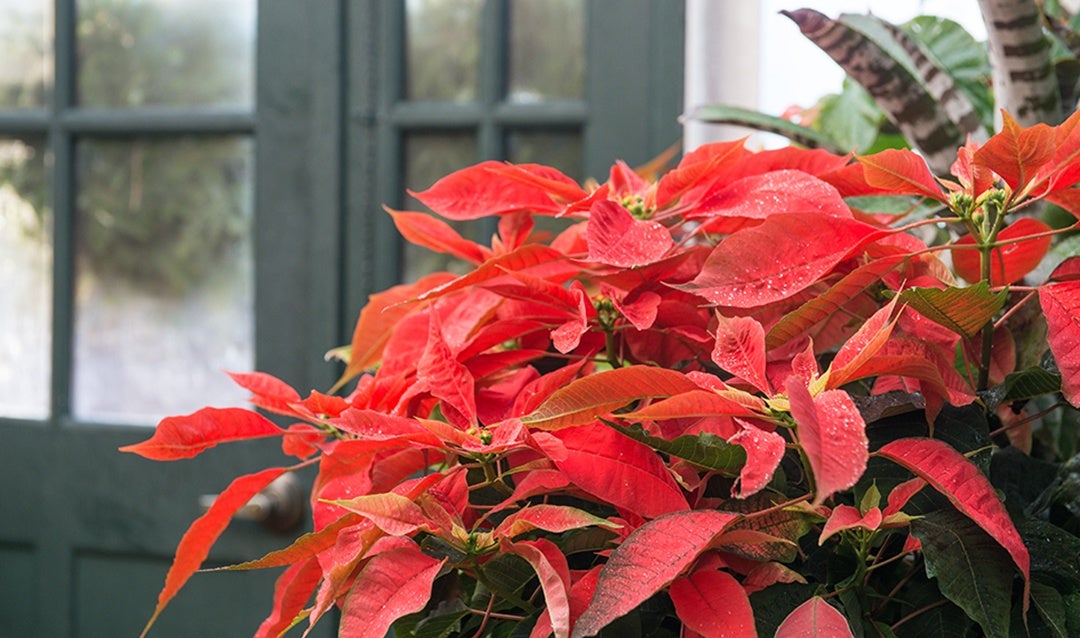 Poinsettias & Other Blooms
There are more than 1,200 traditional poinsettias on display throughout the estate—about 150 of which are part of decorations in Biltmore House. Other familiar holiday plants and flowers include amaryllis, Christmas cactus, bromeliads, orchids, peace lilies, cyclamen, begonias, and kalanchoe.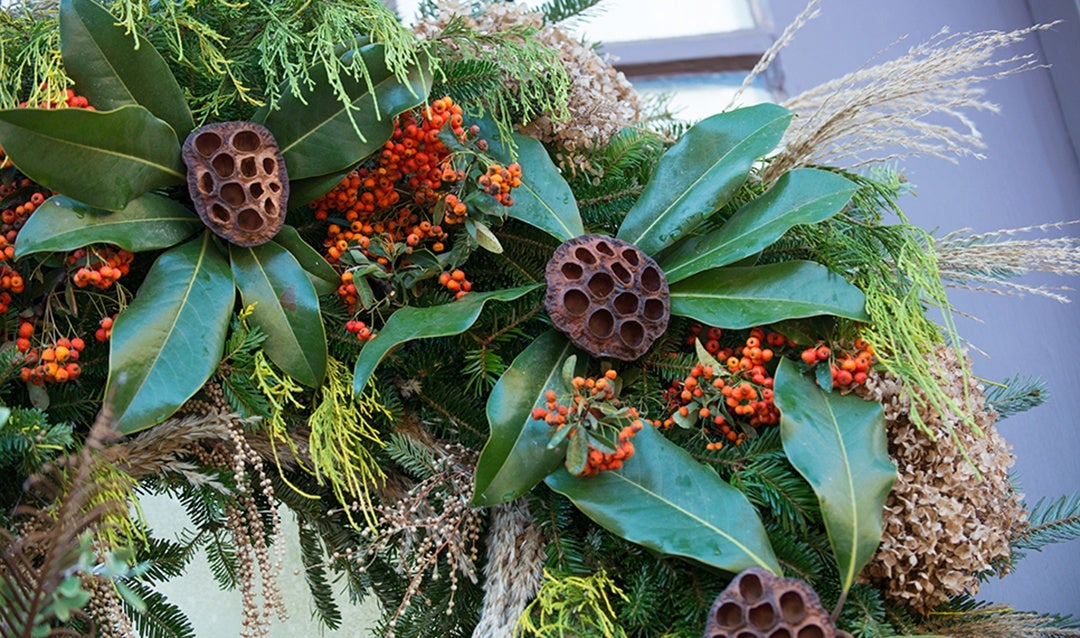 Wreaths
About 225 fresh wreaths and sprays, along with 90 faux pieces, used as decorations in Biltmore House and around the estate for the season. Our wreaths are made of fresh white pine and Fraser fir and they are ornamented with golden arborvitae, holly, or other natural materials such as twigs and cones. Artificial bases are decorated with ornaments, berries, faux flowers, and ribbon.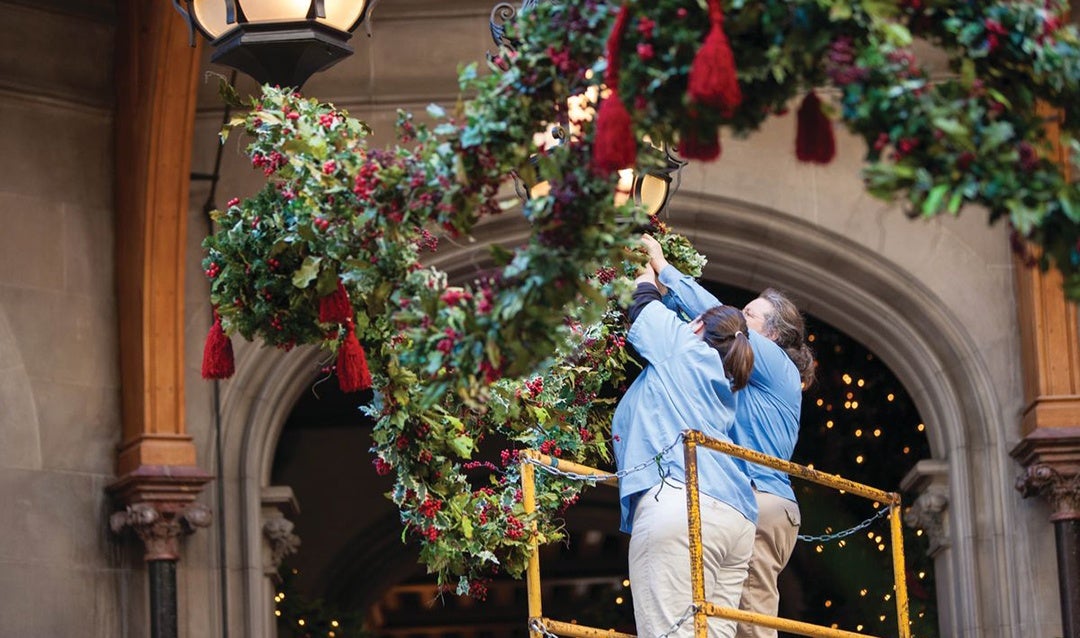 Garlands
About 3,120 feet of fresh evergreen garlands, made of mixed white pine and Fraser fir, are used during the season. The garlands are replaced weekly to maintain a fresh look and fragrance for our guests.
Faux garlands add another 1,000 feet in Biltmore House and around 1,800 feet in other estate areas.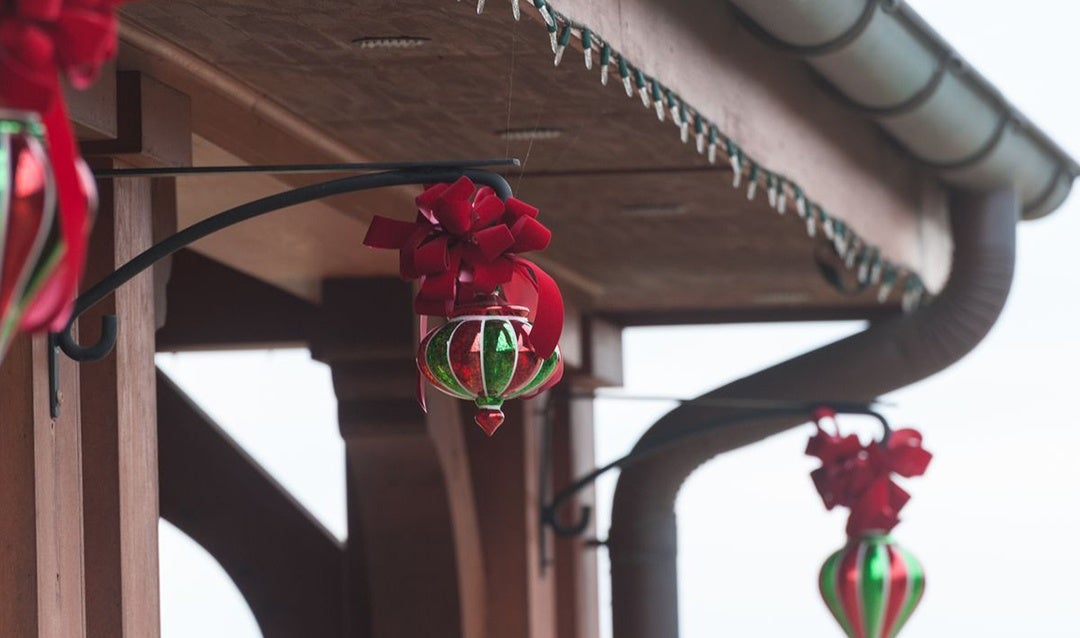 Ribbons & Bows
There are about 600 handmade bows used in decorations in Biltmore House with an additional 1,200 across the estate. Everything from narrow cording to 8-inch-wide ribbons is used to make the bows, which are decorated with velvets, metallics, satins, burlap, and printed cottons.
The amount of ribbon needed to make a bow ranges from 5 yards for a bow used on the fresh garland on the Grand Staircase, to 15 yards to make a tree-topper bow for a 16-foot tree you might see in the Tapestry Gallery or Banquet Hall.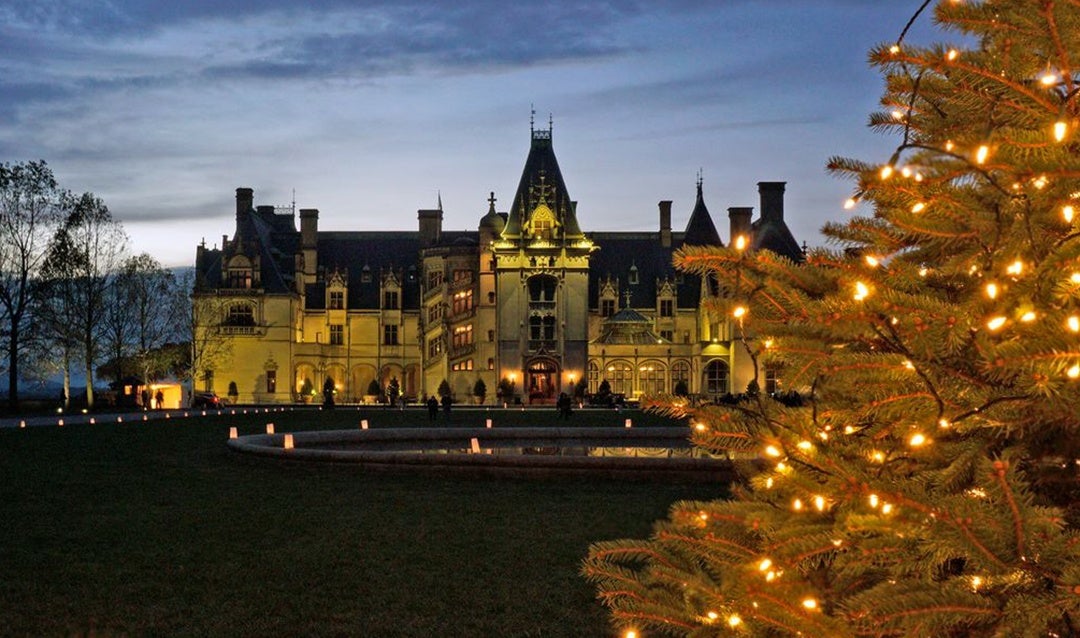 We invite you to join us in marveling at the festive decorations in Biltmore House and across the estate as we honor the anniversary of this beloved celebration. Christmas at Biltmore Daytime Celebration and Candlelight Christmas Evenings each offer comfort, joy, and peace of mind in the traditions that have enchanted Biltmore's guests for 125 years. Availability is limited; reserve your visit today to secure your preferred dates!
Please note all images used in this blog post are from Christmases past.