Christmas at Biltmore is set to begin Nov. 3, 2023
Guests are invited to enjoy the enchantment of the holidays at Biltmore, with its dazzling array of twinkling lights, glittering ornaments, and dozens of hand-decorated Christmas trees. Christmas at Biltmore begins Nov. 3, 2023 and runs through Jan. 7, 2024.
This time-honored tradition dates back more than 125 years when George Vanderbilt celebrated his first Christmas with family and friends in 1895 in his then-new North Carolina home – the 250-room Biltmore House. It offers a one-of-a-kind experience for modern-day guests to connect with family and friends at one of the South's most beloved holiday destinations.
European designs and Vanderbilt traditions influence holiday décor
Given the home's resemblance to French Renaissance-style chateaux, its classic European motif offers the perfect canvas for Biltmore's in-house floral team to create breathtaking holiday décor. Working year-round and behind the scenes, the team pulled inspiration this year from the estate's rich history, the home's architecture and interiors, and the surrounding North Carolina mountain beauty.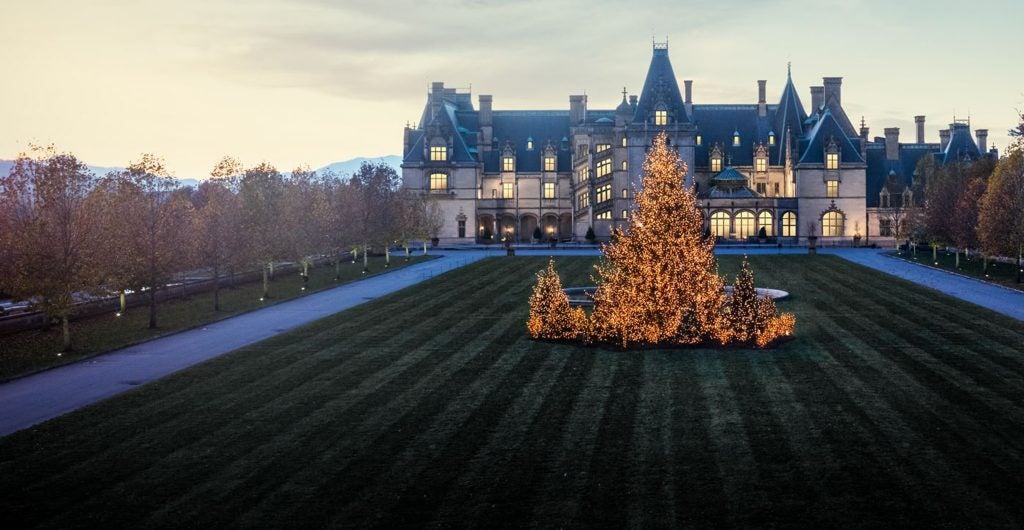 As tradition dictates, the home's massive Banquet Hall is the setting for an elegant 35-foot tall fresh Fraser fir Christmas tree. Every year this tree is adorned with 500 ornaments and 500 lights, a Vanderbilt family tradition dating back to 1895, as noted in Biltmore's archives. Inspired by the yuletide tale, "The Night Before Christmas," the tree and the room will glitter in shades of red, emerald, and gold.
Hallmark's "A Biltmore Christmas"
For something more modern – in terms of the 1940s, that is – the Library in Biltmore House will be dressed in the style of a new Hallmark Channel film premiering this holiday season, "A Biltmore Christmas," which was filmed on the estate in January 2023. Portions of the film are set in the 1940s, so the Library will feature multi-color décor with lots of classic red and green elements, with dramatic cascades of silver-sequined tinsel adorning the room's Christmas tree.
Two Christmas experiences at Biltmore
Two experiences are available to enjoy at Biltmore during the holiday season.
• Christmas at Biltmore Daytime Celebration, Nov. 3, 2023 – Jan. 7, 2024
Biltmore's daytime Christmas experience includes a tour of Biltmore House, the gardens, Conservatory, the Winery, and Antler Hill Village.
• Candlelight Christmas Evenings, Nov. 3, 2023 – Jan.6, 2024
Evenings when Biltmore House is decorated for the holidays offer an Old World charm. With thousands of twinkling lights combined with the scent of fresh greenery, the experience is reminiscent of a bygone era. Setting the scene is a sparkling 55-foot Norway spruce tree in the center of the front lawn, and hundreds of luminaries lining the walkways to the home.
Tickets are on sale now for both of these experiences. Visit this link for more information.
Holiday highlights across the estate
• The Conservatory
Seasonal blooms and an array of tropical plants offer a warm and bright holiday stop inside the Conservatory in the Walled Garden. Displays of poinsettias in multiple colors, amaryllis, Christmas cactus, bromeliads, orchids, and peace lilies fill the historic building.
• Wine tasting and dining
A visit to Biltmore Winery is an essential part of the holiday experience, with complimentary tastings of Biltmore Wines. Biltmore Sparkling and holiday commemorative wines will be available for sale. Estate restaurants offer favorite seasonal dishes and craft cocktails.
• Antler Hill Village illumination
As evening falls over Antler Hill Village, the estate's European-inspired village, a constellation of holiday lights illuminates trees, quaint buildings, the Winery and walking paths. Visits with Santa are offered on the weekends, and select week days.
• Italian Renaissance Alive exhibition – Final Months!
Italian Renaissance Alive wraps you in wonder as you move amid large-scale projections of great beauty and detail of masterpieces created by some of the world's most revered Italian artists and sculptors. Staged at Amherst at Deerpark, a dramatic operatic score elevates the experience. The exhibition closes on Jan. 7, 2024. More information about the Italian Renaissance Alive exhibition is available at this link.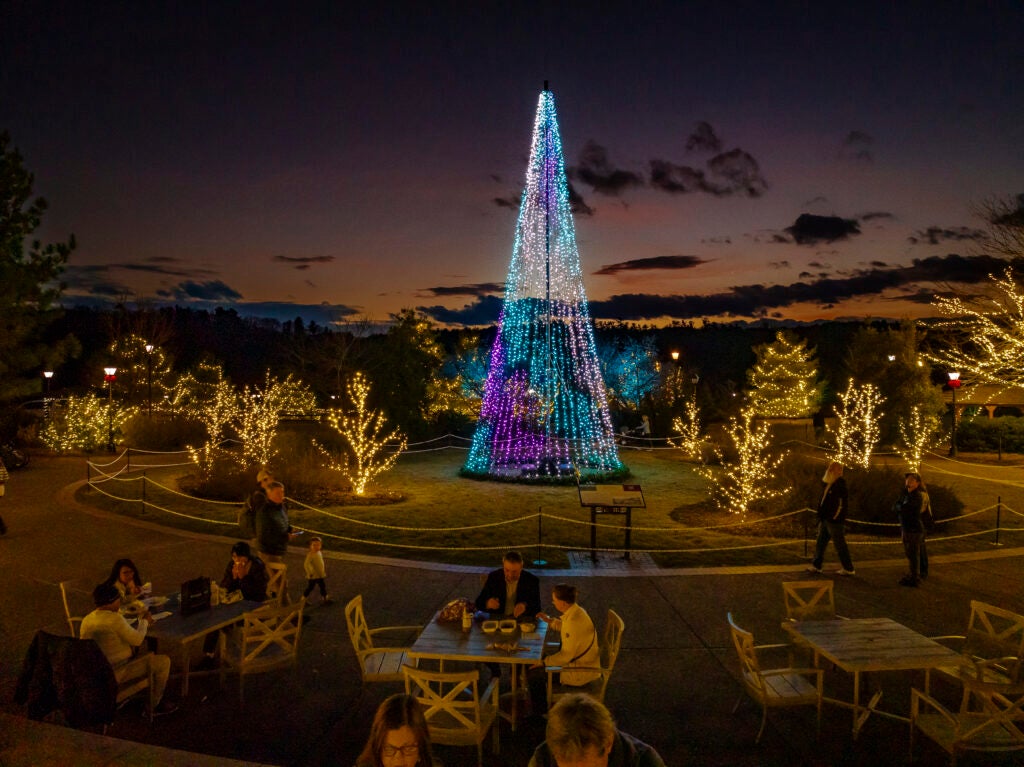 Holiday stays at Biltmore's overnight accommodations
Staying overnight is the ultimate way to experience Christmas at Biltmore. Several special stay packages are available at Biltmore's collection of guest accommodations. Holiday packages are offered at the luxurious four-star Inn on Biltmore Estate and at the cozy farmhouse-feel of Village Hotel, both decked out for the holidays. Historic cottages from Biltmore's agricultural past now accommodate overnight guests. Find out more about staying overnight at this link.
Visit information
For more information about visiting the estate during the holidays and to purchase admission tickets, please visit this link.
—
About Biltmore
Established in 1895 in Asheville, North Carolina, Biltmore is as impressive today as it was more than a century ago. In addition to Biltmore House, the 250-room French château known as America's Largest Home, this beloved National Historic Landmark includes 8,000 acres of gardens and grounds. Comprised of managed forests and farmland, a working vineyard, 20+ miles of nature trails, Antler Hill Village and its shops, restaurants, and award-winning Winery, the estate also features such splendid overnight accommodations as a four-star Inn and a distinctive collection of private cottages. All this, plus seasonal exhibitions, outdoor activities, and live entertainment make Biltmore a one-of-a-kind destination.

Privately owned and maintained by his descendants, Biltmore remains true to George Vanderbilt's original vision: a self-sustaining Blue Ridge Mountain estate and a luxurious retreat amid year-round natural beauty. Whether as a day trip or multi-night getaway, to experience Biltmore is to experience a legacy of gracious hospitality, timeless elegance, and an inspired sense of wonder.