Fall and Christmas at Biltmore 2023: Story ideas for your consideration
From golden afternoons during the fall season to the shimmer of thousands of twinkling lights in Biltmore House during Christmastime, a visit to Biltmore during the next few months offers some of the year's most enchanting experiences. We've put together some story ideas for your consideration. Please let us know if you'd like to learn more!
Fall at Biltmore: A time for extraordinary experiences
In addition to tours of the grand interiors of Biltmore House, Biltmore offers experiences that are perfect for guests who enjoy the great outdoors. With fall's cooler temperatures, it's a great time to explore some of the lesser-known activities offered on the estate.

Horseback Riding allows for a truly a one-of-a-kind experience. Our expert guides lead you and your horse through forests and hillsides to a spot that offers a spectacular view of Biltmore House. Along the way, you'll learn about the estate's equestrian history, and how our horses are cared for.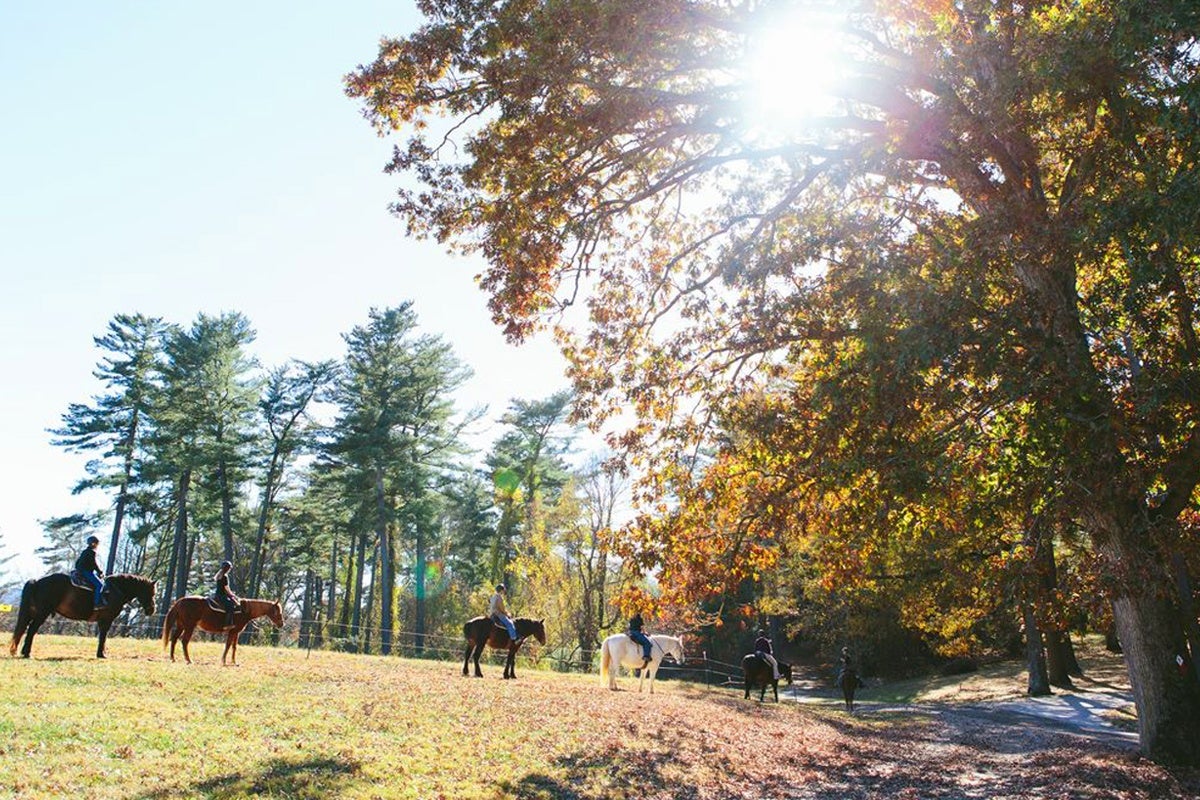 Falconry brings participants close to majestic trained hawks and falcons during this experience. Licensed falconer Jeff Curtis introduces guests to these magnificent birds, and shows how to send a bird flying out to a tree; and then, how to call it back. Guests are provided with a heavy-duty glove for the bird to land and perch on.
Geocaching is a challenging outdoor scavenger hunt through the estate's forests and fields. With a Biltmore guide, participants use a Garmin GPS unit to find hidden caches, and learn wayfinding skills.
Croquet is one of the most authentic Vanderbilt-era activities Biltmore offers. George and Edith Vanderbilt and their guests enjoyed the sport on the lawn near the Italian Garden. Now available in Antler Hill Village, croquet is an easy game to play, and our guides are there to coach players, no matter your skill level.
More about these experiences may be found here.
---
Agriculture and sustainability: Biltmore is turning waste into an asset for the estate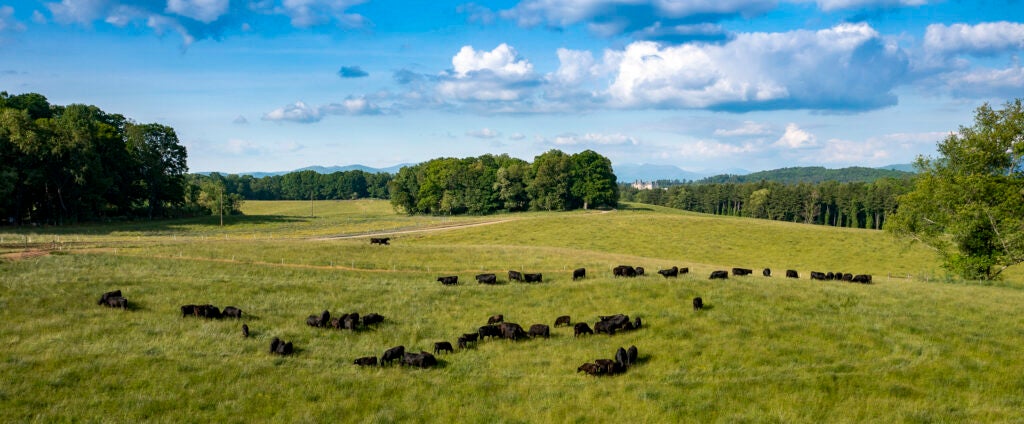 In alignment with Biltmore founder George Vanderbilt's vision of a self-sustaining estate, Biltmore recently installed a centralized on-site composting facility designed to process 1,200 tons of finished compost per year. As in the previous iteration of the estate's composting efforts, Biltmore is continuing to collect horticulture, floral, vineyard and agriculture waste from the estate and composting this material. Now, back-of-house, pre-consumer food waste from estate restaurants, manure from livestock, and meat products are able to pass through the facility. Finished compost product is then spread on estate crop fields, livestock pastures and turf and gardens, reducing the need for fertilizer.
Blueberry-Basil Soda sourced with basil grown in Biltmore's hydroponic greenhouses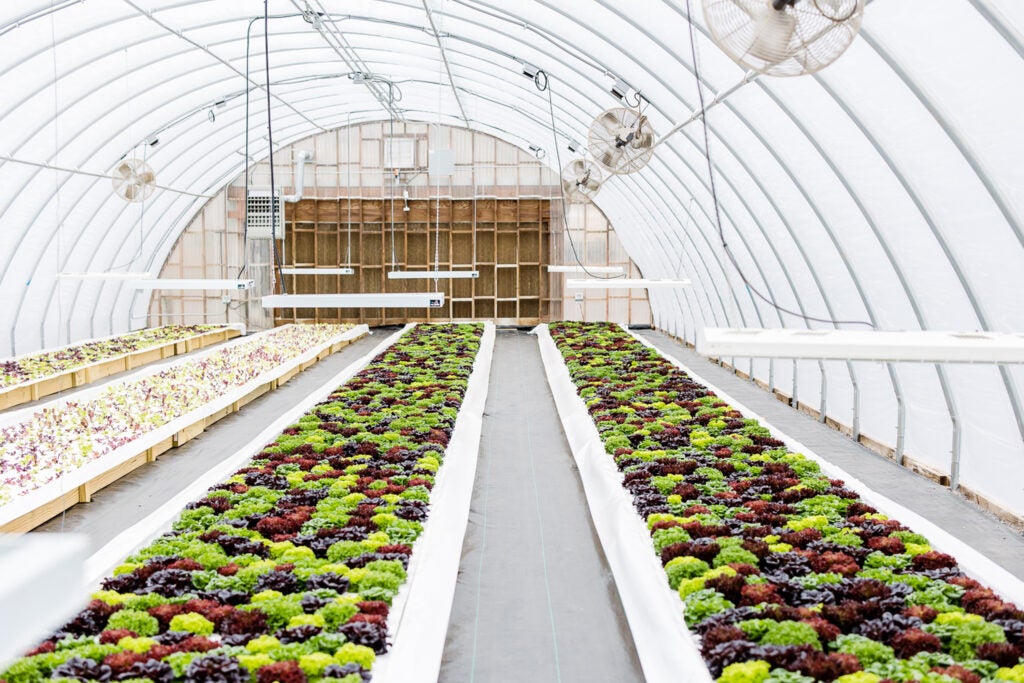 This fall, a new local product, the Waynesville Soda Jerks' Blueberry-Basil Soda, will be sold on the estate which is made with hydroponically raised basil from Biltmore's hydroponics system.
Biltmore's hydroponics system consists of growing plants without soil, and using nutrient solution to feed them. Lettuce, specialty greens, herbs, and microgreens are currently grown for estate restaurants using this system under the management of gardener Sarah Woodby.
Renovations to the hydroponics system were completed this year, including replacing underground raceways with above-ground structures for deep root culture.
Farm to Table Tour & Taste
On select week days, guests staying in Biltmore's lodging properties may participate in the Farm to Table Tour & Taste, offering a behind-the-scenes look at the estate's agriculture operations. This 2-hour driving tour of the estate's private agricultural side explores the estate's cattle, sheep, and hog programs as well as crops, honey bees, and the hydroponic greenhouses. Guests may enter the greenhouses, and will be able to enjoy light bites prepared from products raised on the estate.
Biltmore grows almost a dozen varieties of lettuce and other leafy greens in the estate hydroponic greenhouse. The system produces higher and more consistent yields, is more efficient in protecting plants from pests, and uses less water than standard field irrigation.
---
Christmas at Biltmore begins Nov. 3, 2023
It may seem early, but the start of Christmas at Biltmore is just around the corner, and just like every year, we are in preparation mode during the summer months.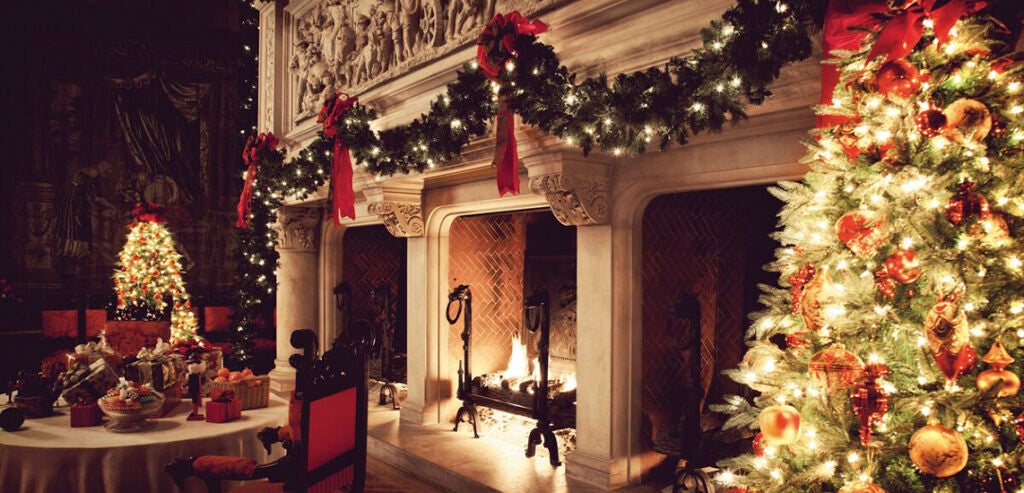 Behind the Scenes
Biltmore's Floral Team is working behind the scenes to create holiday magic that has enchanted guests for more than 120 years. As a year-round project for the team, preparations ebb and flow throughout the months. In September, the team will begin installing holiday decor in Biltmore House, concentrating first on the home's top-floor rooms, and working their way down. The final touches occur during the first week of November, when the annual Banquet Hall Tree Raising takes place to install a 35-foot tall Fraser Fir tree in the home's largest room.
Let us know if you'd like to know more about the designs for Biltmore's Christmas, or talk with one of our design experts!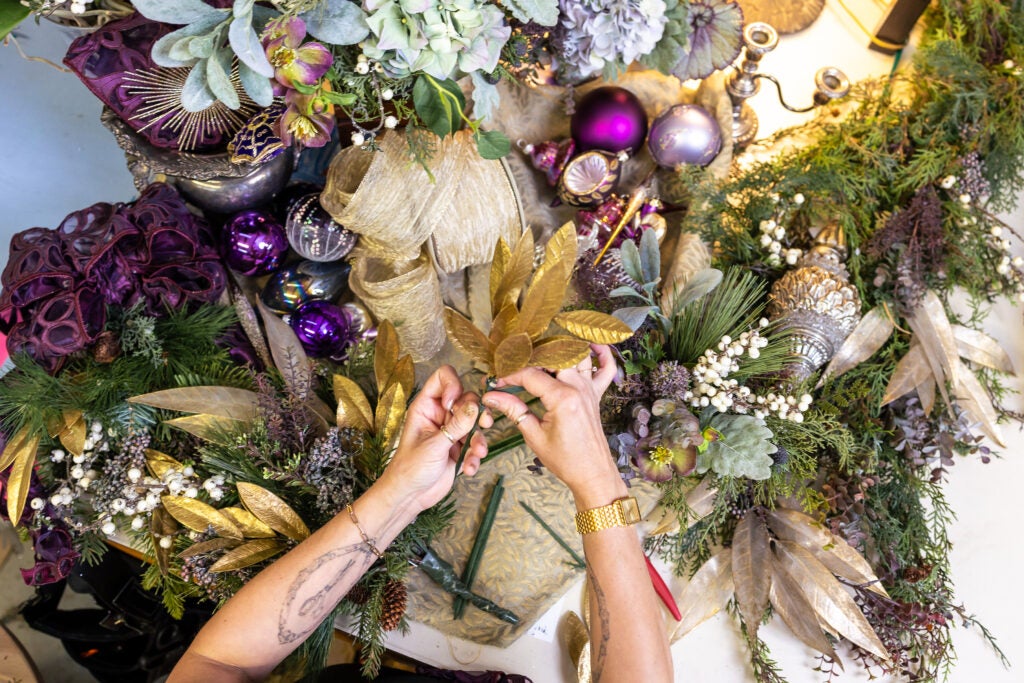 Hallmark's "A Biltmore Christmas"
We are excited about the upcoming premiere of Hallmark Channel's "A Biltmore Christmas," which shot on location at Biltmore in January 2023. While Hallmark has not yet announced when the movie will premiere, we can let you know that during this year's Christmas at Biltmore, George Vanderbilt's famed Library will be dressed in 1940s holiday glamour. This is an homage to the time-travel aspect of the movie, which hops back to 1947 for part of the action. Tinsel was a popular choice for home holiday decorating in the 1940s, and the Floral Team is planning to use loads of it to create dramatic cascades twinkling from the room's large Christmas tree. A synopsis of the movie follows: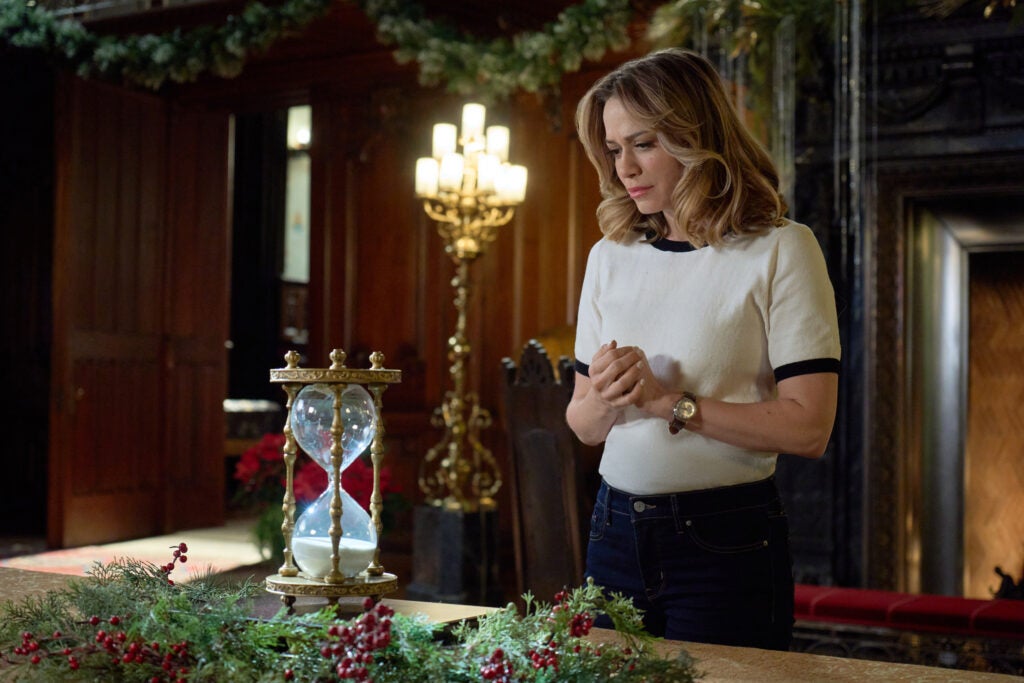 Lucy Hardgrove (Bethany Joy Lenz) is a screenwriter who lands the job of a lifetime when she's hired to pen the script for a remake of the beloved holiday movie, His Merry Wife! First filmed in 1947 at beautiful, historic Biltmore House, it has long been considered a Christmas classic. When the head of the studio isn't satisfied with the ending Lucy wrote because it deviates from the original's feel-good conclusion, he sends Lucy to Biltmore Estate for research and inspiration. While there, she unwittingly discovers the ability to travel to the 1947 set of His Merry Wife! through the help of an hourglass. After shaking off the initial shock of this turn of events, Lucy embraces this ability and sees it as her chance to uncover the truth about the movie's original ending. While on set, she and Jack Huston (Kristoffer Polaha), one of the film's stars, spend time together and become close. But her sudden appearance has set off a chain of events that put the production in jeopardy. Before she can return to the present, Lucy must make things right or threaten to alter the future forever.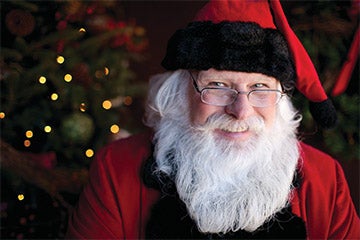 Two decades of Santa Jim in Antler Hill Village
Santa Jim Lewis will celebrate his 20th year this year as part of Biltmore's annual holiday celebration. Santa Jim sets up shop in Antler Hill Village, where children (of all ages) can share their Christmas wish lists and have their photo made with him.
He tells us that one of the things that brings him the most joy is the families who visit him year after year. Several times, four generations of the same family have arrived to have their pictures made with him. Only once has a five-generation family visited. "My thought about being Santa, is that I provide hope… a child hopes they get the gift they ask for, but the other part is when I look up and see the parents looking on at us, I see in their eyes that they have traveled back in time to when they remember Santa. They remember when the weight of the world wasn't on them, and it was an innocent time for them."
Let us know if you'd like to speak with Santa Jim!
---
Preservation Update: Preserving "crowns of light"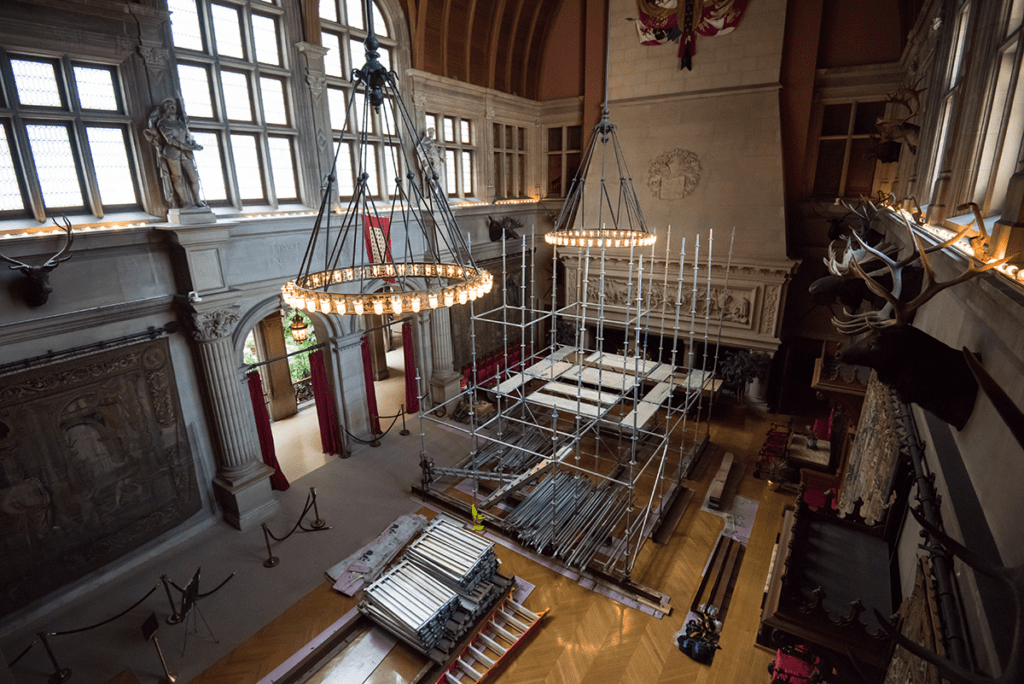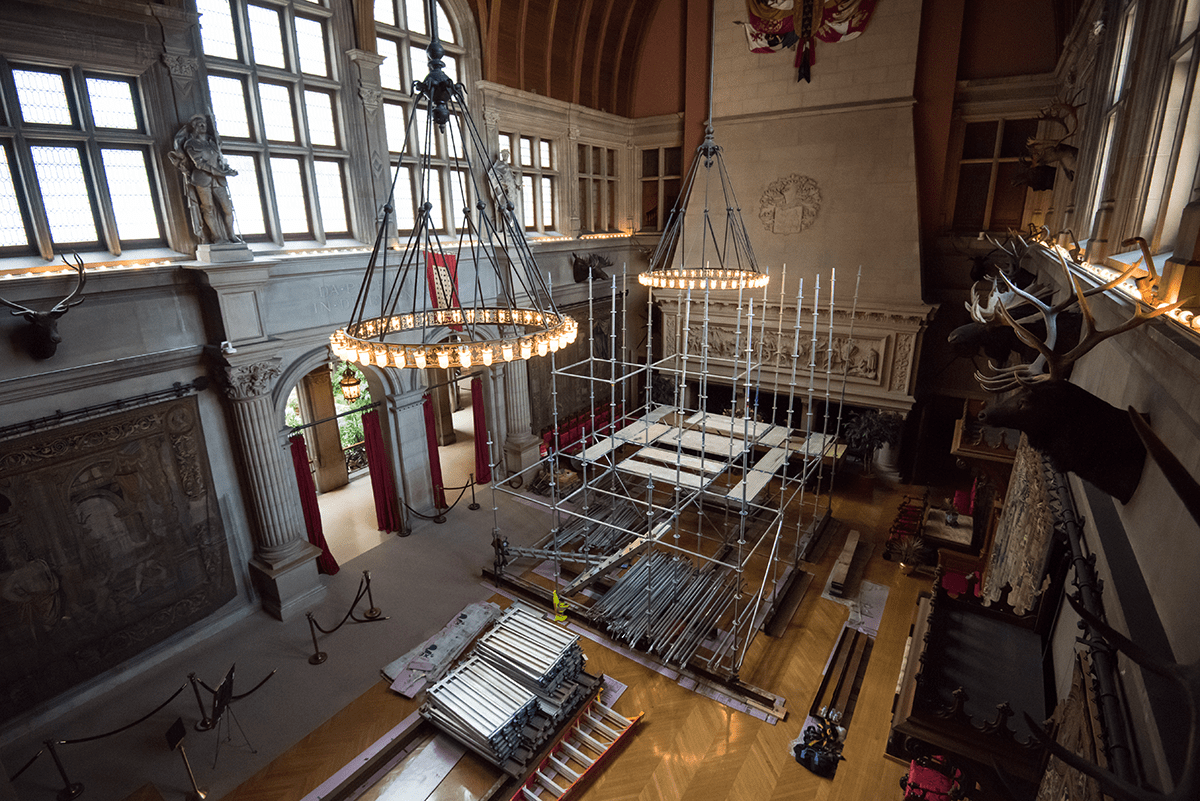 One of our recent preservation projects had our guests focused on the ceiling of the Banquet Hall. An elaborate scaffolding tall enough to reach the seven-story ceiling of the hall was installed to allow our engineering and museum services teams to inspect the hall's two massive chandeliers. Designed in the medieval style of English Great Halls, they were historically described as "crowns of light." The scaffolding also provided a view not seen by anyone since the chandeliers had been installed over 125 years ago!