BACK TO BLOG
A Desirable Destination for Romance
Written By Jean Sexton
Posted 01/13/19
Updated 07/13/22
More From Biltmore
Even before construction of Biltmore House was officially completed, George Vanderbilt offered world-class hospitality—and a desirable destination for romance—to family and friends who visited his estate.
Destined for romance
In honor of the romantic traditions of Valentine's Day, let's take a look at some of the very first Biltmore visitors: newlyweds Jay and Adele Burden.
Adele was George Vanderbilt's niece, the daughter of his sister Emily Vanderbilt Sloane. She had been a frequent visitor to the estate, even during early stages of construction, and Adele's love of Biltmore is evident in her diary entries.
George Vanderbilt, the Burdens, and Cedric the Saint Bernard crossing the river on Biltmore's ferry
Words in a diary
Welcoming in the new year of 1894 at Biltmore nearly a year before the house officially opened, Adele wrote:
"Only a word to begin the New Year with. I made my good resolutions last night sitting over a little dying fire. The window was wide open, and the cold night air blew in. The stars were all out, and there was a hushed stillness everywhere as if something were expected. It has been so gloriously beautiful out today; it made me feel wild."
A courtship begins
In fact, 1894 would be a significant year for Adele. She was courted by a handsome young man, James "Jay" Abercrombie Burden, whose family owned the Burden Iron works, one of the most successful such firms in the country.
Adele had no shortage of suitors, but with his clean-cut good looks, Harvard education, and superior athleticism, Jay soon won Adele's heart. He proposed in December and the couple married on June 6, 1895, in what was reported to be one of the costliest American weddings held at the time.
Jay and Adele Burden on the steps of River Cliff Cottage at Biltmore
Happy honeymoon!
Of all the possible destinations far and wide, the Burdens chose Biltmore as the place to begin their honeymoon. They spent the first 10 days of their married life at River Cliff Cottage, which was built at the same time Biltmore House was under construction.
Just before her wedding, Adele wrote:
"The next day we go down to Biltmore to spend ten days in the dear little house Uncle George has given to us. How perfect it will be!"
Adele and her husband Jay were the first in a long line of friends and family welcomed as guests at Biltmore to experience what would become George Vanderbilt's legendary hospitality.
Experience Biltmore Estate as destination for romance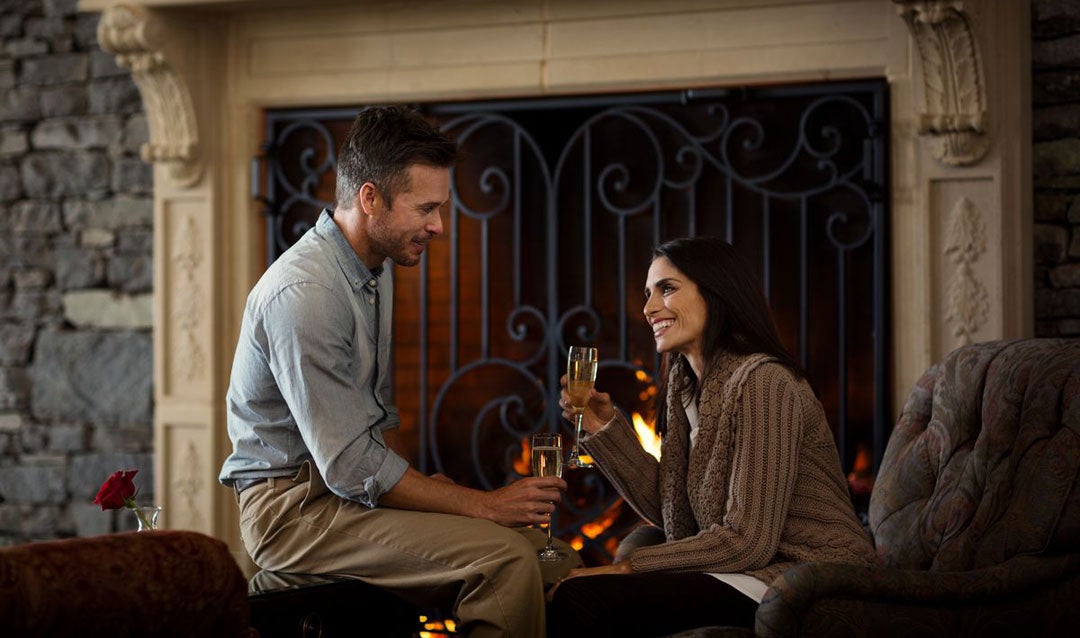 Join us to experience the rich history of hospitality and romance at Biltmore Estate, located in Asheville, NC.
Whether you're visiting for Valentine's Day or simply want to shake off winter's chill while enjoying an exciting glimpse into the past, the estate is always a great destination for romance!
Featured image: George Vanderbilt and Cedric the St. Bernard with newlyweds Adele and James Burden at Biltmore