BACK TO BLOG
Creating A Glorious Gingerbread Cottage
Holiday Traditions

12/09/19
Written By Jean Sexton
Thank you for enjoying this archived content from 2019!
Each year, the pastry team at The Inn on Biltmore Estate® welcomes Christmas at Biltmore with a special tradition: the construction of a gingerbread confection inspired by the beautiful details of George Vanderbilt's private estate.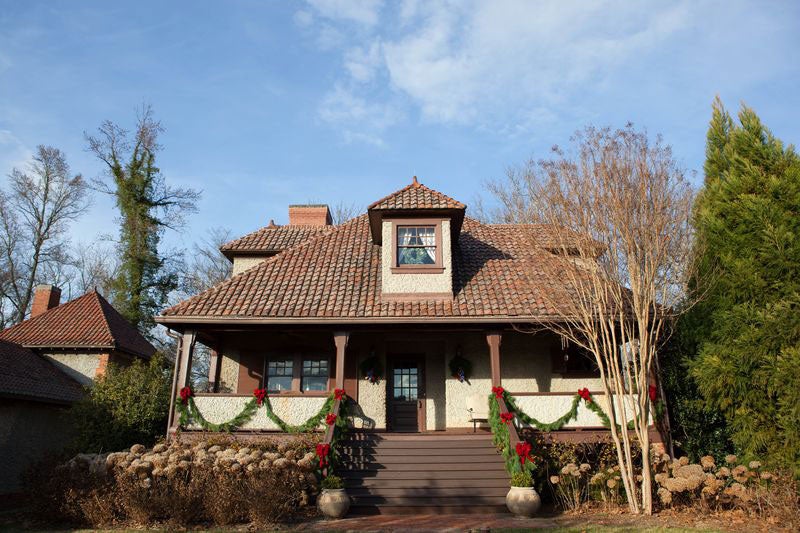 Choosing the perfect subject
For 2019, the team has chosen to reproduce the charming Market Gardener's Cottage that greets guests as they travel to and from The Inn on Biltmore Estate.
Designed by Richard Howland Hunt, son of Biltmore House architect Richard Morris Hunt, the Market Gardener's Cottage dates back to 1896. It was the site of the estate's Market Garden, also known as the Truck Farm.
Fresh fruits and vegetables grown in the fertile fields surrounding the cottage were served in Biltmore House, and the surplus was sold to area hotels, grocers, and community members.
Now known as Cottage on Biltmore Estate, this historic structure is offered as a premier overnight property that allows guests to enjoy an extraordinary lodging experience.
A challenging creation
Members of The Inn's pastry team contributed more than 295 hours of labor to construct this gingerbread replica of Biltmore's historic Market Gardener's Cottage.
"Creating the cottage was extra challenging for us this year because we had to halt production for two days since Thanksgiving was so late," said Pastry Chef Dana McFarland who oversees the project each year.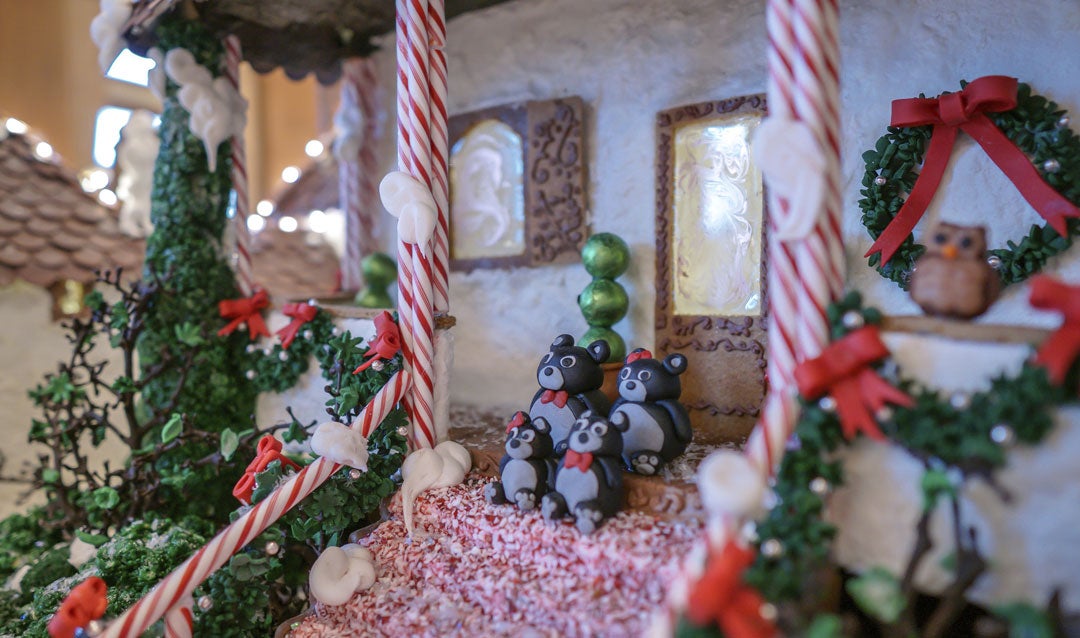 Special ingredients
Her team used the following ingredients for their massive gingerbread construction project:
124 pounds of powdered sugar
17 pounds of gingerbread
15 pounds of modeling chocolate
14 pounds of Jolly Rancher® hard candies
8 pounds of fondant
5 pounds of old-fashioned candy sticks
5 pounds of caramel chocolate balls
4 pounds of Jelly Belly® jelly beans
9 ounces of M&M's®
2 ounces of Sixlets®
In researching the Market Gardener's Cottage to make sure they had the details correct, the pastry team learned that there were originally several greenhouses behind it. They created an array of fruits and vegetables that might be grown in a greenhouse at this time of year to display in the cottage's courtyard, including apples, butternut squash, carrots, pears, and pumpkins.
Confection perfection!
"All the shingles on the cottage were hand-cut out of modeling paste," Chef McFarland said. "And though most guests have guessed that the courtyard bricks are made out of Tootsie Rolls®, we actually used Jolly Rancher candies to get that look."
One special highlight of the gingerbread cottage is the Christmas tree in the courtyard–it has tiny garlands of popped sorghum on it–and it spins!
"The wreaths and garlands on the cottage all have individually-cut cut green flowers on them to give the appearance of evergreens," said Chef McFarland, "while the bushes in the front and the trees in the back are made with Rice Krispy® treats."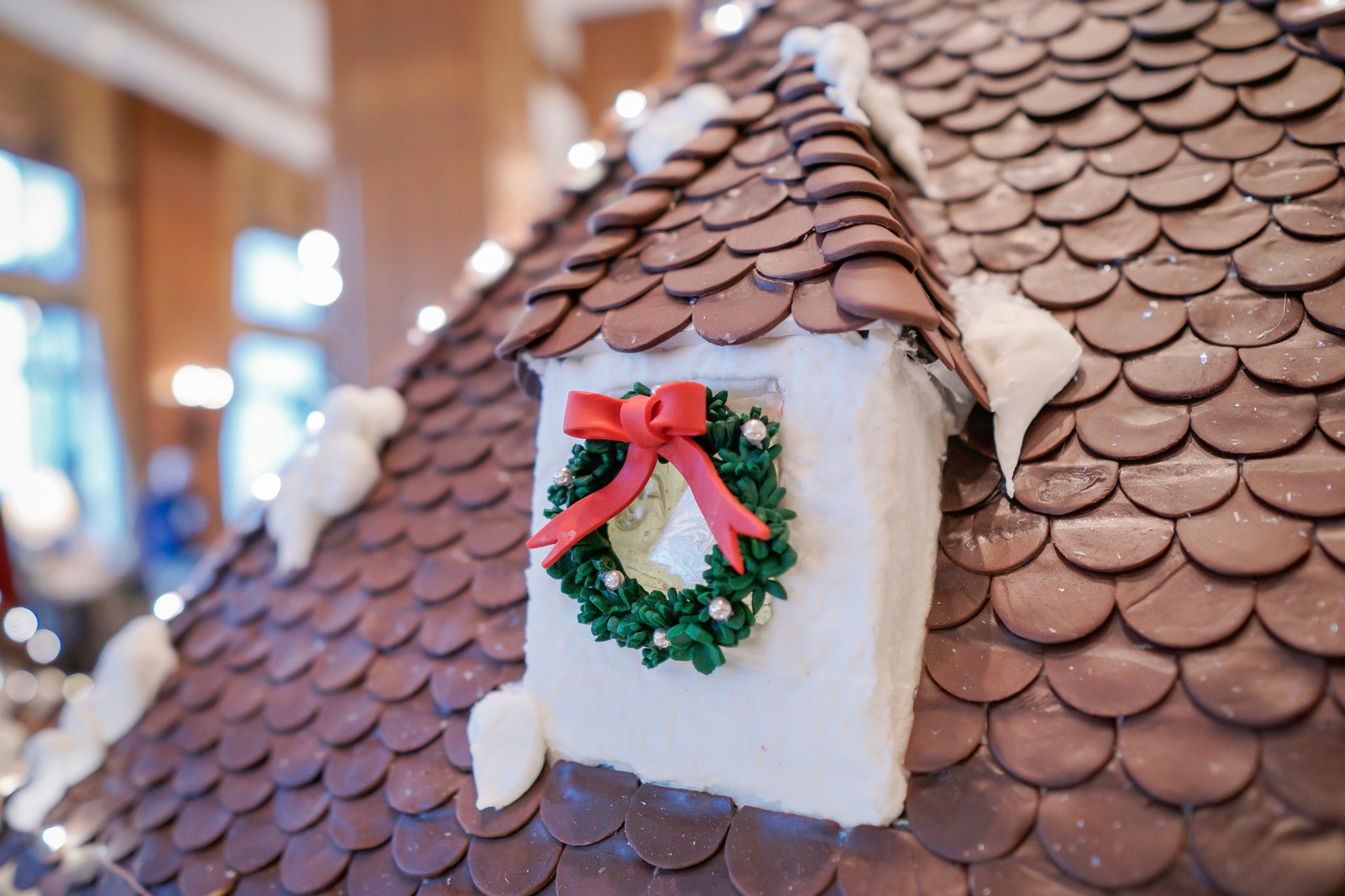 Last but certainly not least, Chef McFarland notes that there are 60 feet of mini lights on the outside of the cottage, and an infuser placed inside the structure makes it look as if there's real smoke rising from the chimney.
Special thanks to The Inn's talented pastry team of Chef Dana McFarland, Megan Shreve, Ron Levitan, Lucas Conti, Leilani Padilla, Rachel Tipping, Ashley Buchleitner, Laura Hinzman, Danyelle Sander, Sarah Vess, and Anthony Mushinski for all their hard work!
Visit now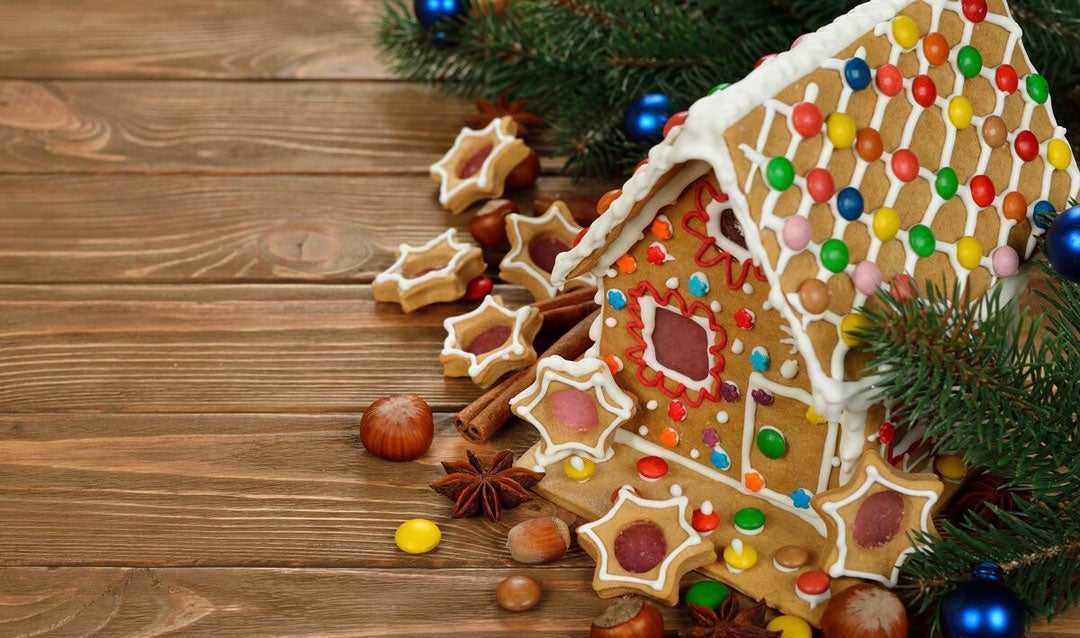 This charming confectionery delight was displayed in the Lobby of The Inn during our 2019 Christmas at Biltmore celebration.