BACK TO BLOG
Etched in stone: the façade of Biltmore House
Written By Joanne O'Sullivan
Posted 03/18/15
Updated 07/19/22
Estate History
George Vanderbilt and his architect Richard Morris Hunt put careful consideration into each material used to construct Biltmore House. While the underlying walls are brick, the architect chose to add a striking warm stone façade of the house: a layer of limestone from the Hallowell Quarry in Indiana, the country's richest quarry at the time and the same source for the stone used in Chicago's 1885 City Hall.
Between February 1891 and February 1892, 287 train cars left Indiana carrying the limestone that would become Biltmore's façade. Once it came into the depot in Biltmore Village, the stone was transported to the construction site by a narrow-gauge railroad track built specifically for that purpose. The first shipment arrived at the house on March 16, 1891.
Limestone blocks were stored in sheds and protected from the weather until they were ready to be cut and carved. To achieve the texture seen on the house today, the blocks were tooled by hand through a process called crandalling. Skilled stonecutters cut shallow grooves into the surface of the stone, resulting in a fine, pebble-like surface that looks more elegant and reflects light more dramatically than unaltered limestone.
Once ready, the limestone blocks were lifted into place using wooden derricks powered by hand-drive, geared winches. The first block of stone was put in place in the west garden wall on June 8, 1891.
Although there's no exact final count, estimates indicate that when the construction was complete, around 60,000 cubic feet of limestone adding up to 5,000 tons had been used in the project. The surface as it's seen today reflects the beautiful effects of aging in the elements for more than 120 years.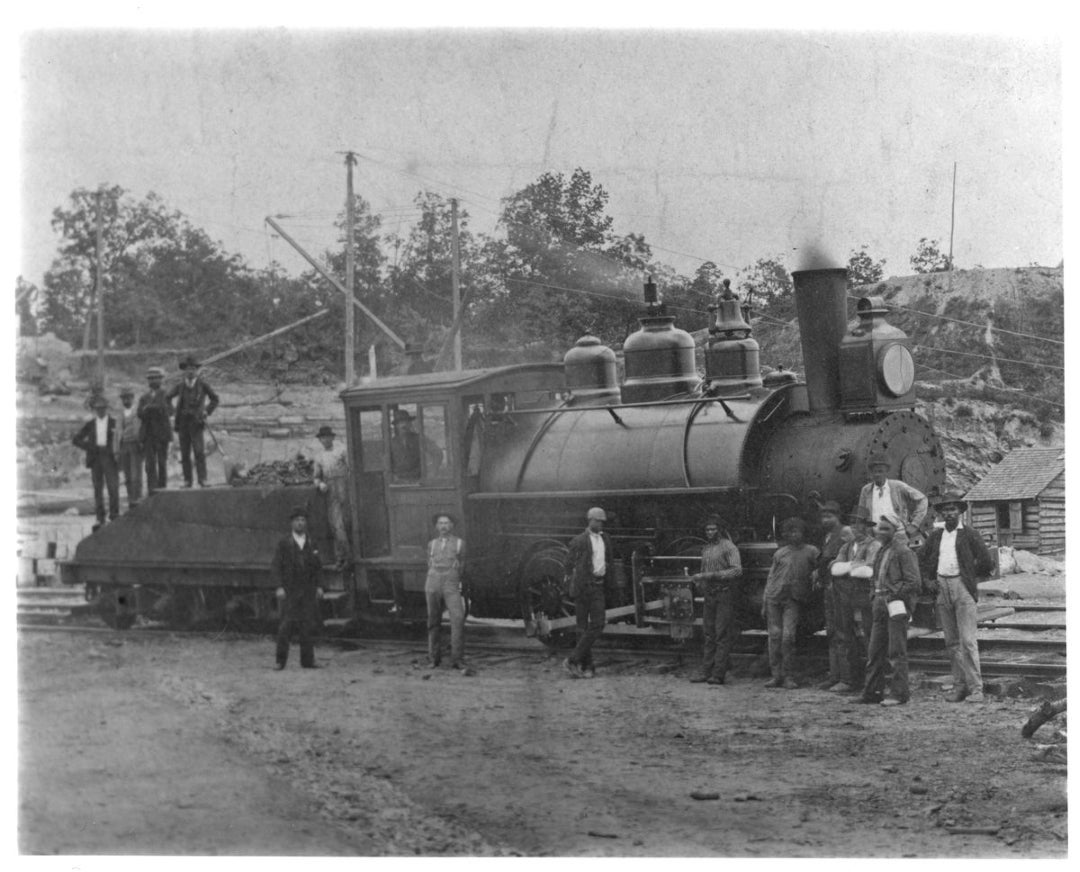 Top: Stonemasons' shed, 1892, with Biltmore House under construction in the background.
Bottom: Workers and a steam engine on the Esplanade, 1892. Indiana limestone was shipped by rail directly to the Biltmore House building site.