BACK TO BLOG
Shedding New Light on Biltmore's Halloween Room
Written By Jean Sexton
Posted 10/10/19
Updated 06/08/23
Estate History
Ongoing archival research allows us to shed new light on Biltmore's Halloween Room, and our Museum Services team has made some interesting discoveries!
The Halloween Room
Witches, bats, and black cats don't usually come to mind when you think of Biltmore, but deep in the basement of America's Largest Home®, there's a cavernous room with brick walls painted in brightly-colored murals depicting an array of such creatures.
The paintings include characters from folklore, a platoon of soldiers, and other imaginative imagery that eventually caused this area to be dubbed the Halloween Room.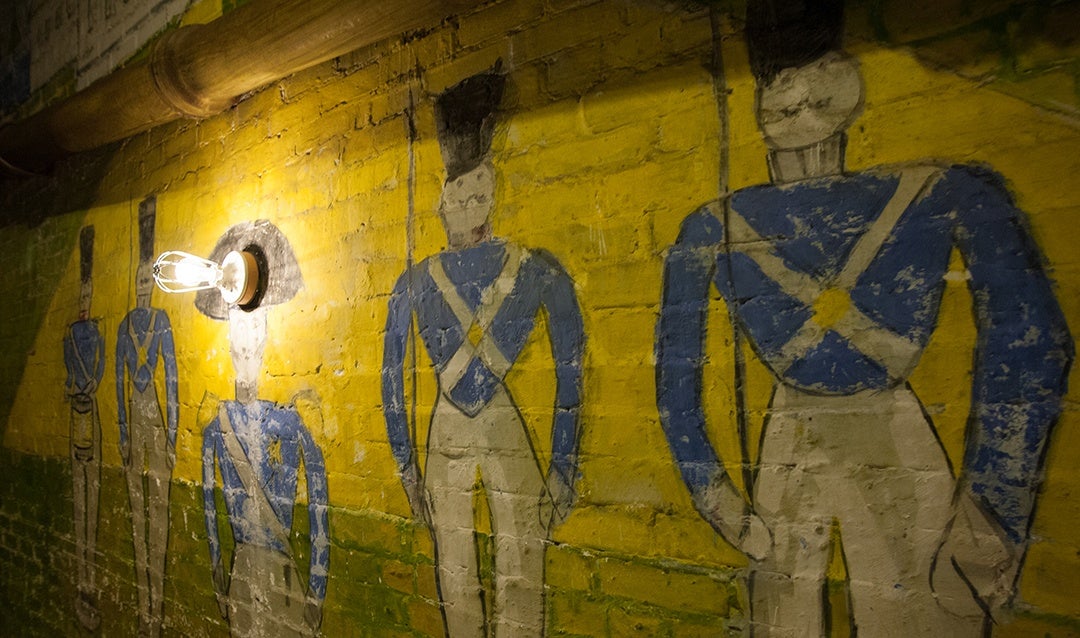 For many years, the colorful murals remained a bit of a mystery, with some thought that the room was the scene of a 1920s Halloween weekend house party during which guests of John and Cornelia Cecil were invited make their mark on the walls.
Subsequent research revealed, however, that the paintings were created in December 1925 to prepare the room for a New Year's Eve celebration–but that still didn't explain the slightly eerie tone of the murals.
New Discoveries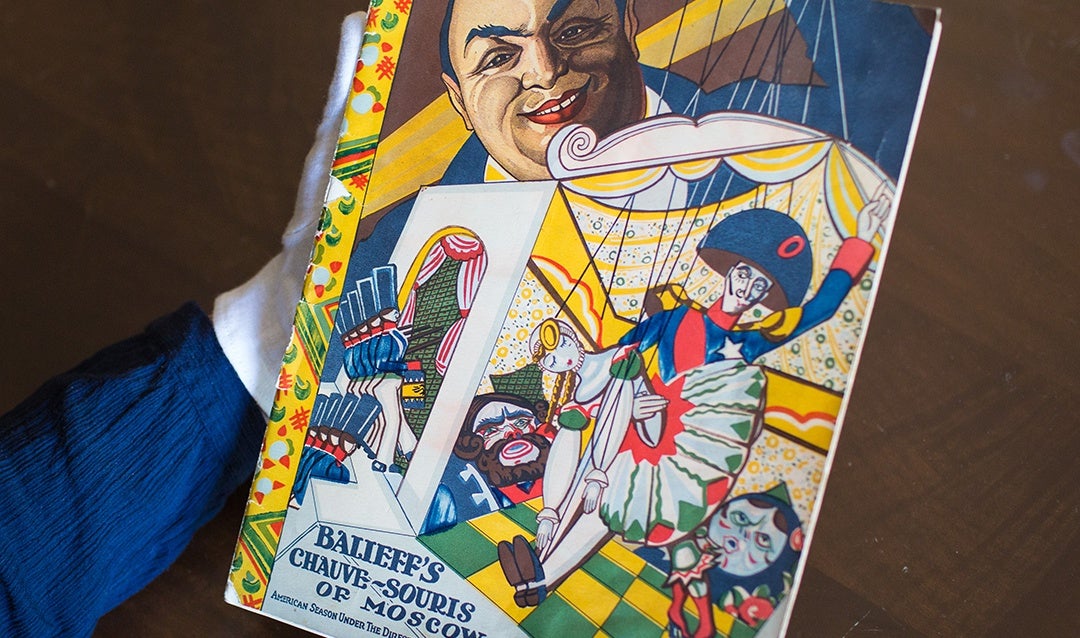 Our Museum Services team discovered an obscure connection between the scenes on the walls and an avant-garde Russian cabaret and theatrical troupe called La Chauve-Souris, which translates to The Bat.
The troupe toured America in the 1920s, performing on Broadway in 1922 and again in 1925. The vaudevillian comedic acts were set off by abstract sets designed by two Russian artists, Sergei Sudeikin and Nicolai Remisoff. The show met with great success, triggering a rage for all things Russian in New York City and beyond.
The Cecils must have been fans of the cabaret as they and their friends created their own version of La Chauve-Souris on the basement walls of Biltmore House. Most of the murals were drawn directly from Remisoff and Sudeikin's illustrations for the theatrical program.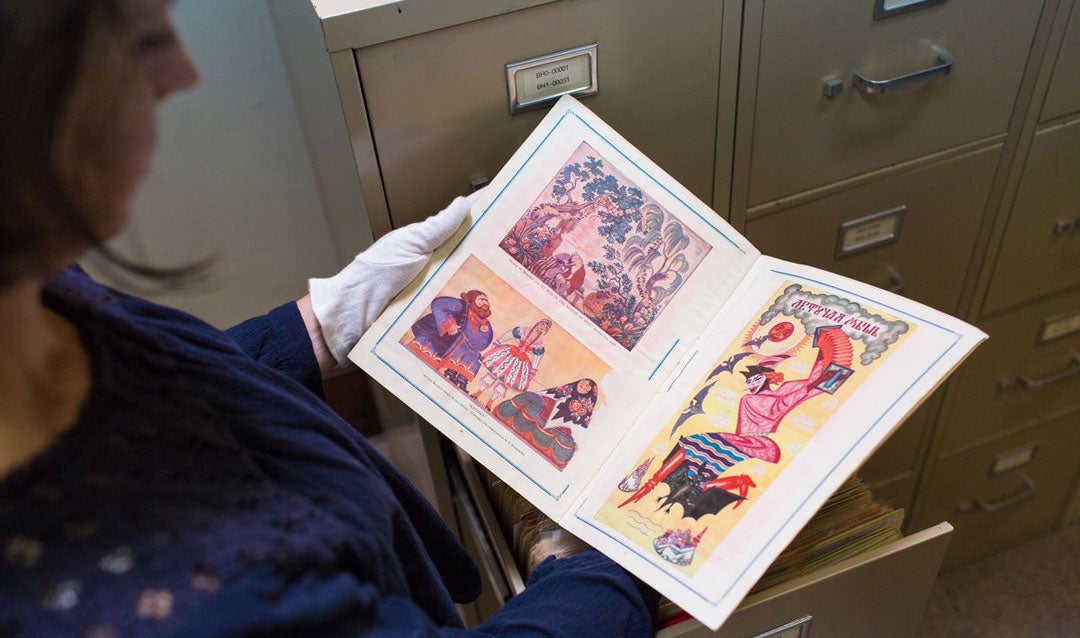 After three weeks of painting, the Cecils hosted a gypsy-themed ball on December 30, 1925, as part of their New Year's celebration.

"This connection was really exciting to us because we didn't expect it at all," said Meghan Forest, Curator of Interpretation. "It wasn't until we read an autobiography of a local man who went to that party that we put it together."
"The best party I have ever attended"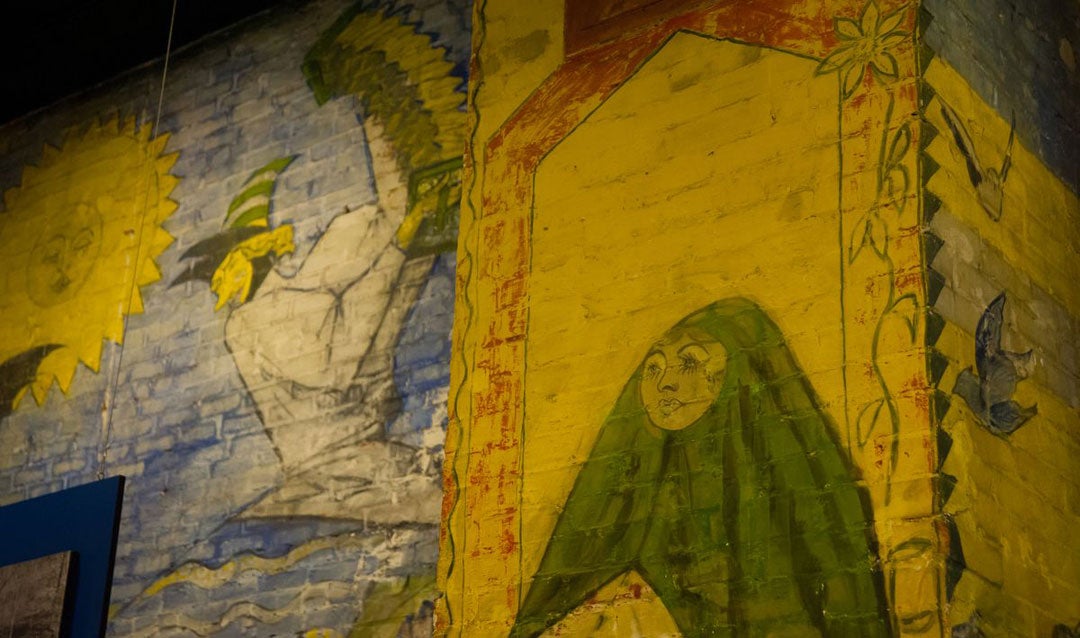 The Charleston Daily Mail reported that 100 guests attended the Cecil's New Year's Eve festivities. One costumed attendee, local resident James G.K. McClure, recalled arriving in the basement of Biltmore with his wife Elizabeth, armed with a guitar and an old accordion, to find a room full of "all kinds of gypsy atmosphere such as cauldrons and pots and glowing fire … all around." 
Enchanted by the unexpected theatrics, he wrote a detailed account of the holiday soiree to a friend, describing "a gypsy dance at Biltmore House which was the best party I have ever attended."
Building Biltmore House
Originally designed for storage, The Halloween Room currently showcases our Building Biltmore House exhibition that features additional in-depth information about the people, circumstances, and innovations surrounding the building of George Vanderbilt's magnificent estate.
Building Biltmore House also offers a special focus on the craftsmanship and labor of the employees who worked on the project rather than just the construction techniques.