For America's Largest Home®, Christmas decorations must be scaled to the maximum to transform a home of this magnitude into the magical, sparkling experience that awaits guests year after year. Here are facts about the décor that is on display for this year's Christmas at Biltmore celebration.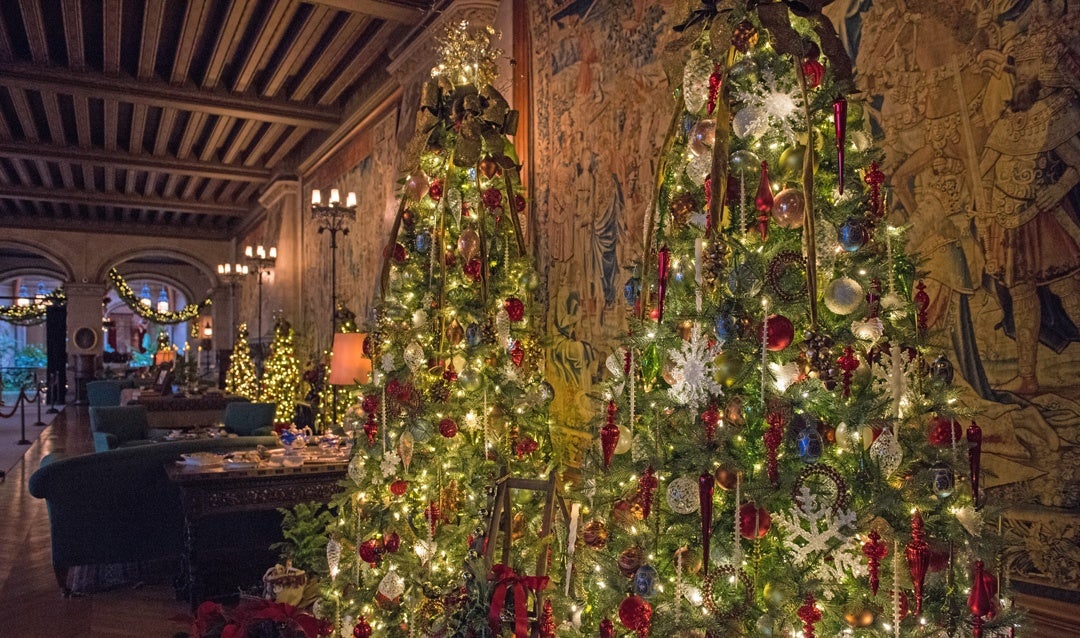 Christmas Trees
Biltmore's Floral team will design and hand-decorate 62 Christmas trees for Biltmore House.
The largest tree inside Biltmore House is a fresh, 35-foot-tall Fraser fir in the Banquet Hall. It takes around 50 Biltmore staff members to carry in, raise, and secure the tree into place.
The smallest is a tabletop tree in the Moreland bedroom.
A lit 55-foot-tall Norway spruce encircled by 36 other illuminated evergreens decorates the front lawn of Biltmore House for Candlelight Christmas Evenings.
A total of 45 additional decorated Christmas trees are located at other estate venues, including the Winery, The Inn on Biltmore Estate, Antler Hill Village, and our restaurants.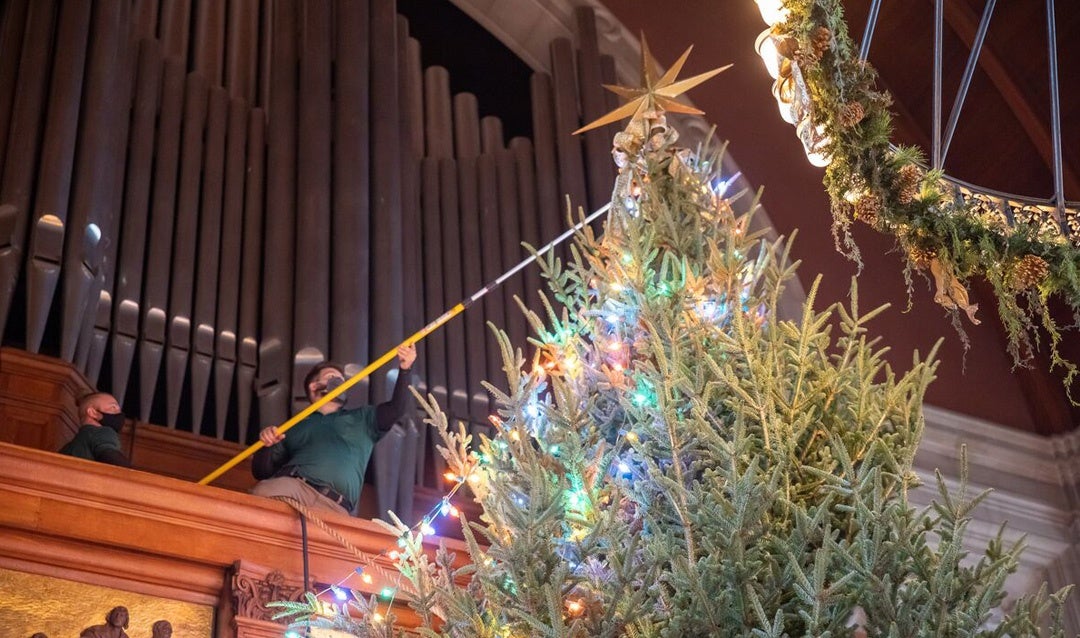 Lights & Candles
There are around 45,000 lights and 250 candles inside Biltmore House. 135,000 LED and mini lights are found around the estate.
There are 55,296 lights illuminating the Front Lawn tree, with 33,280 more on the surrounding trees and shrubs.
About 250 luminaries line the driveway and Esplanade in front of Biltmore House. Biltmore staff members place and light the luminaries each day at dusk to prepare for guests arriving for Candlelight Christmas Evenings. They come back to extinguish them at the end of the night.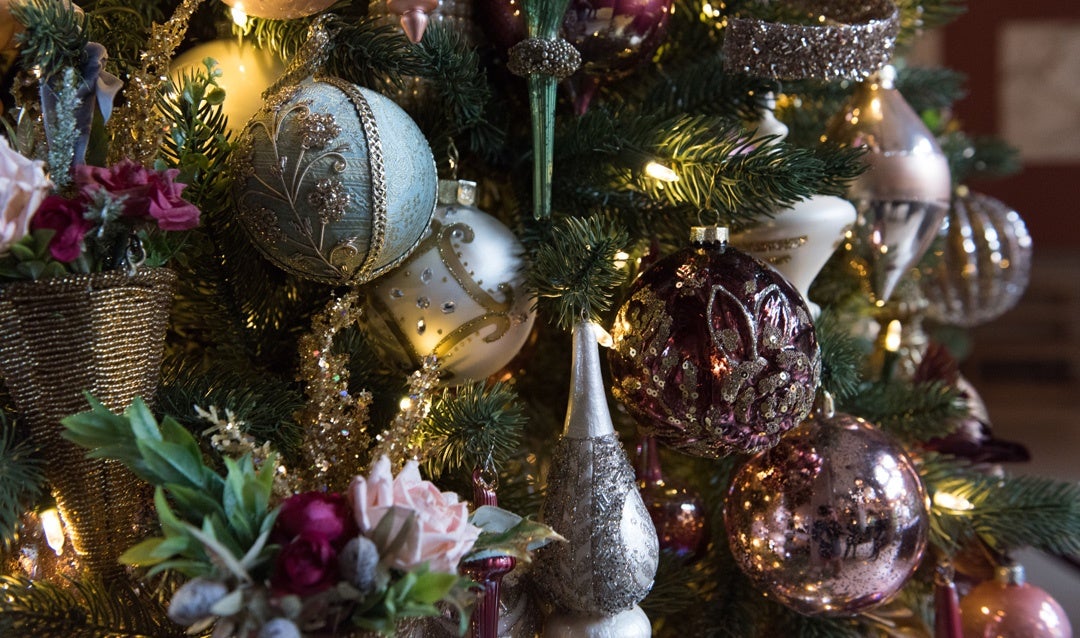 Ornaments
The Banquet Hall Tree boasts 500 ornaments and 500 LED Edison bulb-style electric lights along with an abundance of gift boxes.
There are 13,870 ornaments used on the other trees inside Biltmore House, and that many again around the estate to add sparkle and seasonal interest.
Between seasons, the ornaments are housed in a large warehouse, where they are sorted, labeled, and stored in hundreds of boxes.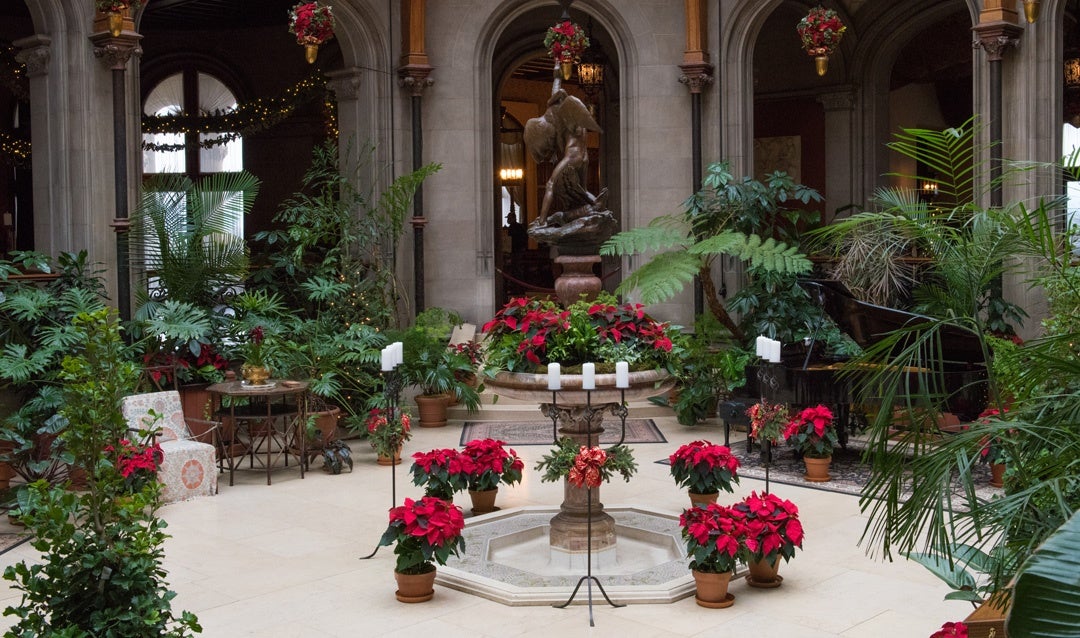 Poinsettias & Other Holiday Blooms
More than 1,200 traditional poinsettias are found in the Christmas displays around the estate.
There are 175 poinsettias in Biltmore House which are refreshed and replaced mid-season.
Seasonal plants include around 963 amaryllises, Christmas cacti, bromeliads, orchids, peace lilies, cyclamen, begonias, and kalanchoes.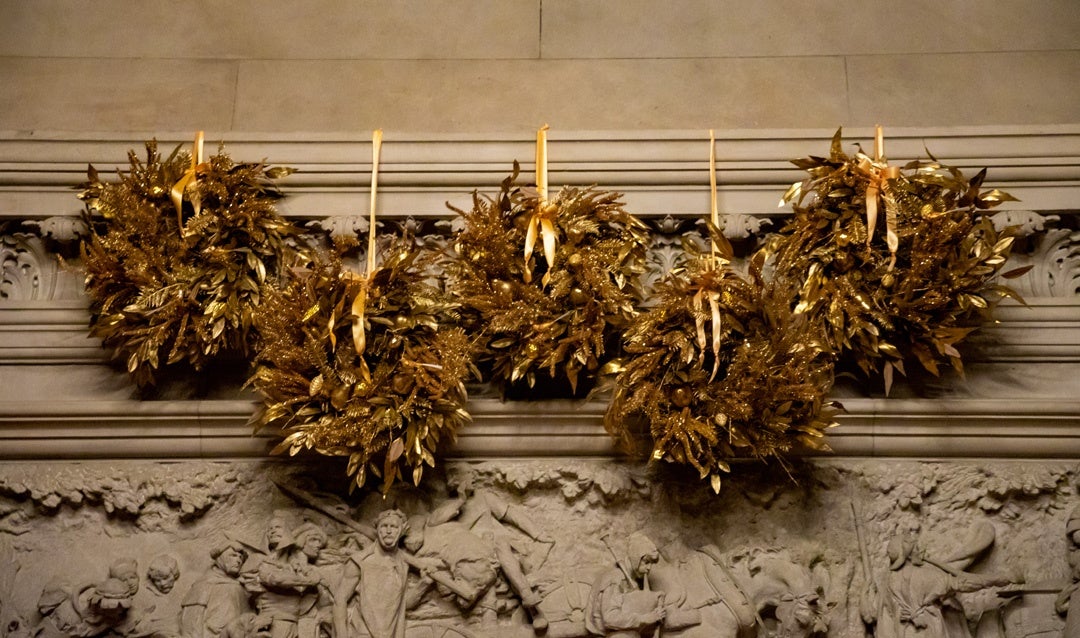 Wreaths
We place 200 fresh wreaths and sprays along with 90 faux pieces around the estate during the season.
Wreaths are made of fresh white pine and Fraser fir, ornamented with golden arborvitae, holly, or other natural materials such as twigs and cones. Artificial bases are decorated with ornaments, berries, faux flowers, and ribbon.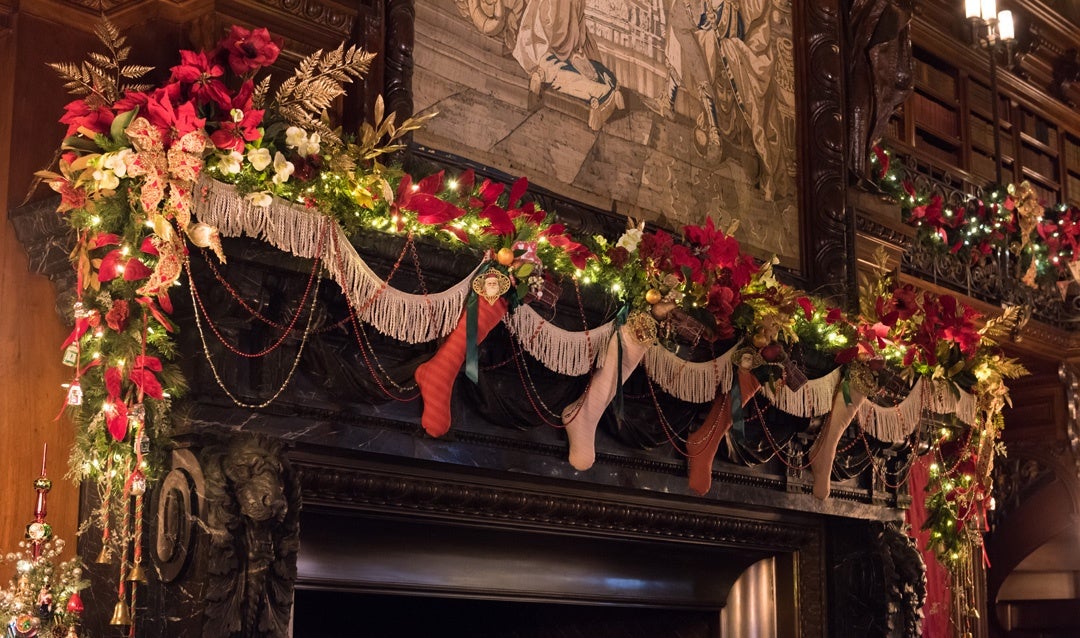 Garlands & Swags
We cut fresh evergreens on the property every week and create handmade swags to decorate the Grand Staircase in Biltmore House. The swags are replaced weekly to maintain a fresh look and fragrance for our guests.
Around 1,000 feet of fresh and faux garlands decorate Biltmore House, and around 1,200 feet are used in other areas.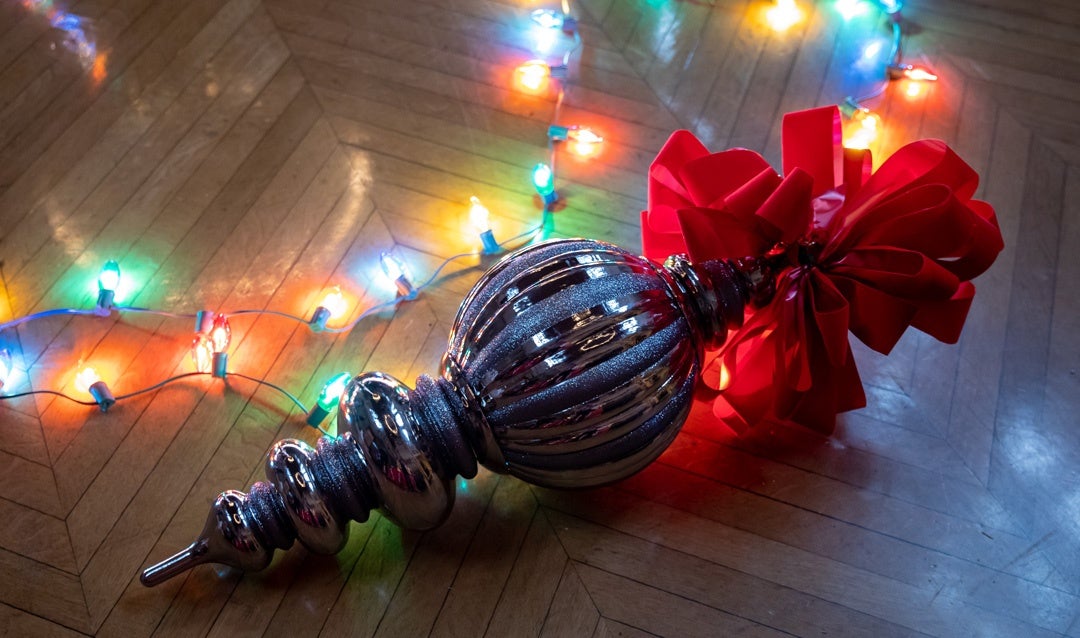 Ribbons & Bows
We use 9,130 yards of ribbon to create hand-tied bows for Biltmore House and the estate.
We use everything from narrow cording to 8-inch-wide ribbon. We decorate with velvets, metallics, satins, burlap, and printed cottons.
It takes 10 yards of ribbon to create the festive red bows worn each year by the marble lions at the front door of Biltmore House.
The amount of ribbon required to make a tree-topper bow for the 16-foot-tall Christmas trees in the Library is 15 yards.
Any ribbon that is used year to year is starched and ironed so that it is wrinkle-free and perfect!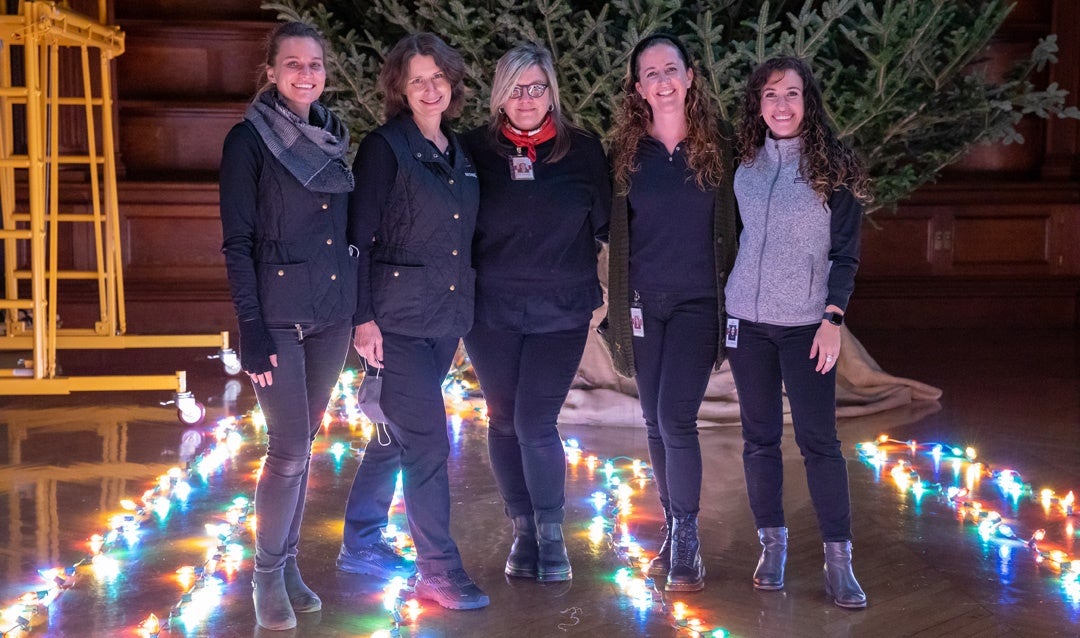 Staff
We have 10 full-time Floral Designers and 5 part-time Floral staff members.
Multiple departments across the estate help also help decorate Biltmore each year, including our Engineering, Housekeeping, Museum Services, Horticulture, Guest Services, Security, and Events teams.
Plan your visit today and discover the estate at its most enchanting: Christmas at Biltmore.