BACK TO BLOG
The Grandest Guest Rooms: Restoring the Louis XV Suite
Written By Amy Dangelico
Posted 05/02/22
Updated 04/25/23
More From Biltmore
Our Museum Services team works year-round to preserve the dream of George Vanderbilt and the visionaries who helped him create Biltmore. Let's take a closer look at one of their largest projects to date: restoring the Louis XV Suite—the grandest guest rooms in Biltmore House.
About the Louis XV Suite
The Louis XV Suite is a retreat consisting of four guest rooms: the Damask Room, the Claude Room, the Tyrolean Chimney Room, and the Louis XV Room. It is located on the second floor of Biltmore House and is included as part of the Biltmore House tour route during the cooler months of the year.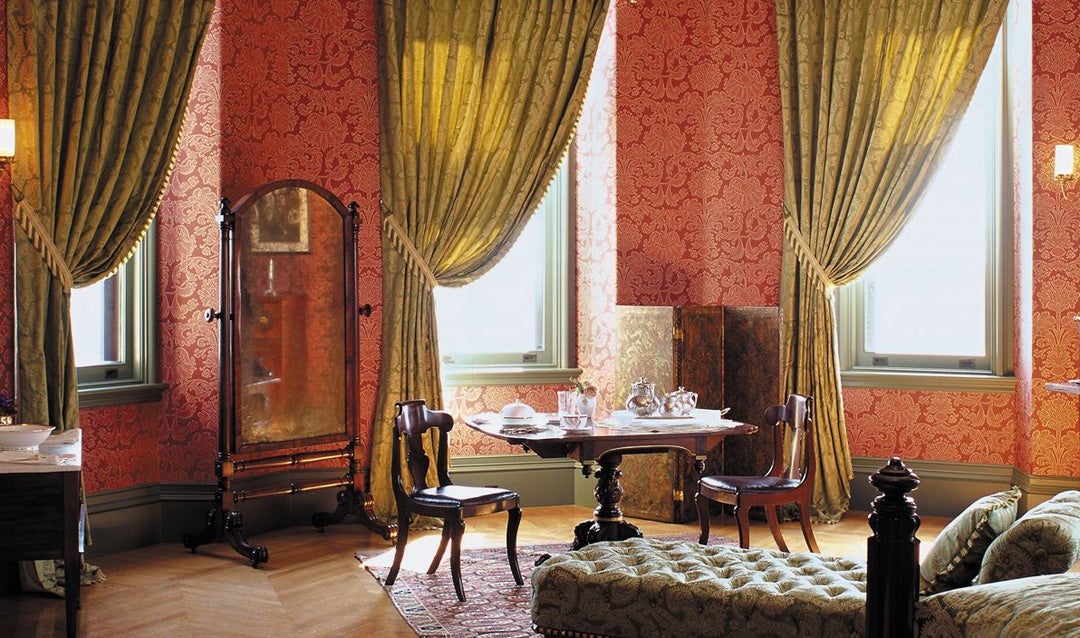 Damask Room
One of 33 guest bedrooms in Biltmore House, the Damask Room was named for silk damask draperies and distinct damask-style wallpaper. Situated at the southwest corner of the house, this room features commanding views of the South Terrace, Italian Garden, Deer Park, and the splendid mountains beyond.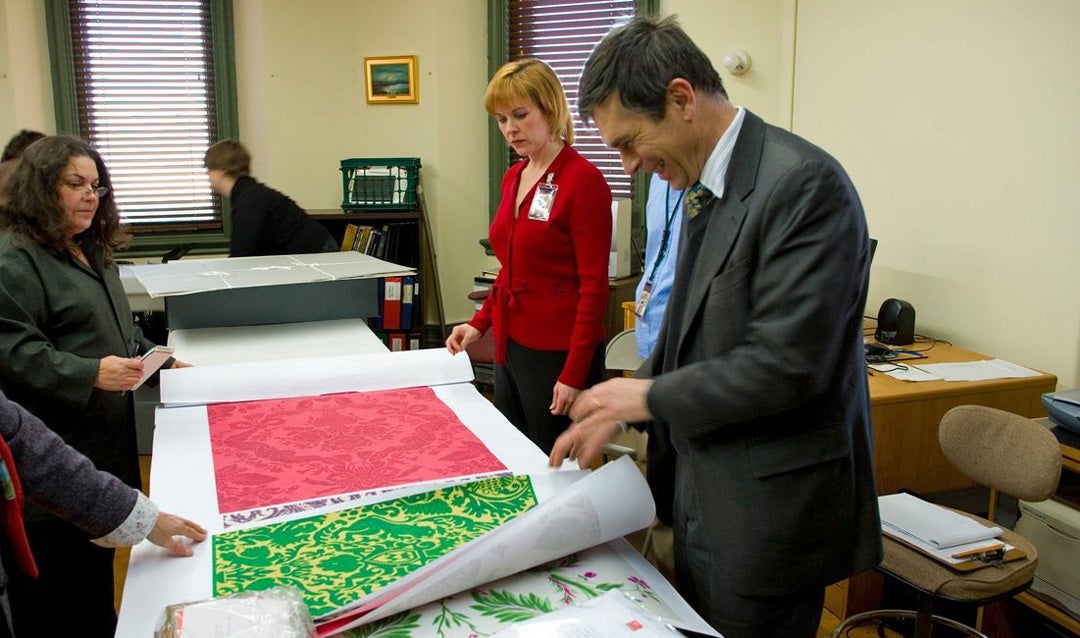 On the walls hangs a reproduction of the room's original wallpaper, a complicated design that replicates on paper the look of a fine damask fabric. Small fragments of the original paper were found underneath door moldings. Our curators were able to match these fragments to full-sized samples of the wallpaper that had been placed in storage more than a century ago, enabling them to have an accurate reproduction made by Charles Rupert Designs, a company in Vancouver that specializes in surface-printed historic wallpapers.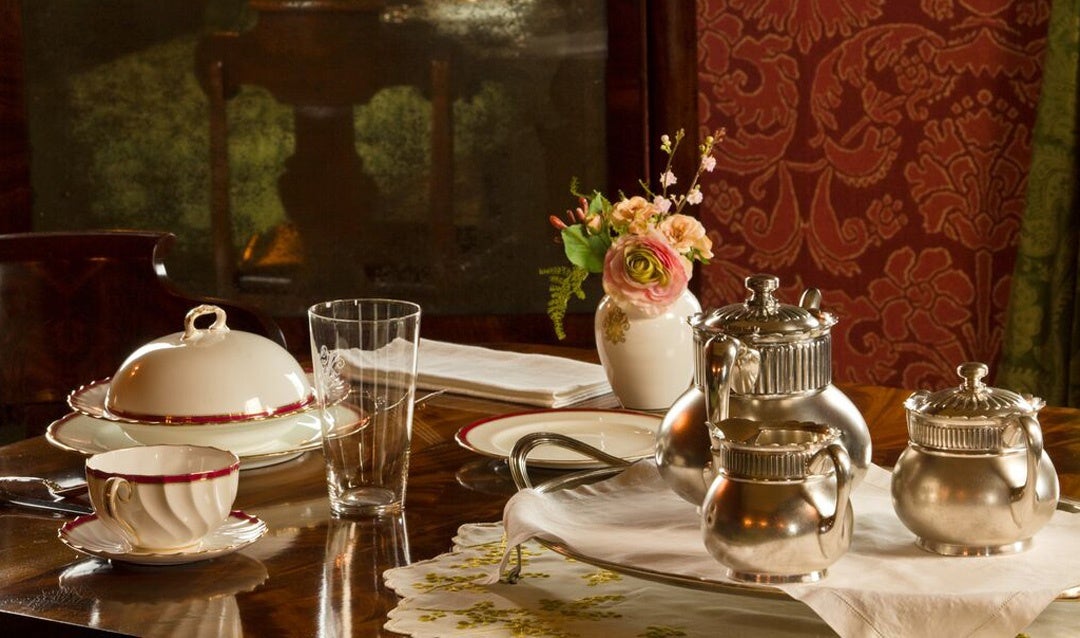 Biltmore's conservators spent many weeks cleaning the antique marble and gilt fireplace and mantel in the Damask Room, in addition to conserving numerous pieces of American and English mahogany furniture for this room.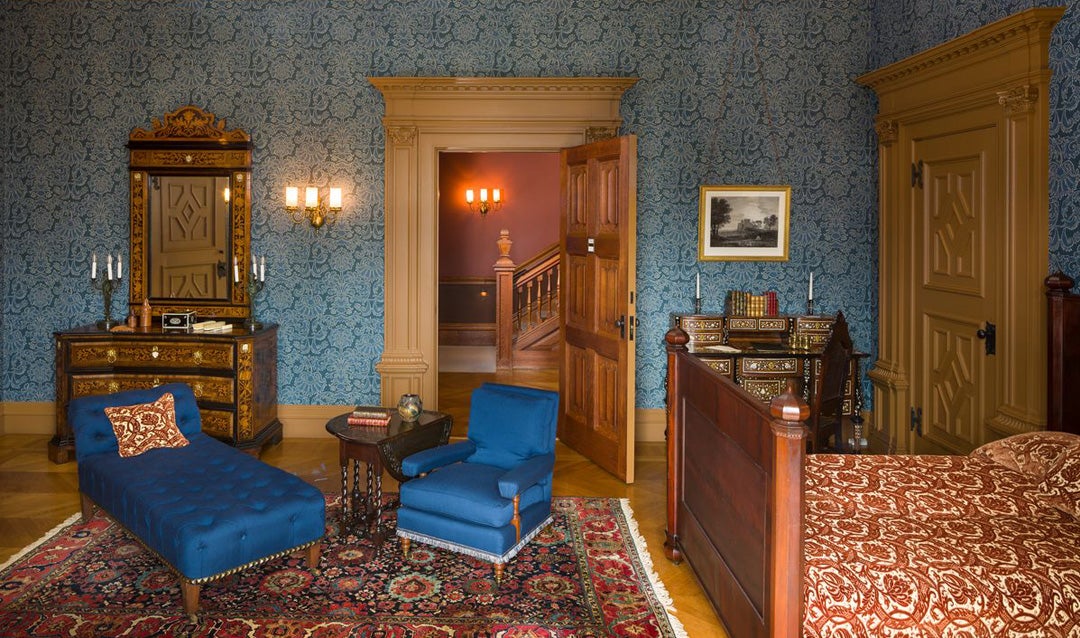 Claude Room
Like many rooms in Biltmore House, the Claude Room was named after one of George Vanderbilt's favorite artists, the French painter Claude Lorrain. Several prints after paintings by Claude Lorrain originally hung in this room and are displayed here again. A master of 17th-century landscape painting, Claude presented nature as harmonious, serene, and often majestic. In 18th-century England, his works inspired new trends in landscape design. He also influenced later generations of landscape painters, including J.M.W. Turner.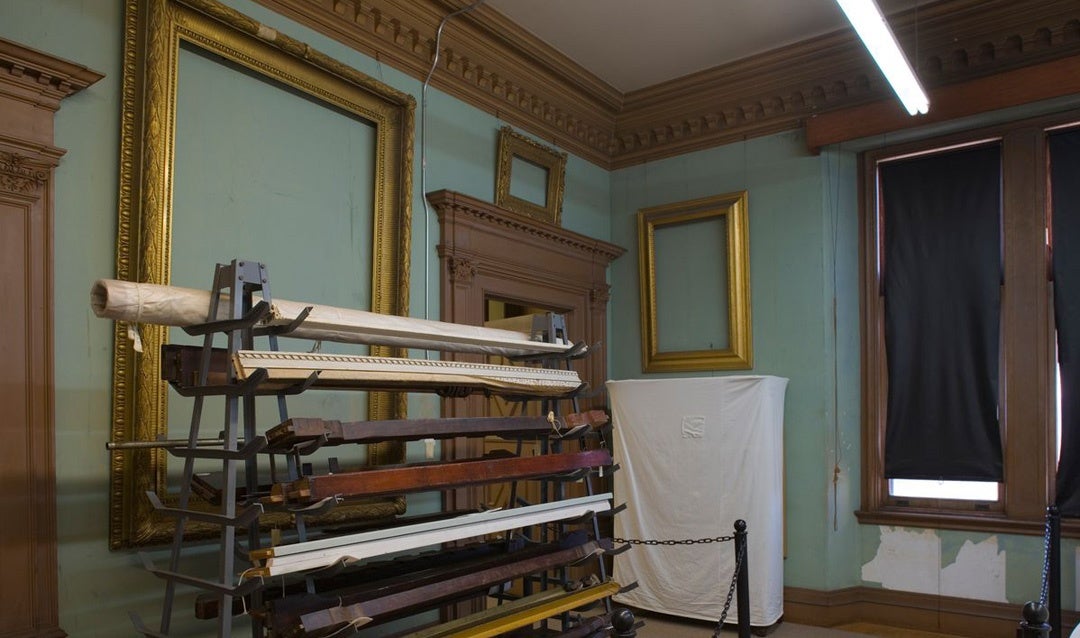 Among the noteworthy pieces of furniture from George Vanderbilt's collection displayed in this room are an imposing ivory inlaid commode with attached mirror from Northern Italy that dates to the early 18th century, an English chest of drawers with an inlaid sunburst motif and a fall front concealing a writing surface and inner compartments from the same period, and an Italian Baroque-style kneehole desk in ebony and rosewood inlaid with ivory and mother of pearl.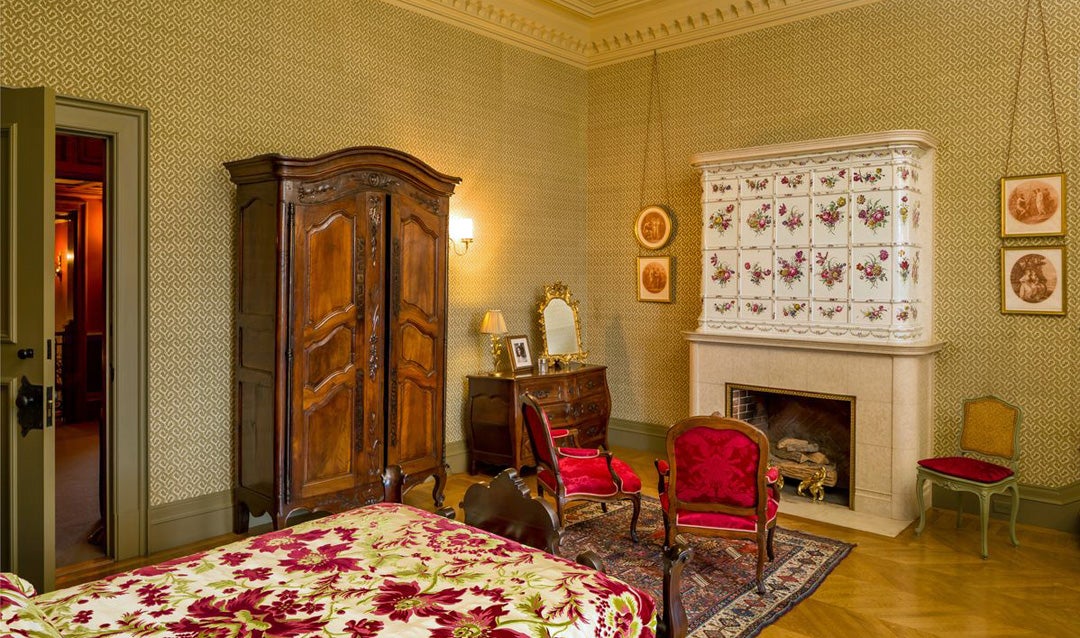 Tyrolean Chimney Room
The focal point of the Tyrolean Chimney Room is the overmantel, constructed from an antique tile stove known as a kachelöfen that George Vanderbilt most likely purchased in his travels through Europe. Stoves like this were used in central and northern Europe from the Middle Ages to heat castles, palaces, and ecclesiastical buildings. Eventually, they came to be used in the residences of the wealthy. Created in the 18th century, it is comprised of tin-glazed earthenware tiles hand-painted with exquisite floral designs.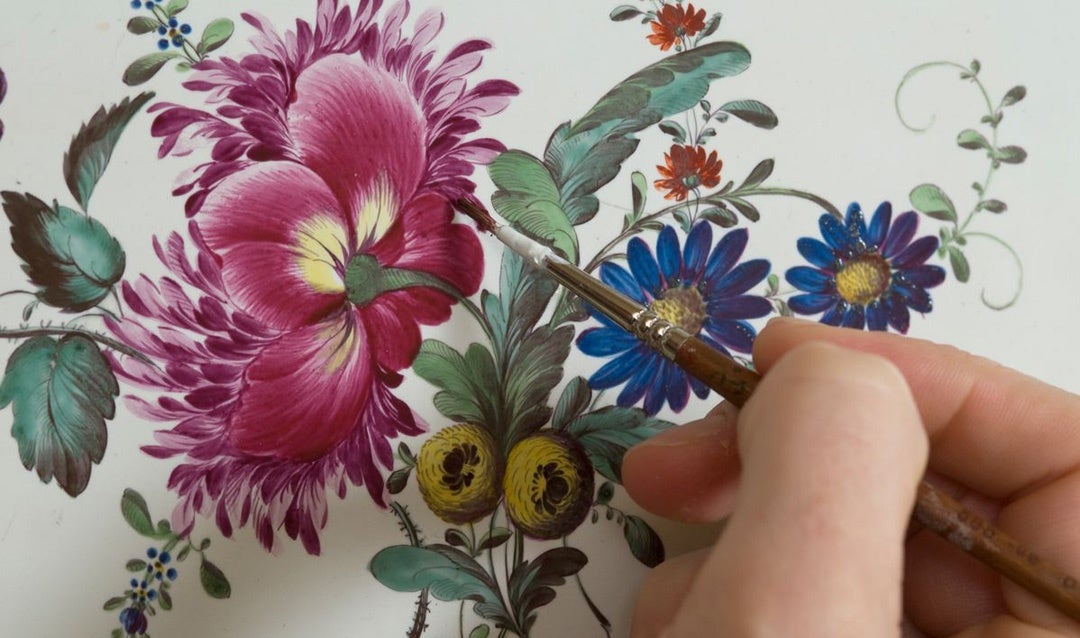 The wallpaper in this room is an exact reproduction of the original, a simple but elegant floral design with delicate gold striping in the background. Our team contracted with Atelier d'Offard, a small company in Tours, France, that specializes in traditional block-printed wallpapers, to create an exact reproduction.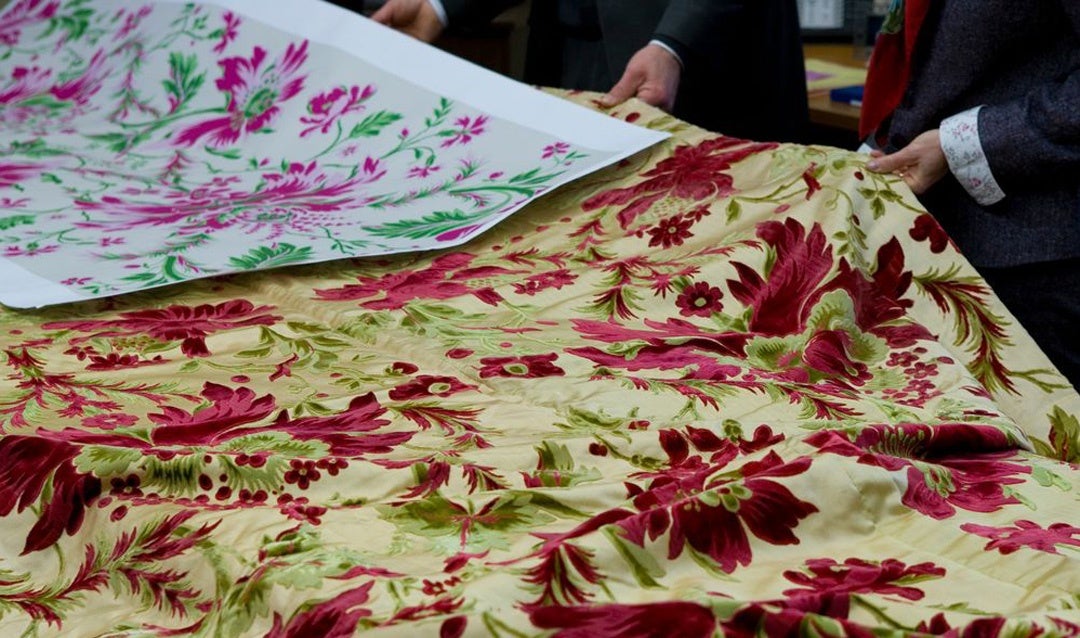 The cut and uncut silk velvet in beautiful shades of ivory, red, and green has been reproduced for use in this room. Prelle, a silk workshop in Lyon, France that has been in the same family for more than 250 years, wove this fabric on century-old Jacquard looms in the exact same manner as the original fabric purchased by George Vanderbilt.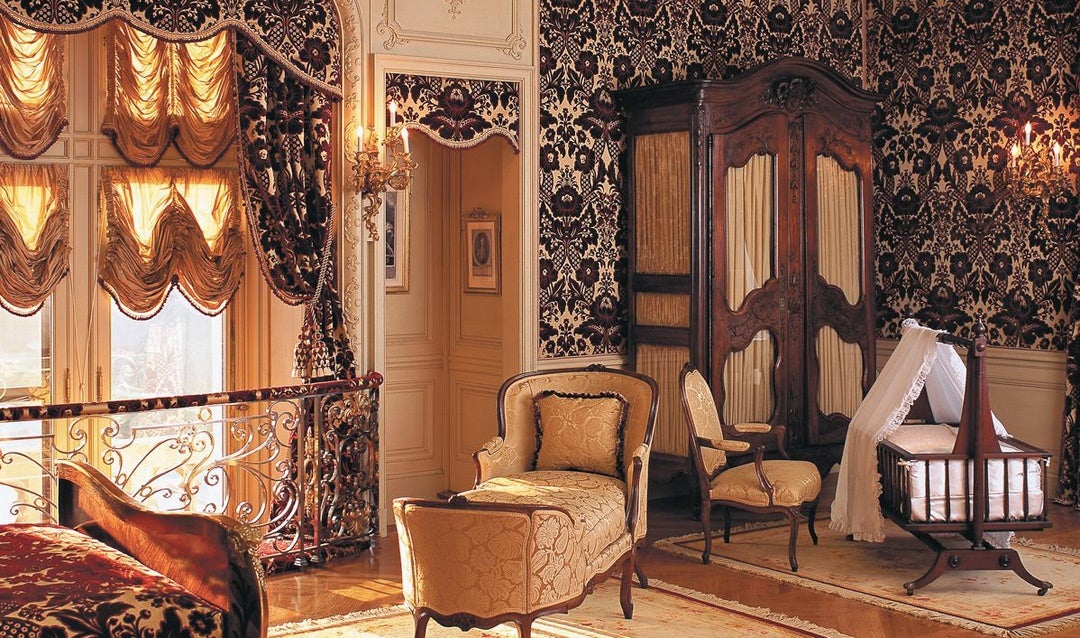 Louis XV Room
The suite's namesake and perhaps the grandest guest room in Biltmore House, the Louis XV Room takes its name from the French king. During most of his reign (1715–1774), French interiors were characterized by rococo design elements, including rounded forms, C-shaped curves, bright clear colors set off by white and gold, and light fanciful carving of foliage, shells, and other naturalistic motifs. Many of these same motifs were incorporated into the architectural scheme and furnishings in this room, as the Louis XV style was still very popular in the late 19th century.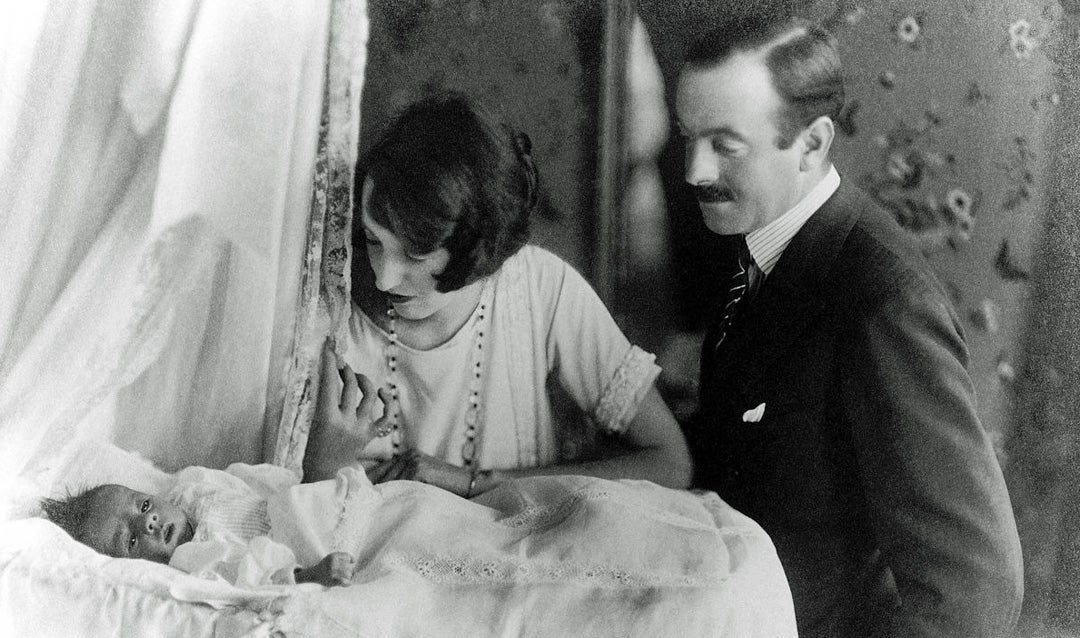 Amid the elegant surroundings of the Louis XV Room is where George and Edith Vanderbilt's only child, Cornelia Stuyvesant Vanderbilt, was born in 1900. Cornelia then chose this room to give birth to her two sons, George Henry Vanderbilt Cecil and William Amherst Vanderbilt Cecil in 1925 and 1928, respectively.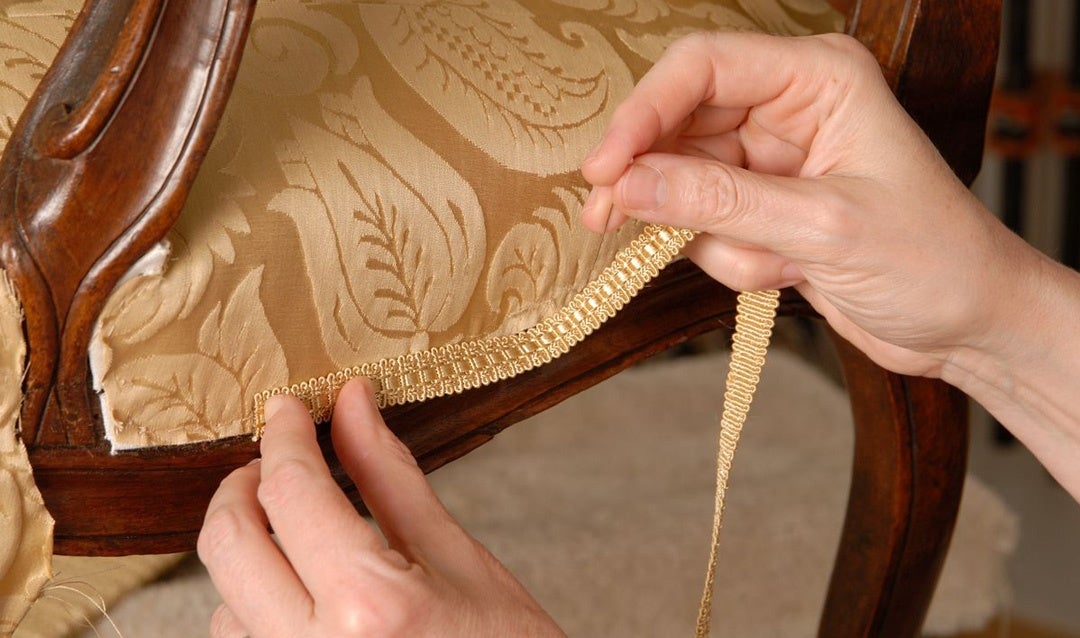 Restoration of this room included the reproduction of the original gold and red silk cut velvet, which was hand-woven by Tassinari & Chatel in Lyon, France. Like Prelle, Tassinari & Chatel has specialized in the manufacture of fine silk fabrics for more than 200 years and has an international reputation for the quality of its fabrics. This fabric is used for wall covering and drapery. In addition, Biltmore's conservation staff conserved all of the furnishings in the room, including Louis XV-style seating furniture and a Louis XV-style bed, as well the marble mantel, gilded rococo wall sconces, and an elaborate gilt mirror hanging over the fireplace.
Watch to Learn More