Biltmore goes to great heights for preservation, because our mission is to preserve the estate for the enjoyment of future generations.
This means that every aspect of Biltmore must be cleaned, inspected, repaired, and restored on a regular basis.
Great heights for preservation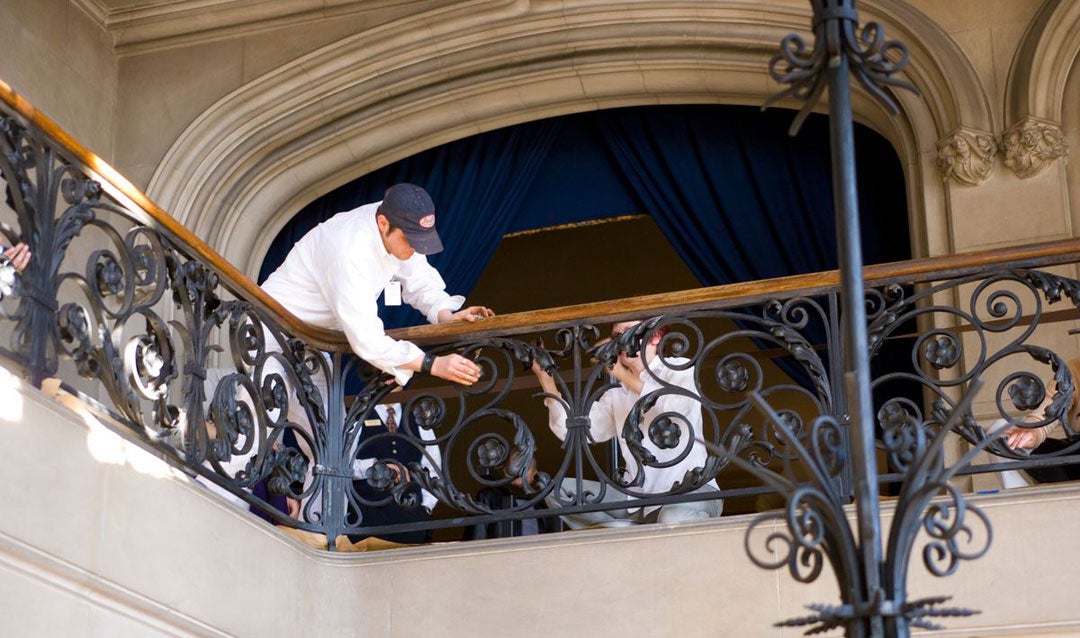 It also means that our guests sometimes get amazing glimpses of the work that goes on behind the scenes in America's Largest Home®.
Winter Garden woodwork
In September 2016, for example, Connie Dey, Housekeeping Supervisor, and members of her team utilized a 40-foot scaffold to clean the oak woodwork that surrounds and supports the glass ceiling in the Winter Garden.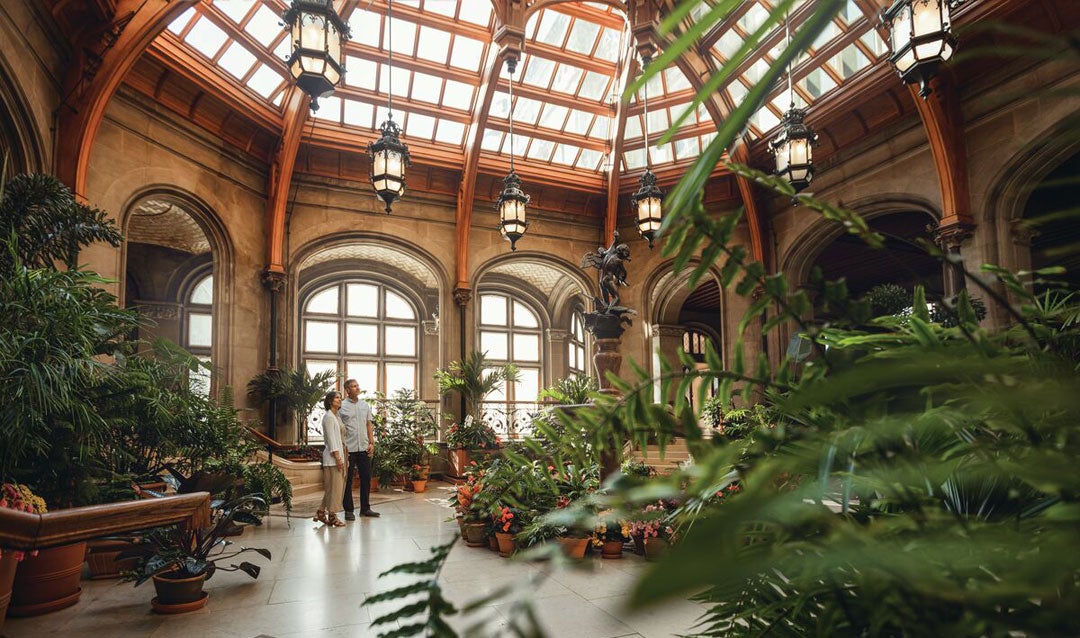 Part of our ongoing preservation efforts, treating the wood that supports the glass takes place about every three years. Sun damage is evident closest to the top of the ceiling, which dates back to the late 1890s.
This area receive full sun for several hours on bright days. Making sure the wood stays moisturized is key to keeping it protected–sort of like applying sunscreen every three years.
Connie and her team vacuumed and wiped dirt away to ready the surfaces for an application of a special wood polish containing beeswax, carnauba wax, and orange oil. The entire project took about a month.
High standards of cleaning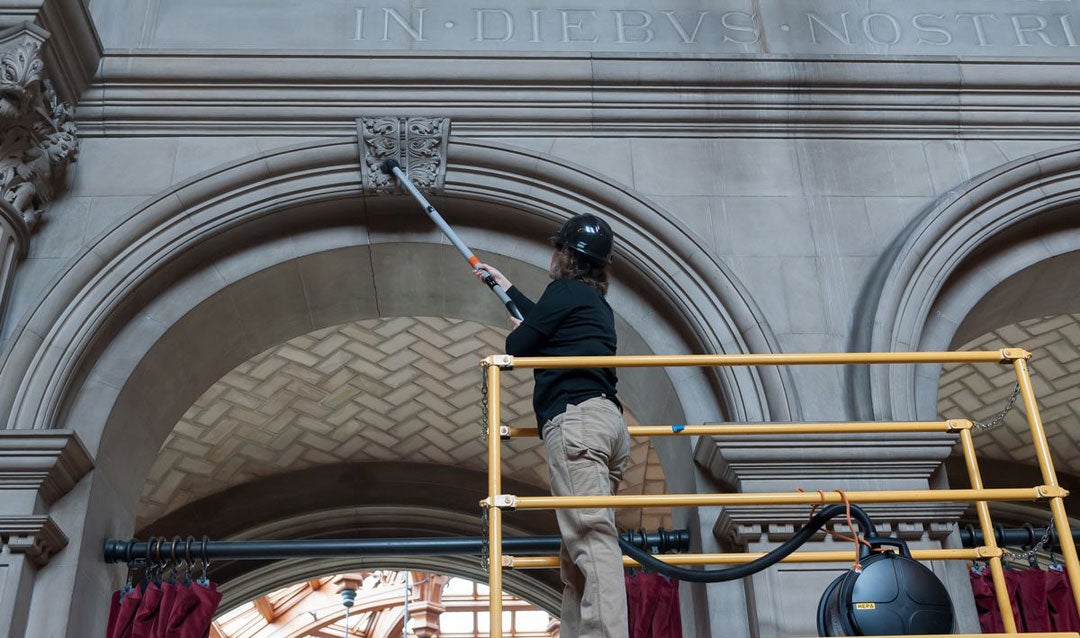 While some projects like the Winter Garden ceiling are done every few years, Biltmore House itself gets a thorough deep cleaning each winter after Christmas at Biltmore ends.
"Winter is usually our quietest season," said Connie Dey, "so it's the perfect time to clean things without getting in the way. And visitors often enjoy watching the process–my team gets lots of questions from guests about how to clean their own homes!"
Our mission of preservation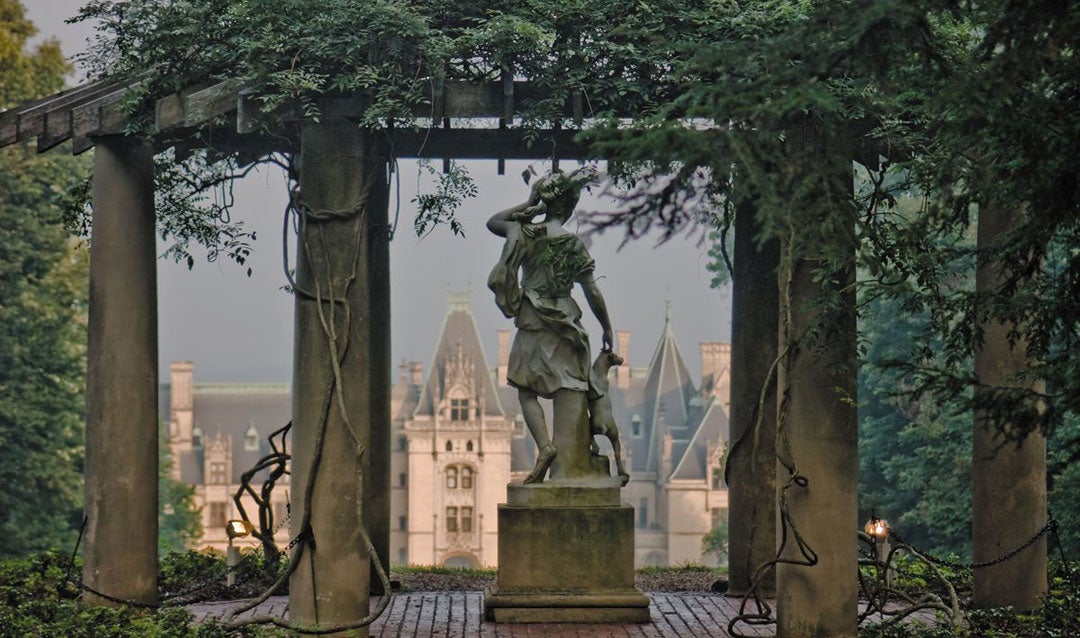 Our mission to preserve Biltmore as a privately-owned, profitable, working estate emphasizes preservation first. Learn more about our efforts to preserve, restore, and conserve this National Historic Landmark with the help of our in-house conservation department.
Featured image: Connie Dey stretches over the Winter Garden to reach every inch of wood with her dust mop to prepare the wood for its moisturizing treatment