BACK TO BLOG
Celebrate Biltmore's Tree-Raising Tradition Virtually
Written By Jean Sexton
Posted 11/04/21
Updated 06/28/22
Holiday Traditions
This year, Biltmore invites you once again to join us online to celebrate our tree-raising tradition virtually!
"One of our most beloved Christmas at Biltmore traditions is raising and decorating the grand Banquet Hall tree," said Lizzie Borchers, Floral Manager.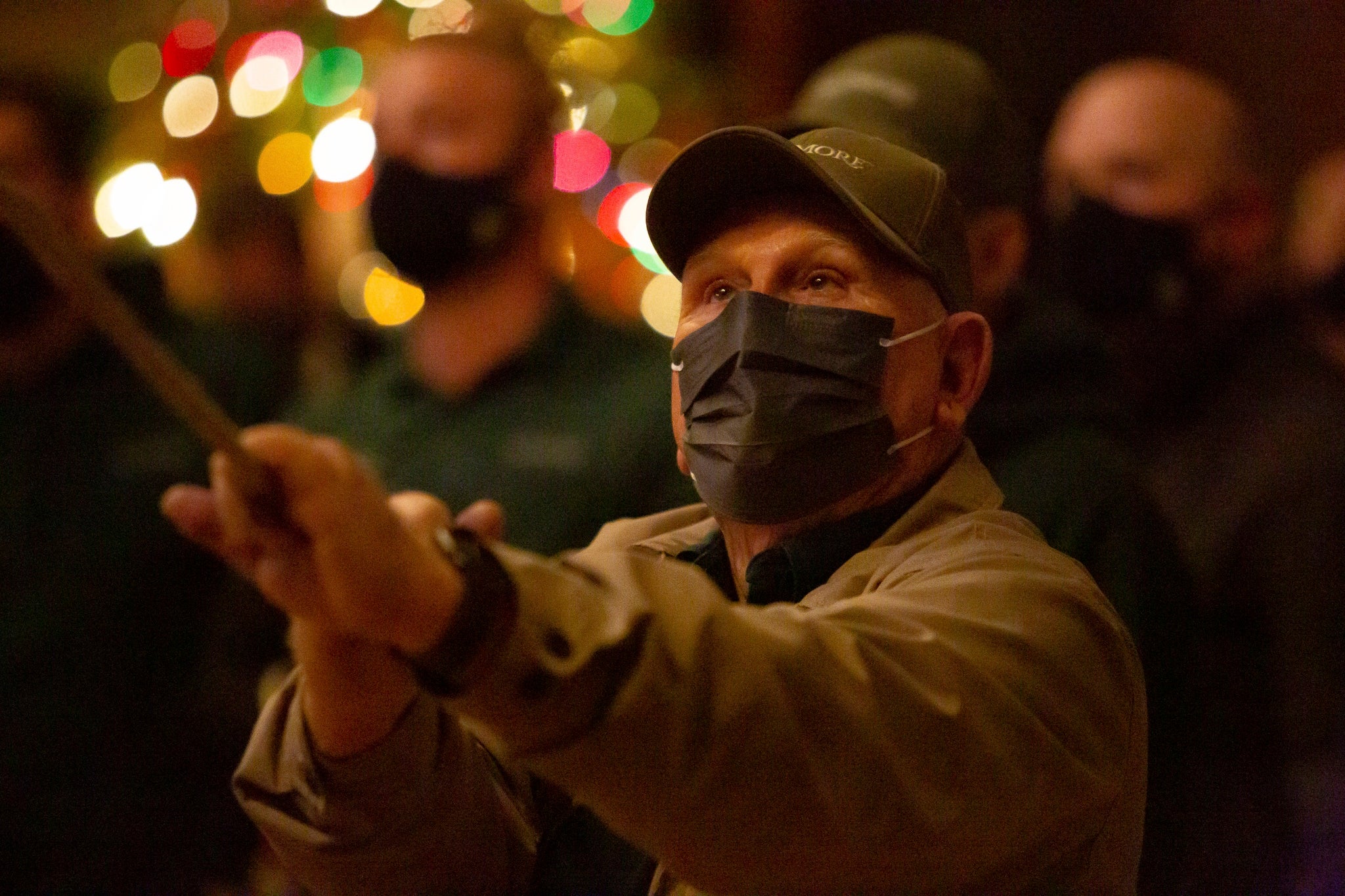 "George Vanderbilt first welcomed friends and family to Biltmore House on Christmas Eve 1895," Lizzie said, "so we want to celebrate by sharing a closer look at the process, including many behind-the-scenes details."
Experience this year's tree raising virtually
With the health and safety of our guests and employees in mind, we've created a Christmas mini-documentary to give you an exciting virtual view of this 35-foot Fraser fir's journey to become the seasonal centerpiece in America's Largest Home®.
Celebrating Christmas at Biltmore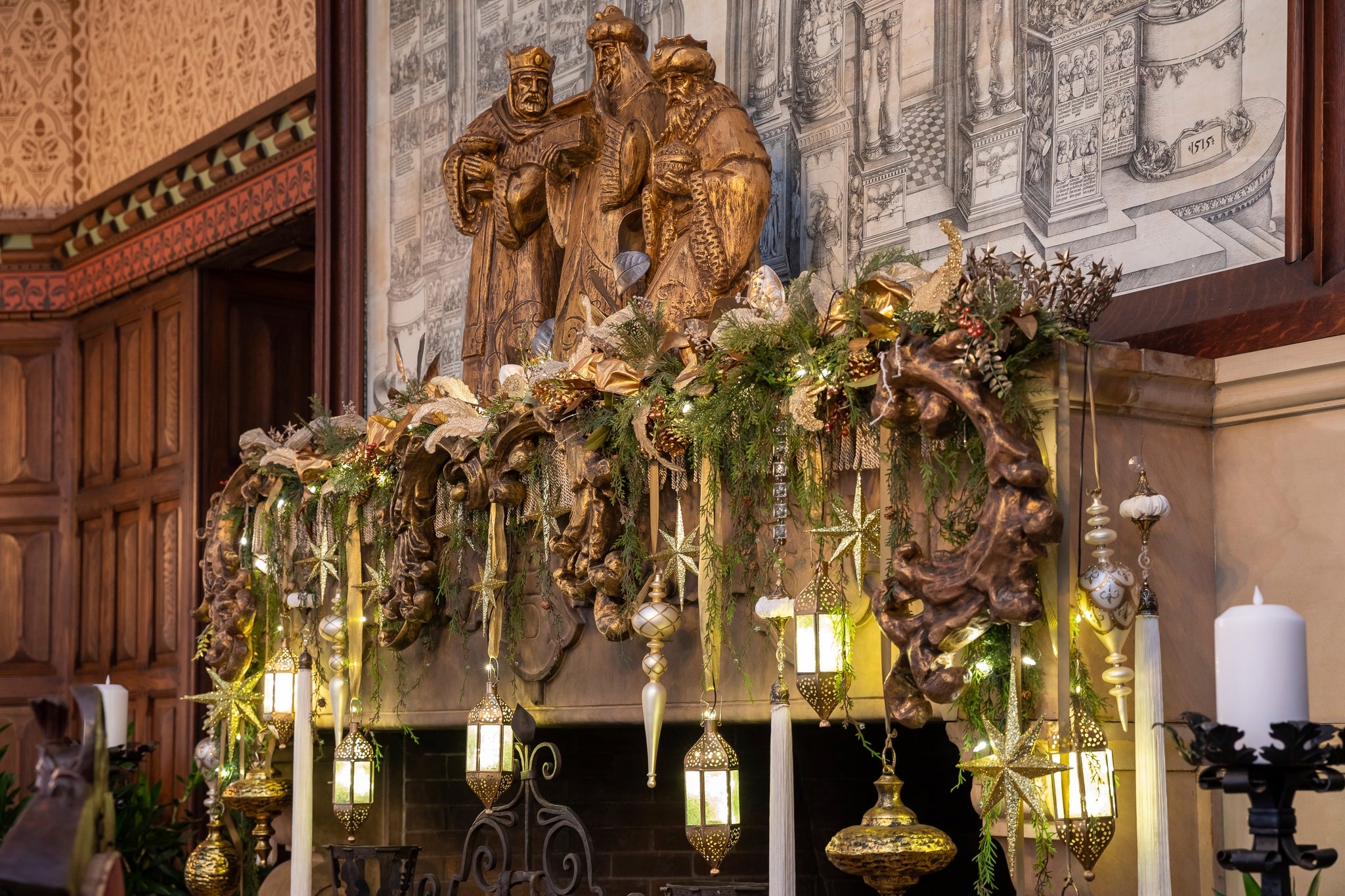 Biltmore's Floral Displays team developed a special "Christmas Carol" theme, using an array of traditional seasonal songs that were as popular in the last century as they are today, to create the décor in America's Largest Home.
The Vestibule, Entry Hall, and Winter Garden feature inspiration from Deck the Halls because the words "boughs of holly" reflect George Vanderbilt's request for "barrels of mistletoe and wagonloads of holly" to decorate his new home.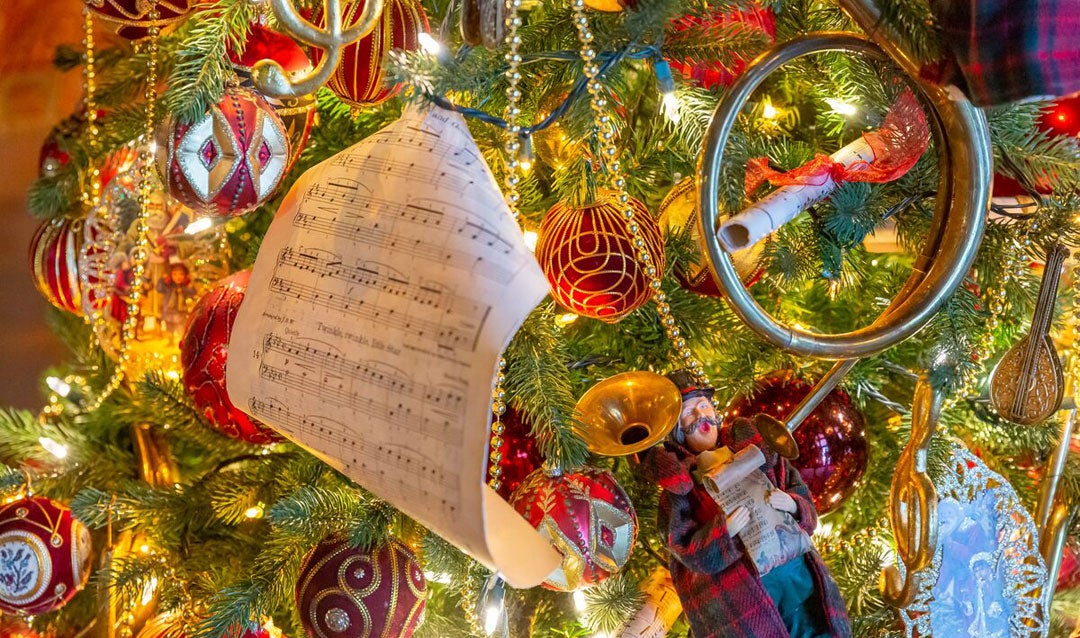 "Look for the traditional reds and greens of the season as you enter," said Floral Designer Lesley Tobar. "And be inspired to deck your own halls!"
Star of the show
For 2021, the Floral team once again used an enormous eight-pointed Bethlehem star, custom built by Jason Pleva, a member of Biltmore's carpentry team, as the decorative topper for the 35-foot-tall Banquet Hall Christmas tree.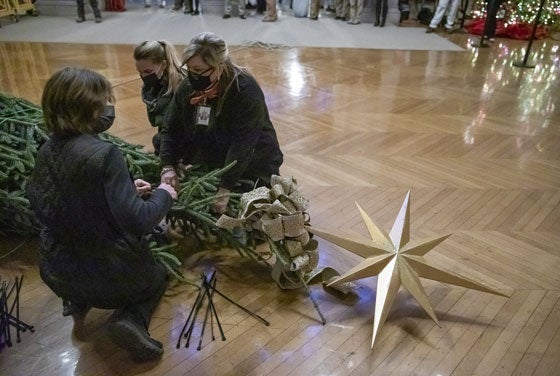 "I chose The 12 Days of Christmas as inspiration for interpreting the Banquet Hall," said Lucinda Ledford, Floral Designer. "In addition to traditional Christmas colors of red and green, I included shades of gold," Lucinda noted, "so the beautiful golden star was a perfect complement for the tree."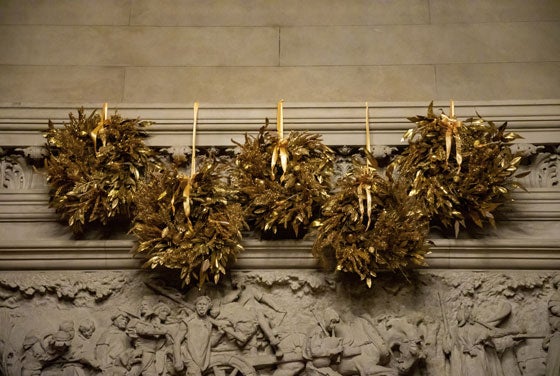 "The Banquet Hall features other details from the beloved carol, like these five golden ring-like wreaths on the fireplace mantel," said Lucinda.
Make it jolly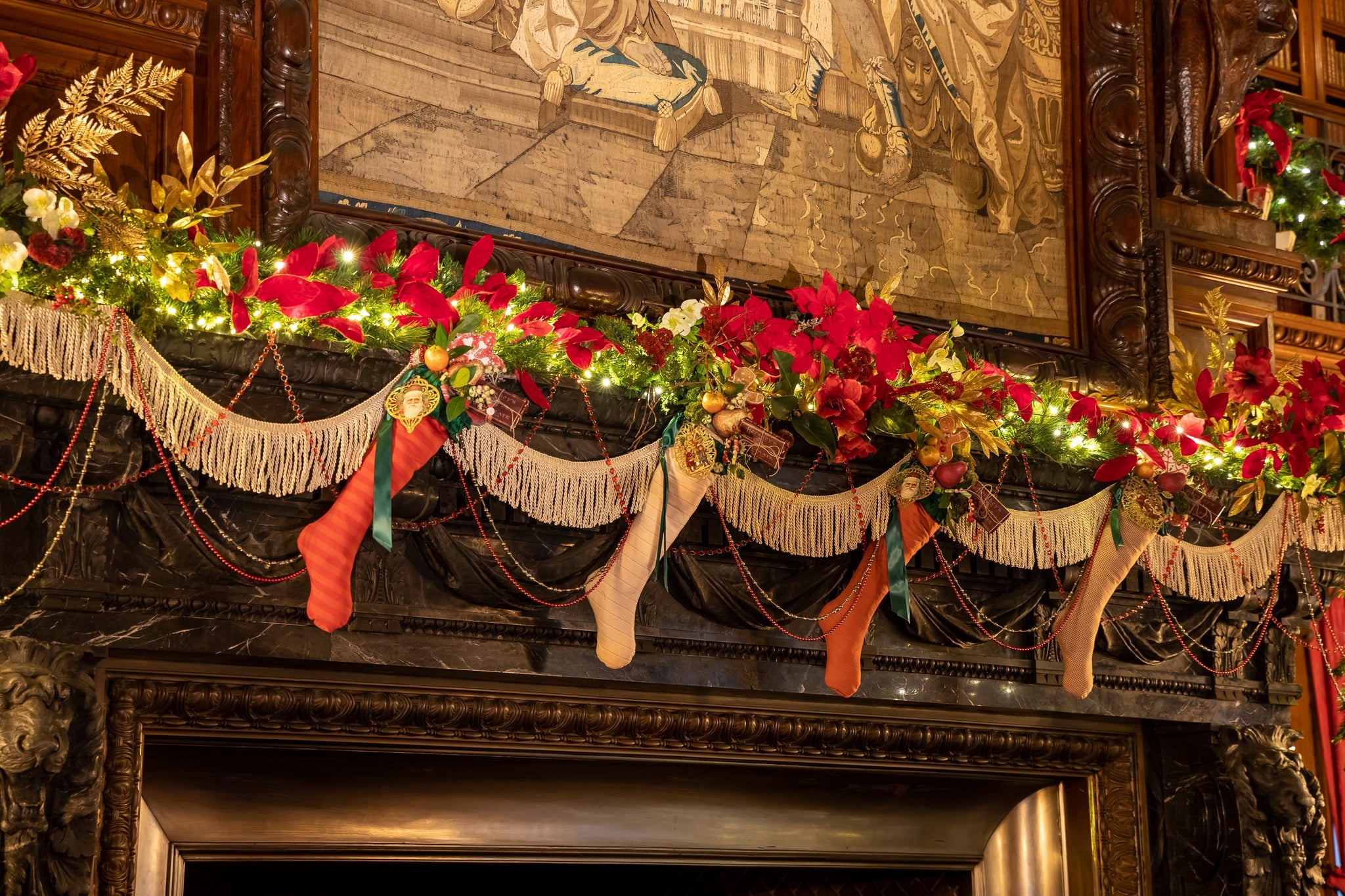 Biltmore Floral team member Don Holloway chose the Christmas décor in the Library with inspiration from Jolly Old St. Nicholas, a lively carol that always sets a cheerful mood.
"I chose classic reds, greens, and golds for this room that displays about half of the 23,000 books that George Vanderbilt collected," said Don, "but I also allowed the playfulness of the song to shine through, lightening the formal tone of the Library."
Suggestions of stained glass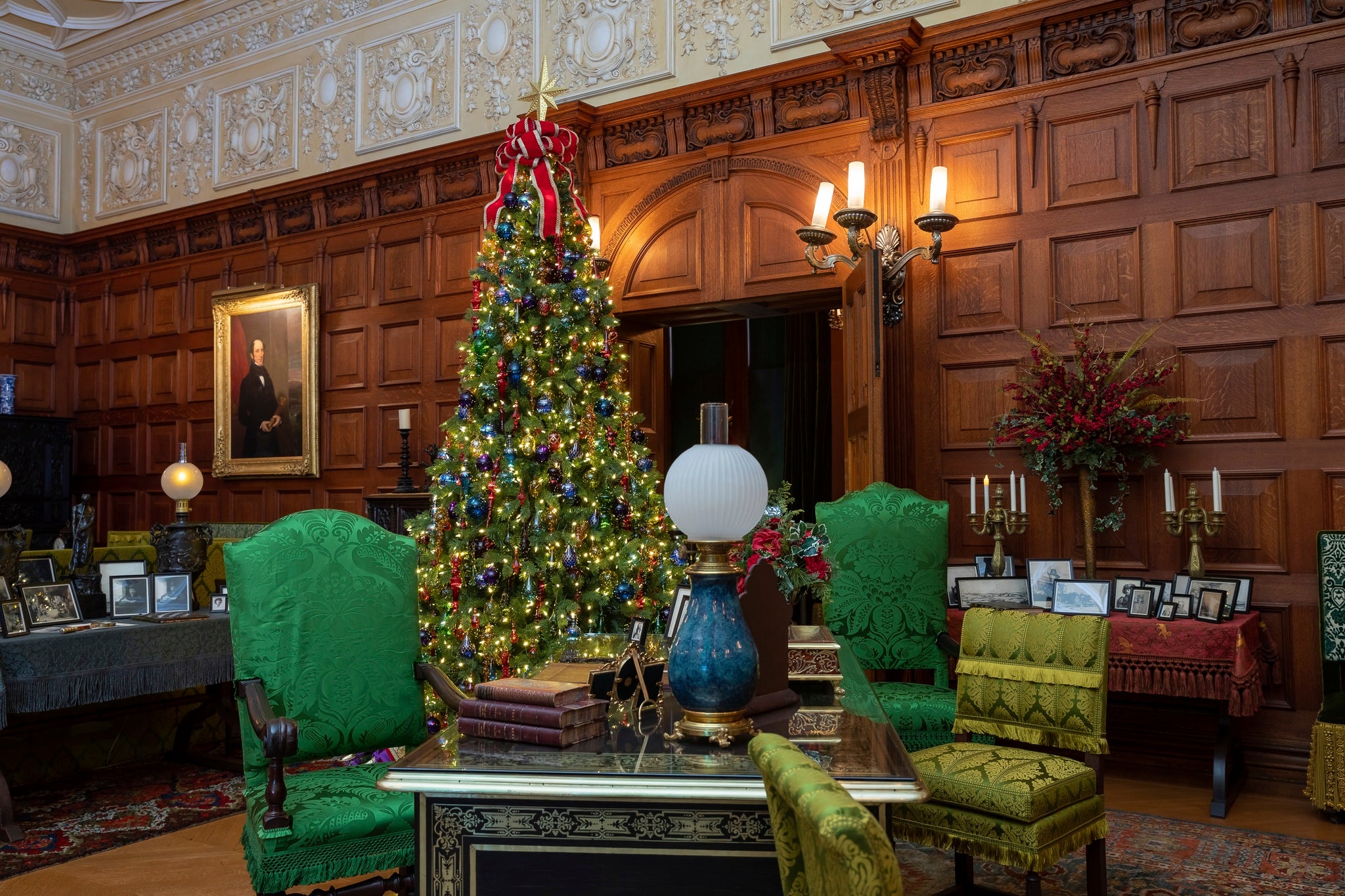 Inspired by the carol O Holy Night, Kyla Dana, Floral Supervisor, selected jewel-toned decorations to complement the rich, vibrant colors of the recently restored Oak Sitting Room.
"The worshipful tone of that song led me to think about All Souls Cathedral in Biltmore Village, which has many ties to the Vanderbilt family. The translucent ornaments I chose for the Oak Sitting Room represent the stained glass windows in the church."
Magnificent details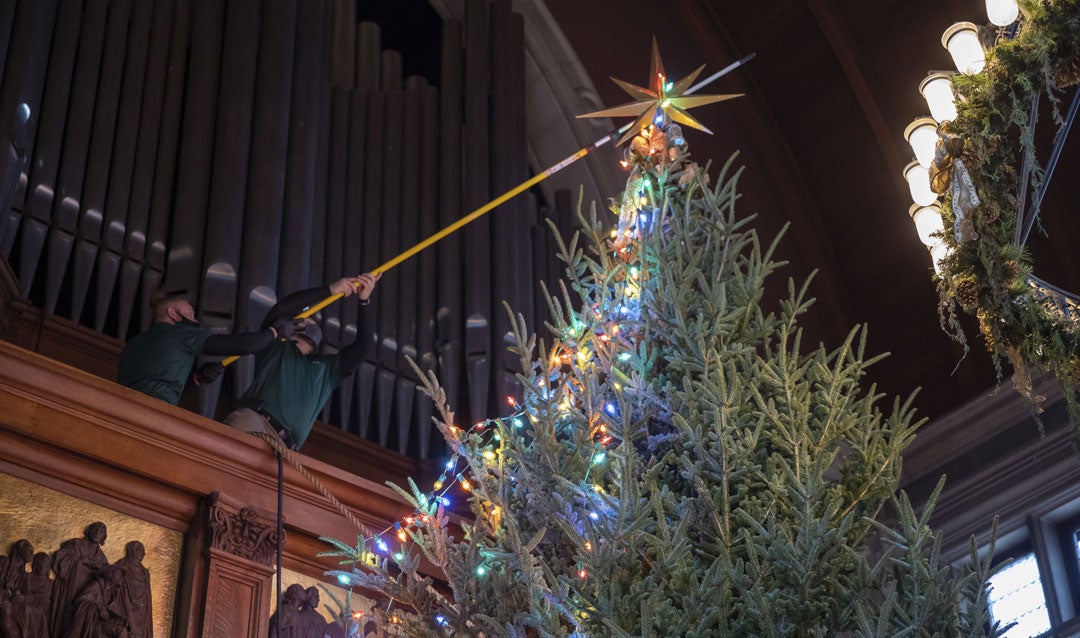 "These are just a few of the magnificent details we'll have ready for you," said Lizzie. "So whether you're able to visit in person or simply enjoy seeing our updates on Facebook and Instagram, Christmas at Biltmore and Candlelight Christmas Evenings add a lot of excitement to the holiday season."
Virtual entertaining ideas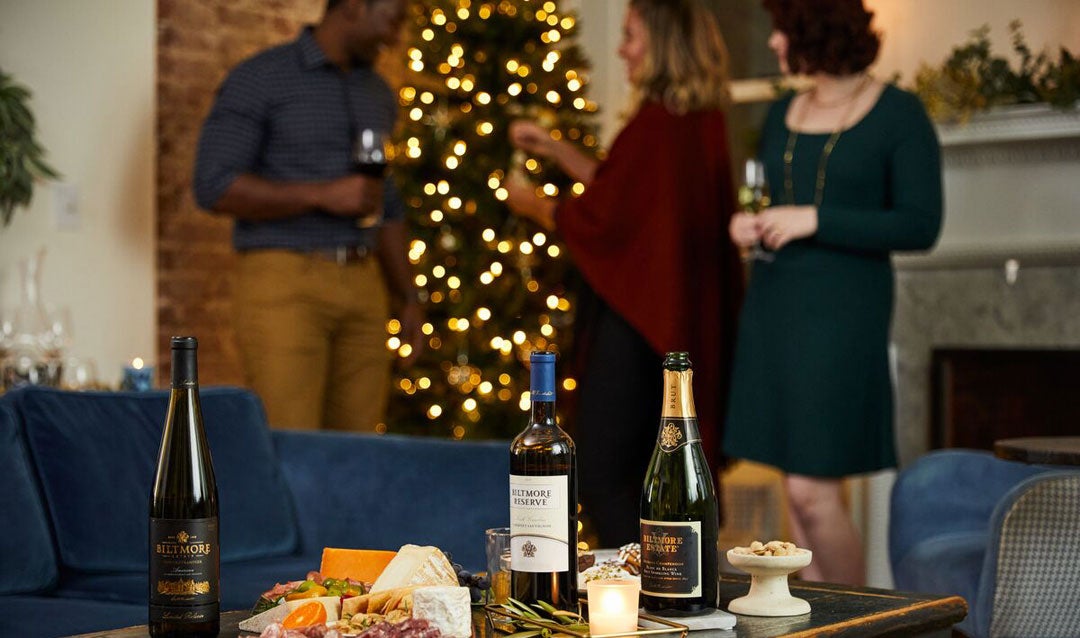 In addition to our virtual tree-raising event, we've also created a special video to help you host a virtual wine tasting at home. To make it even easier, select our Virtual Wine Tasting Set featuring each of the wines from the video.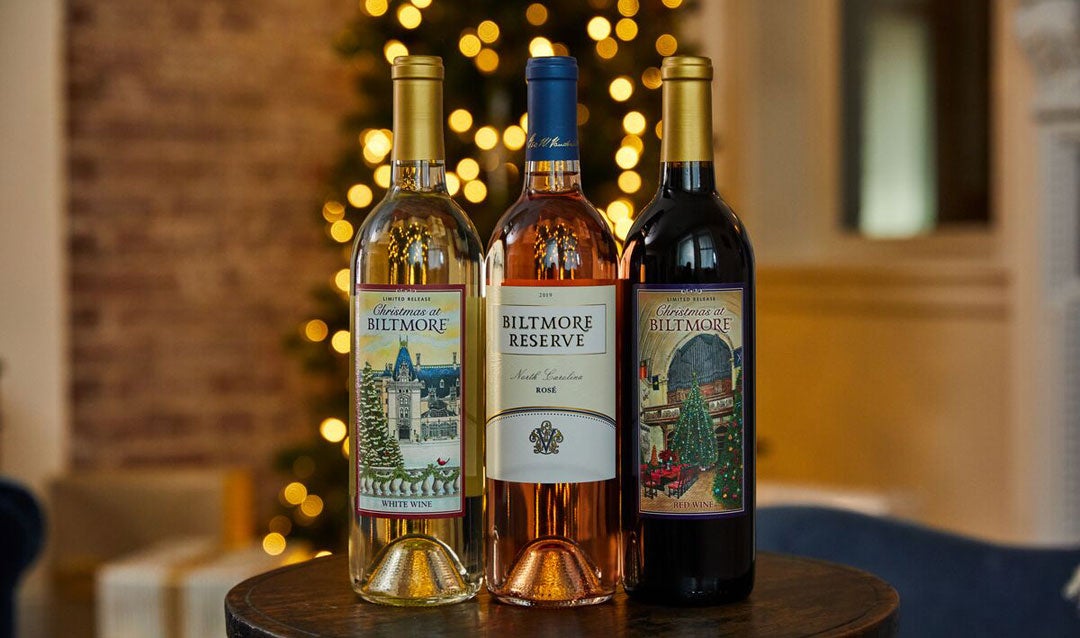 We're also offering a Tree-Raising Wine Trio to help you celebrate our virtual event (or your own tree raising festivities), plus our 2021 Seasoned with Cheer holiday hospitality guide filled with inspirational ideas for perfect pairings, gracious gatherings, and gift-giving suggestions to make the season even more merry.