BACK TO BLOG
A Vanderbilt-Inspired Thanksgiving
Written By Marissa Jamison
Posted 11/01/11
Updated 07/20/23
Entertaining
George and Edith Vanderbilt were known for their hospitality at Biltmore House in Asheville, North Carolina. Of course, their holiday celebrations were no different and highlighted the ultimate in food and wine for their guests.
Treat your guests to a Vanderbilt-inspired Thanksgiving menu featuring recipes and suggested wine pairings from our winemaker.
Bring Out The Flavors of Your Feast with Biltmore Wines!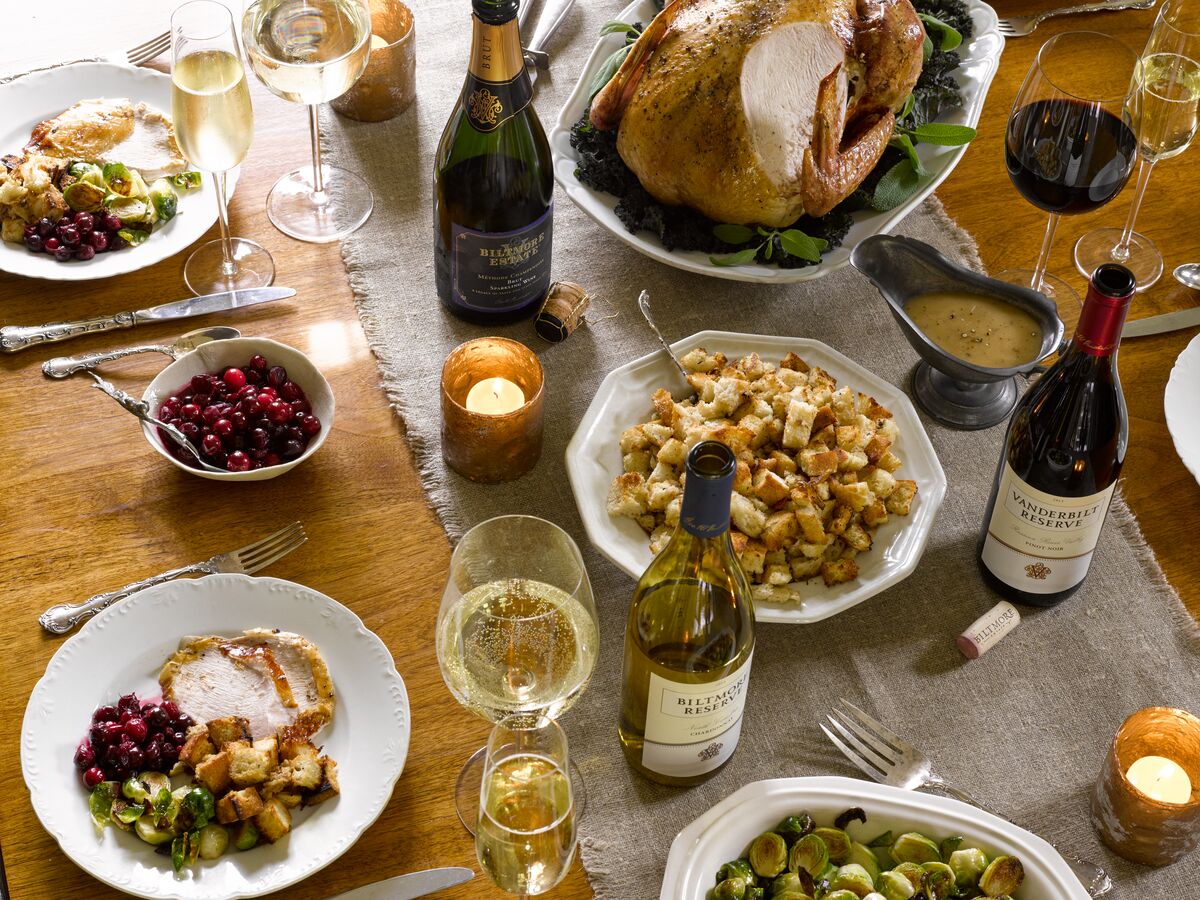 This special time deserves an equally special wine! Surprise and delight your guests by offering both a red and a white wine option to pair with your Vanderbilt-inspired Thanksgiving menu. Our winemaker recommends selecting our buttery, complex Chardonnay and our elegant and medium-bodied Pinot Noir to grace your holiday table.
For a delicious and festive option fit for a Vanderbilt, our Biltmore Estate Winemaker suggests choosing any of our Biltmore sparkling wines to complement your Thanksgiving meal from start to finish.
Vanderbilt-Inspired Recipes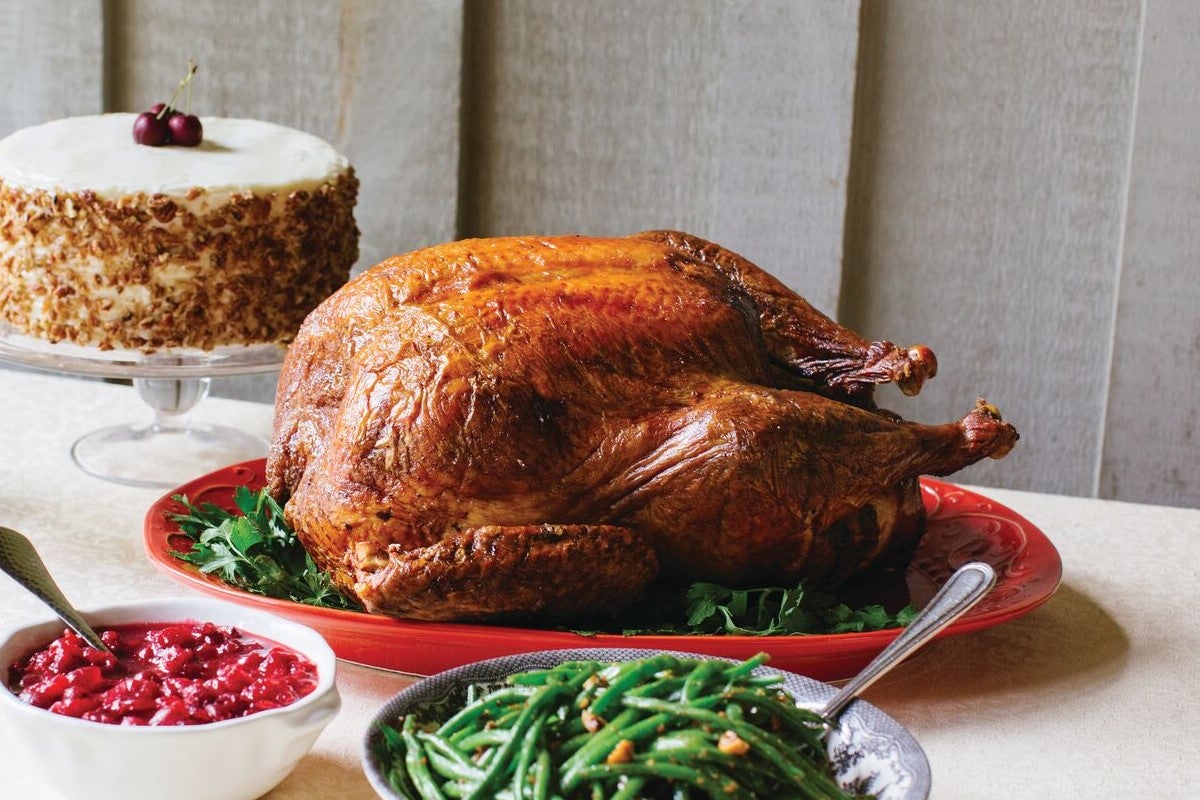 Main Course: George Vanderbilt's Favorite Turkey and Cornbread Dressing
Fun Fact: The creator of this recipe, Ellen Davis, came to Biltmore House from the community of Avery Creek in the spring of 1899 to work as a cook for the Vanderbilts. She fell in love with Thomas H. Johnson, a groomsman in the Stables, and they were married the following spring. This recipe was a favorite of George and Edith Vanderbilt's, and it became a tradition for Ellen Johnson to prepare it for them each year.
Ingredients:
20–25 pound turkey
Cornbread, prepared
6 buttermilk biscuits, prepared
1 dozen eggs, hard-boiled
1 cup chopped onion
1 cup chopped celery
1/4 cup ground sage
Kosher salt and freshly ground pepper to taste
Method:
Rinse turkey and rub with salt inside and out.
Using a large boiler or cooker, place turkey in enough water to almost cover it (one gallon or more).
Heat to boiling point and cook on medium for about 2 1/2 hours or until breast is tender; use a ladle to baste broth over the breast meat to keep it moist.
For cornbread dressing:
Bake a large pan of cornbread using your favorite cornbread recipe.
Bake about six buttermilk biscuits using your favorite recipe, or purchase frozen biscuits and bake.
Peel eggs and chop or grate them into large mixing bowl. Add onions, celery, sage, salt and pepper. Crumble cornbread and biscuits into bowl.
When the turkey is done, pour turkey broth over the cornbread dressing until the desired consistency is reached. Mix well, using plenty of broth so that dressing will be moist and soft when done.
Place turkey in center of large baking pan. Spoon dressing into and around the turkey. Bake in 425ºF oven for about 45 minutes. If turkey browns too soon, cover with aluminum foil.
Side Dish: Roasted Sweet Potatoes with Dried Cranberries and Toasted Pumpkin Seeds
Ingredients:
2 large sweet potatoes diced
1 cup dried cranberries
1 cup toasted pumpkin seeds
1 tablespoon Shallots Minced
1 teaspoon garlic minced
½ tablespoon fresh sage
¼ cup chicken stock
1 tablespoon butter
Method:
Preheat oven to 350 degrees.
Peel and dice the sweet potato into ½ inch pieces. Season with olive oil and salt and pepper. Spread on a parchment-lined baking tray. Place in oven and bake until the sweet potatoes start to turn golden brown and tender.
In a large skillet sauté the shallots and garlic in a tablespoon of olive oil, add pumpkins seeds and cranberries and cook one minute.
Add sweet potato and chicken stock to skillet, bring to a boil then add butter, remove from heat, stir until butter is melted.
Season with salt and pepper.
Side Dish: Haricot Vert (Green Beans)
Ingredients:
1 pound haricot vert
Salt to taste
7 tablespoons butter
Pepper to taste
Method:
Cut off the ends of the beans. Bring a large saucepan of water to a boil and add enough salt to taste like ocean water.
Add the beans and cook for 4 minutes or until done to taste. Drain and plunge into ice water. Drain and place on paper towels to absorb the moisture.
Melt 4 tablespoons of butter in a sauté pan. Add the beans and sauté for 2 minutes. Season with salt and pepper and add the remaining 3 tablespoons of butter.
Side Dish: Creamed Corn
Ingredients:
6 ears fresh corn
1 tablespoon butter
1/4 cup finely chopped leek
1 tablespoon chopped shallot
1 teaspoon chopped garlic
1/4 cup Biltmore Reserve Chardonnay
2 cups heavy cream
1 tablespoon chopped fresh thyme
Salt and white pepper to taste
Method:
Cut the kernels from the cobs and discard the cobs.
Melt the butter in a heavy saucepan over medium heat. Add the leek, shallot and garlic and sauté for 2 minutes. Stir in the corn and cook until the corn is tender.
Add the wine, stirring up any of the mixture that has adhered to the bottom of the saucepan. Cook until the wine has evaporated.
Add the cream and simmer for 15 to 20 minutes or to the desired consistency, stirring occasionally.
Dessert: Apple Tart
Ingredients for Pastry:
1/2 cup unsalted butter, softened
1/4 cup sugar
Pinch of salt
1/2 teaspoon vanilla extract
1 egg, lightly beaten
1 1/2 cups all-purpose flour
Ingredients for Streusel:
1 cup all-purpose flour
1/2 cup packed brown sugar
1/4 cup butter, melted
Ingredients for Tart:
4-5 Granny Smith apples, peeled, cored and thinly sliced
1/4 cup sugar
1 teaspoon ground cinnamon
1/2 teaspoon ground nutmeg
1/4 teaspoon ground cloves
Ingredients for Garnish:
Sliced, dried figs
Whipped cream or vanilla ice cream
Method:
For pastry: combine butter, sugar, salt and vanilla in a mixing bowl. Cream together with a paddle attachment until light and fluffy. Beat in the egg and scrape the sides of the bowl. Add the flour gradually, mixing until incorporated. Shape into a disk then wrap in plastic wrap and chill in the refrigerator for 2–8 hours.
For topping: mix flour and brown sugar in a small bowl. Add butter and work with fingers until smooth. Chill in the refrigerator for 2 hours.
For tart: preheat the oven to 350°F. Toss apples with sugar and spices in a bowl. Spray a tart pan with a removable bottom with nonstick cooking spray. Roll the pastry dough to 1/4 inch thick on a lightly floured surface and place in pan, pressing into bottom and trimming any excess dough. Spoon apple mixture into pastry and sprinkle with streusel topping. Bake for 25 to 35 minutes or until golden brown. Cool in pan on wire rack for 10 minutes. Remove to a serving plate and garnish with figs; serve warm with whipped cream or vanilla ice cream.