BACK TO BLOG
Get Hooked on Fly-Fishing at Biltmore
Written By Jean Sexton
Posted 08/18/17
Updated 07/18/22
More From Biltmore
With a practiced flick of his wrist, Dustin Stanberry can send a hand-tied fly spinning out above the water to strike precisely where he thinks his targets are waiting.
Fish can be tricky, however, and as a Biltmore Outdoor Adventure Center Instructor since 2011, Dustin knows he has to hone his skills constantly in order to help both beginners and accomplished anglers make the most of their experience.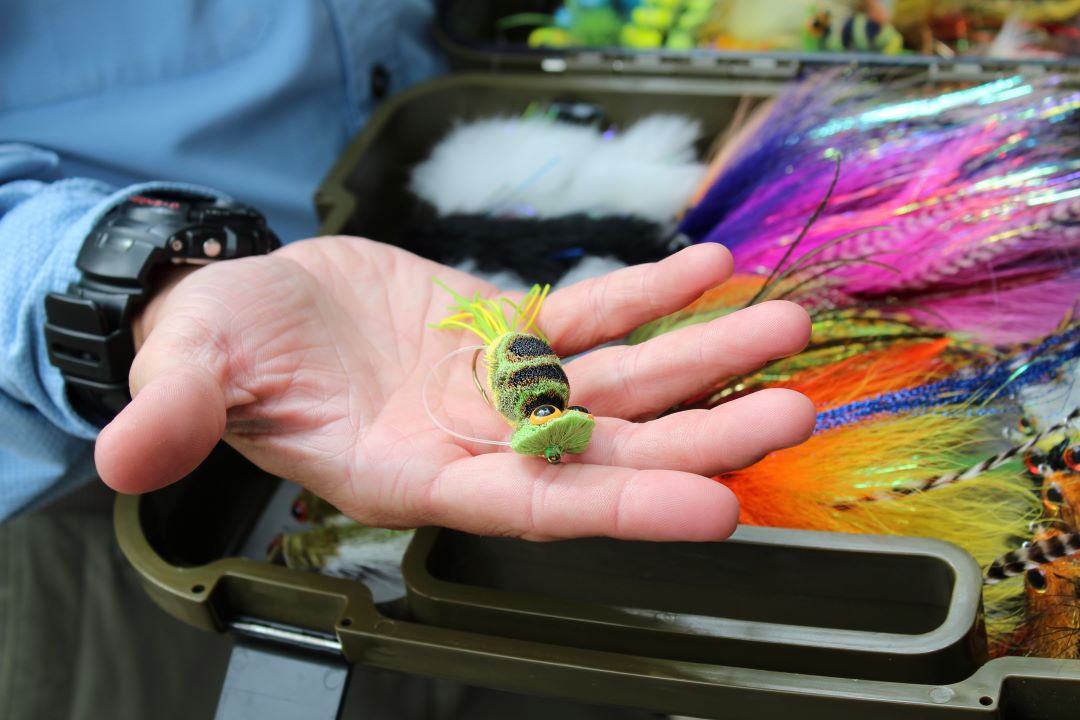 A form of art
"Fly-fishing really is an art," said Dustin, "and it takes time and patience to get a feel for the equipment—especially the flex or loading of the rod—and to allow it to do the work for you."
Dustin has been an avid fisherman since childhood, receiving his first fly-fishing rod when he was about 12. He began tying his own flies in his 20s, and realized that added a whole new element to the sport.
"Most fish can differentiate colors," Dustin said, "and trout can tell the difference between light and dark as well as olive, yellow, and cream tones, so you have to have flies that mimic the insects that a species of fish would naturally choose to feed on at any given time of year. These are the type of things that an angler will build on and continuously improve throughout their fishing career."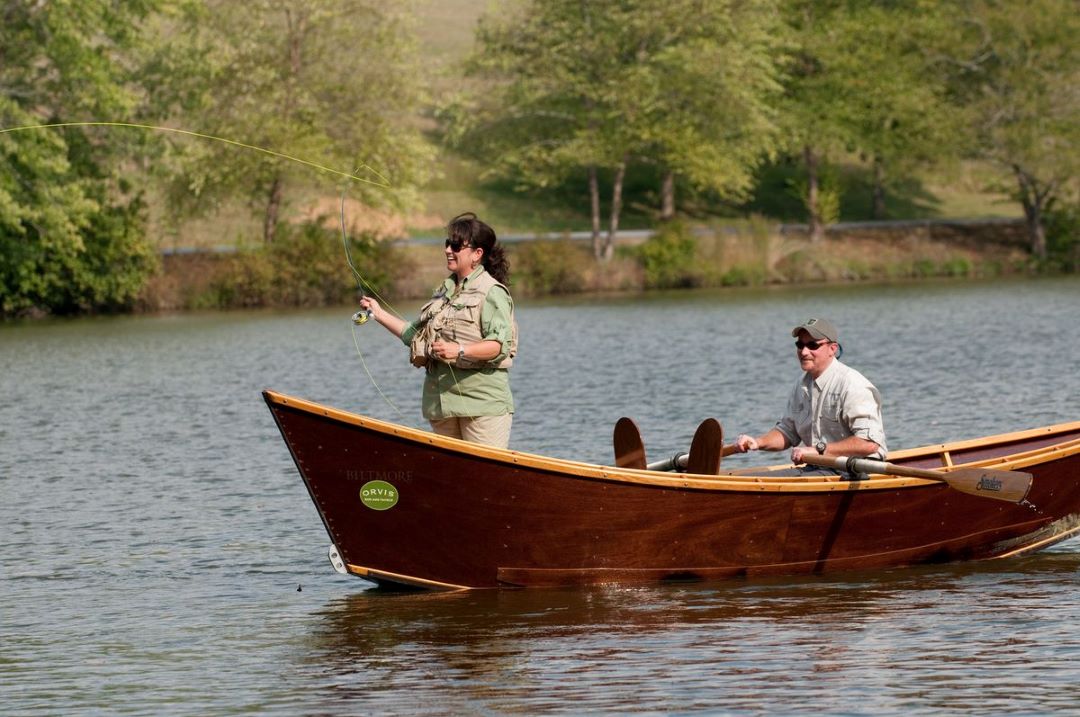 Enjoy the moment
Whether he's providing guided fly-fishing lessons from the bank of the Lagoon or on the water in Biltmore's classic wooden drift boat, Dustin stresses the importance of relaxing and having fun as you learn.
"It's great to try out a new skill or improve your technique, but it should also be a time to connect with nature and enjoy your surroundings," he said. "That's especially important when you look at what we are trying to do with a fly rod—we're trying to interest a fish in something that we've tied on a hook and then we want the fish to take it. It's like going to a restaurant and having the chef place something in front of you that you didn't order, but you decide you want to eat it anyway. It seems a little crazy until you actually catch your fish!"
For love of the sport
In addition to fly-fishing, Dustin is also an instructor for Biltmore's Sporting Clays course on the west side of the estate. "It's exciting that both our Fly-Fishing and Wingshooting Schools have earned an official Orvis endorsement," said Dustin. "Orvis is a classic brand that fits well with Biltmore in terms of expertise and customer service.
Although he enjoys fly-fishing in a wide variety of settings—from calm lakes and rippling streams to rushing rivers and pounding waves along the seashore—Dustin is a catch-and-release advocate who hopes that others share his passion for skillfully landing a fish and letting it go.
"There's always more to learn," Dustin said. "Every fish is different, and you never feel like you've got it all covered!"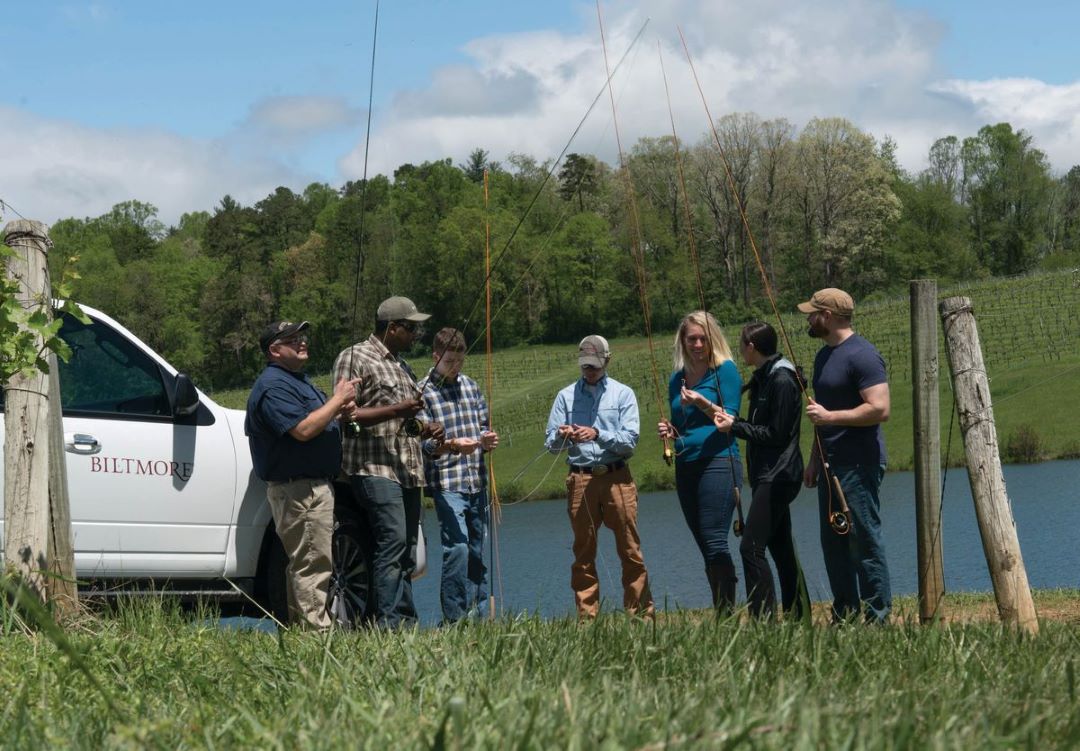 Explore the possibilities
Treat yourself to a Biltmore fly-fishing adventure with a two-hour introductory course or a half-day lesson. For more experienced anglers, we offer guided float trips on the estate or the nearby French Broad River and wading trips to well-stocked local streams and lakes.
Featured image: Dustin Stanberry with Biltmore's drift boat
— First image: One of Dustin's hand-tied "frog pattern" flies
— Second image: Drift boat at the Lagoon
— Third image: Guests enjoying a guided fly-fishing lesson at Biltmore