BACK TO BLOG
Halloween How-to: Pairing Biltmore Wine with Candy
All Things Biltmore • 10/12/20
Written By Jean Sexton
Take "spooky season" fun to the next level with the following Halloween how-to on pairing Biltmore wine with classic candies.
"There's nothing scary about enjoying Biltmore wines with your favorite sweet treats," said Jill Whitfield, Senior Marketing Manager, Biltmore Wines.
"The same principles that apply to successful food-and-wine pairings also work with candy," Jill said. "For desserts, you'd normally choose a wine that's sweeter than the dish you're serving, but this Halloween how-to focuses on pairings that add a little sophistication and a lot of fun to the mix."
To make it even easier to pair Biltmore wines with Halloween candy, consider our delightful Halloween Wine Trio featuring the three classic wine-and-candy pairings detailed below.
Candy corn complement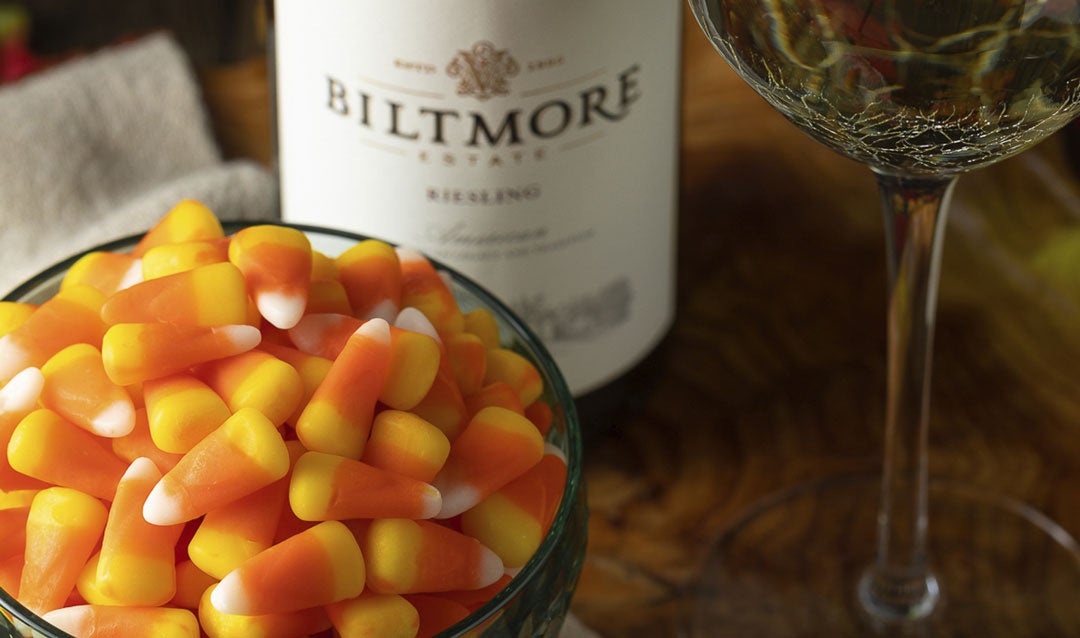 For those who love the seasonal stripes and sugary sweetness of old-fashioned candy corn, it's twice as nice with a glass of Biltmore Estate® Limited Release Dry Riesling from our Halloween Wine Trio.
"Our Dry Riesling opens with scents of bright citrus and hints of spice that that make you think of fall," Jill said, "while the taste recalls sun-warmed plums, nectarines, and other stone fruits. The wine's flavor and dryer style provide a pleasant balance for the pure sweetness and soft, waxy texture of candy corn."
Red wine and chocolate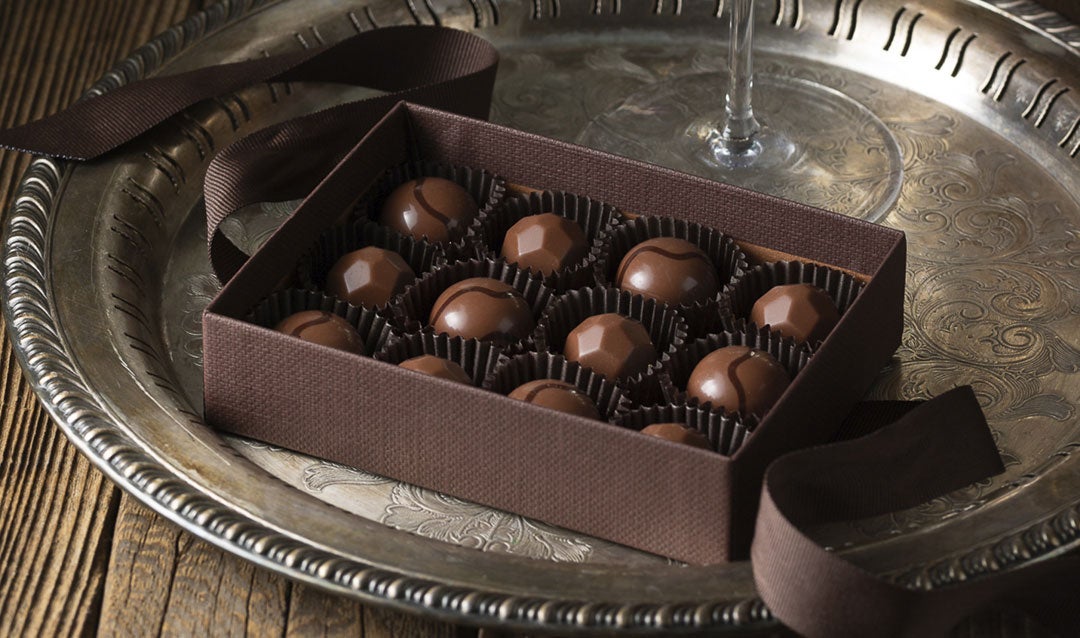 For a match made in heaven this Halloween, don't put all the milk chocolate goodies out for the kids–save some of them for pairing with our lush Biltmore Estate® Limited Release Zinfandel, which is also included in our Halloween Wine Trio.
"This Zinfandel has bright fruit flavors of raspberry and strawberry to complement the chocolate, plus hints of pepper to provide a nice counterpoint to the sweetness," said Jill. "In addition, it's a medium-bodied wine, which is a good partner for the easy-melting texture of milk chocolate."
Peanut butter perfection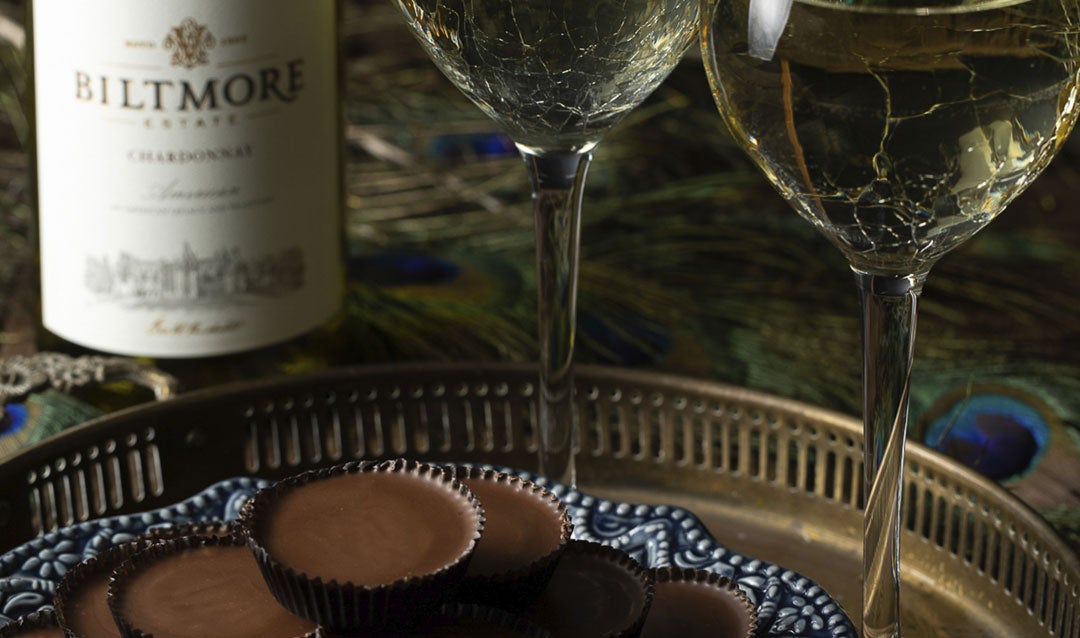 If your Halloween traditions include snagging all the chocolate-covered peanut butter cups out of the treat bags to savor later, we suggest you consider complementing the dynamic duo with our approachable Biltmore Estate® Chardonnay–the final selection in our Halloween Wine Trio.
"This is a pairing that surprises people," Jill admits, "because you don't normally pair peanut butter with wine. But if you think about it, what's more perfect with peanut butter than grape jelly, which gives you a point of reference."
According to Jill, our Chardonnay works well because it's a delightfully smooth wine with fruit flavors and hints of oak that enhance most food flavors. It's also crisp and offers good acidity to balance the higher fat content and rich mouthfeel of peanut butter.
Halloween how-to with Biltmore wine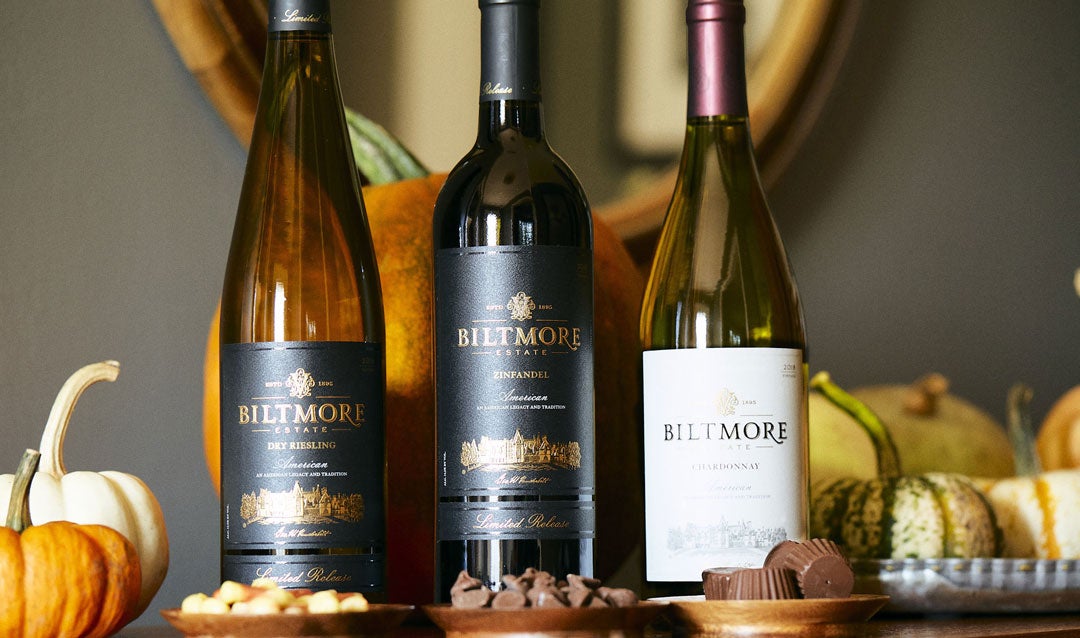 Ready to try our Halloween how-to and savor Biltmore wine with your favorite candies? Enjoy special savings off the regular price if purchased separately with our Halloween Wine Trio featuring three classic varietal to pair with everything from candy corn to peanut butter cups.
Find all of our award-winning wines at the estate, online, or close to home with our Retail Locator.
THE WONDERFUL WORLD OF WINE
Hosting holiday celebrations? Find useful tips, tasty pairings, fun wine facts, and more.
See Our Wine Guide