Preserving generations of Biltmore china and crystal is a delicate job.
If you have fine china or crystal handed down in your family, you can imagine the care it takes to clean and preserve all the fragile place settings and glassware in the Biltmore collection!
Generations of fragile china and crystal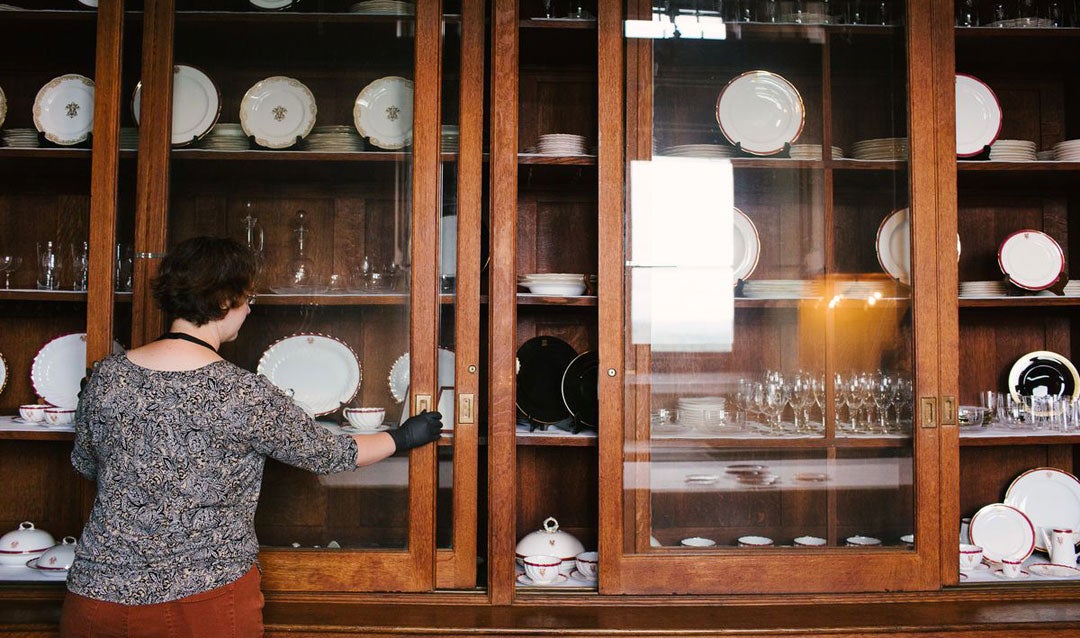 There are three generations of china and crystal stored in Biltmore House, and much of it is more than 100 years old.
These fragile pieces of the collection are stored in glass-front cabinets in the two-story Butler's Pantry, and a comprehensive inventory system helps our conservators keep track of each object.
A unique identification number is assigned to every dish and glass, the location of the piece is recorded, and a digital photo of it is included in an inventory database.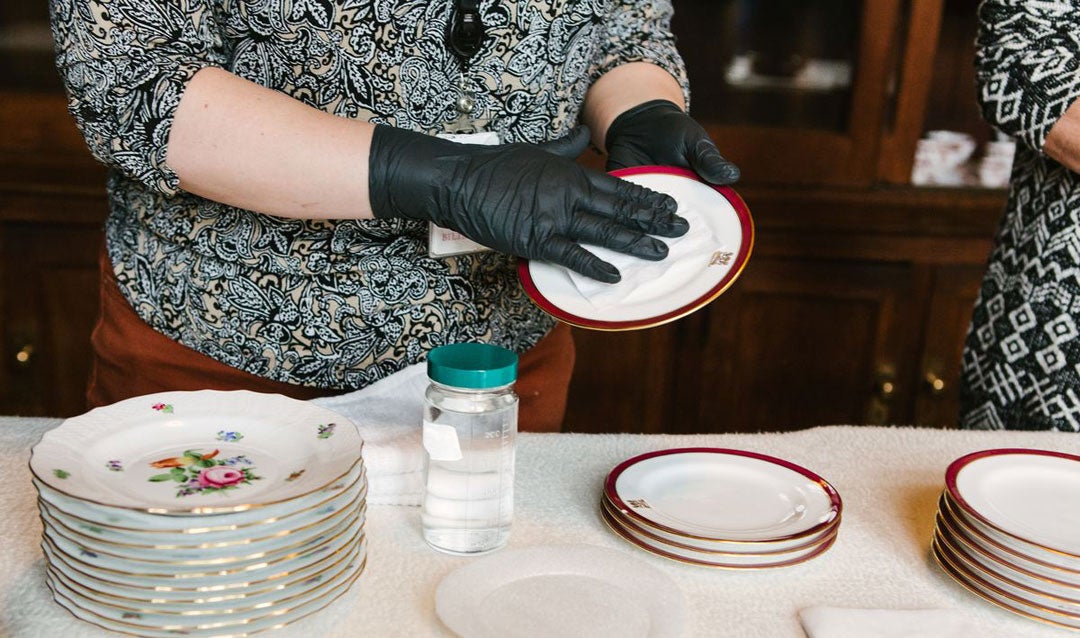 Cleaning all the china and crystal in the Butler's Pantry is a process that takes several weeks to complete. Each piece is dusted, wiped with a mixture of ethanol and water, and dried with lint-free cloths. All the objects are inspected for unstable cracks.
"Most of the cleaning and dusting is done in the Butler's Pantry, because the less we move such fragile pieces, the better," said Genevieve Bieniosek, Furniture Conservator.
Preventing problems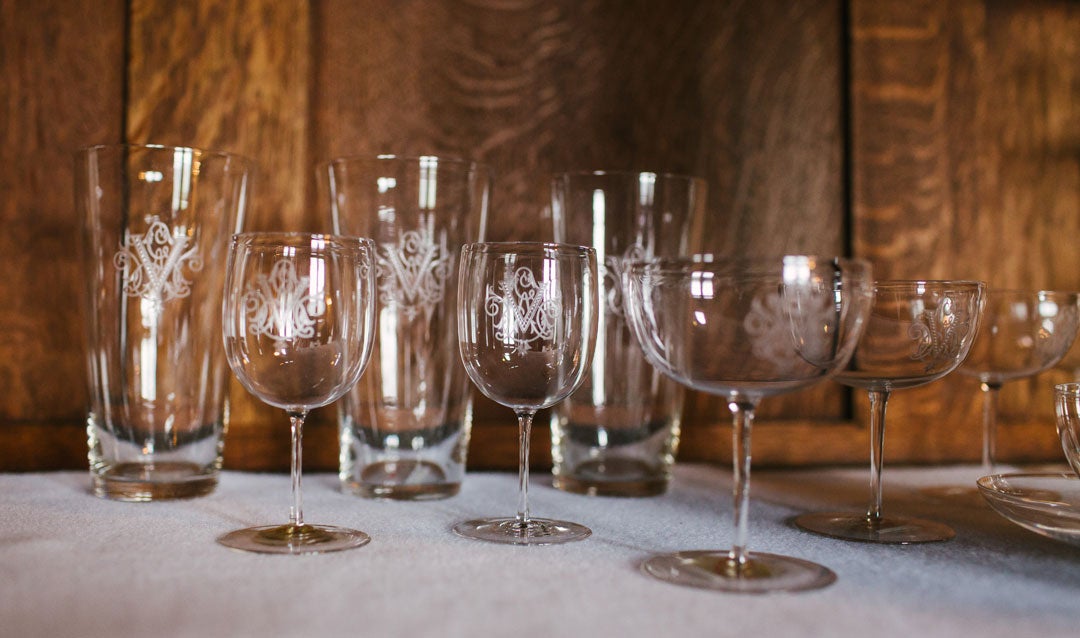 During a recent cleaning project, the conservators noticed that some of the crystal on display was suffering from 'glass disease.' According to Genevieve, this is a condition where components in the glass structure leach out over time, causing the glass to appear cloudy.
"If left untreated," Genevieve explained, "it will eventually create a fine network of cracks over the piece."
The glasses were treated by washing them with mild soap and water, drying them with soft towels, and letting them air dry for several hours.
"By treating them now, we avoid permanent damage from the glass disease," said Genevieve.
Improving the process of storing crystal and china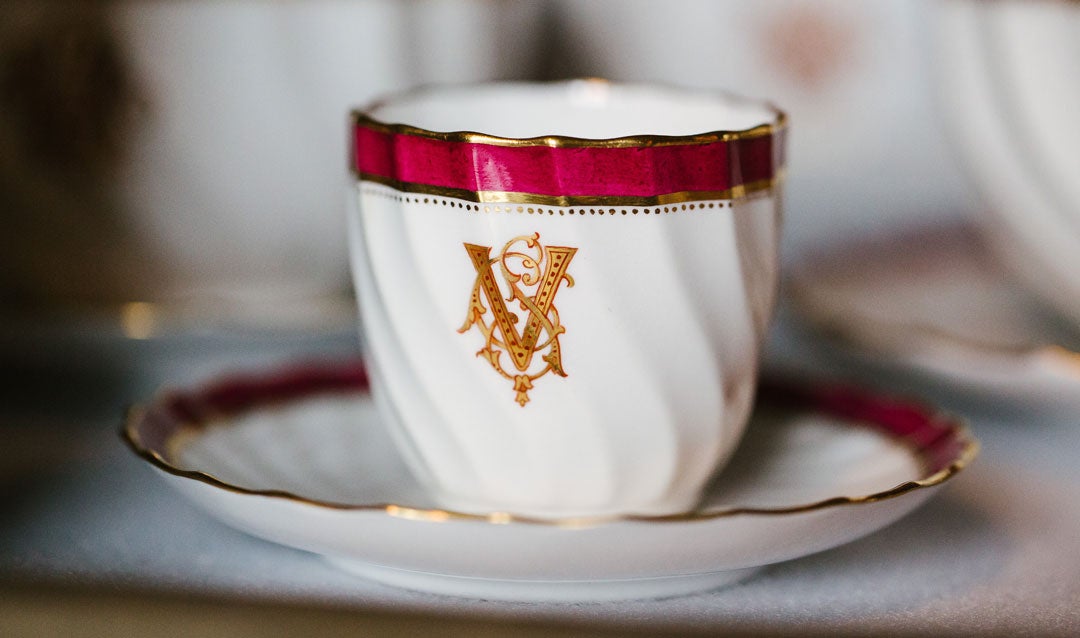 In addition to careful cleaning of these fragile pieces, our conservators are always looking for ways to improve the overall process for preserving the china and crystal.
"We recently looked into different types of padding material to keep the china safer, and placed sheets of polyethylene foam between each dish. The material is very stable, so the sheets don't break down and create chemicals that could harm the china," noted Genevieve.
Take a behind-the-scenes guided tour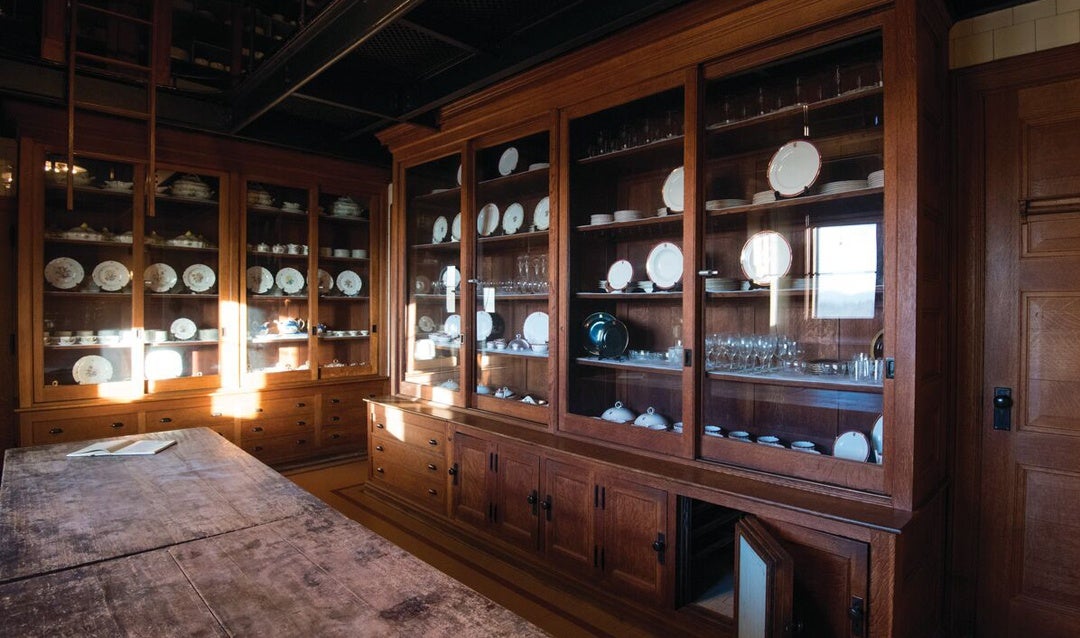 Plan a visit to America's Largest Home today, and treat yourself to The Biltmore House Backstairs Tour. You'll experience an in-depth look at servant life at Biltmore with this 60-minute guided tour, including rarely-seen areas such as the Butler's Pantry as you hear fascinating stories of those who worked and lived on the estate in the Vanderbilts' era.
Featured blog image: Biltmore conservators Genevieve Bieniosek and Renee Jolly clean china and crystal in the Butler's Pantry of Biltmore House