Fresh for spring, you can create a spring centerpiece inspired by the glorious floral arrangements in Biltmore House during our annual Biltmore Blooms celebration!
Spring is a favorite season at Biltmore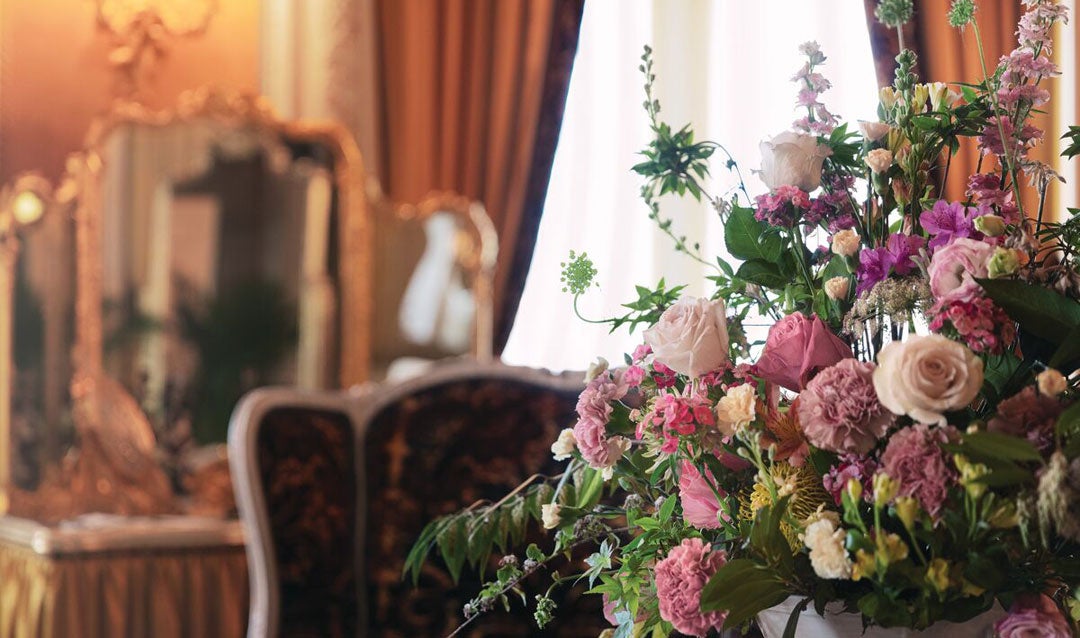 "I think spring is a favorite season for many of us at Biltmore," said Lizzie Borchers, Floral Manager.
"We love to celebrate the season by creating arrangements that harmonize with the décor in Biltmore House," Lizzie said, "and we also love to highlight special features with our designs."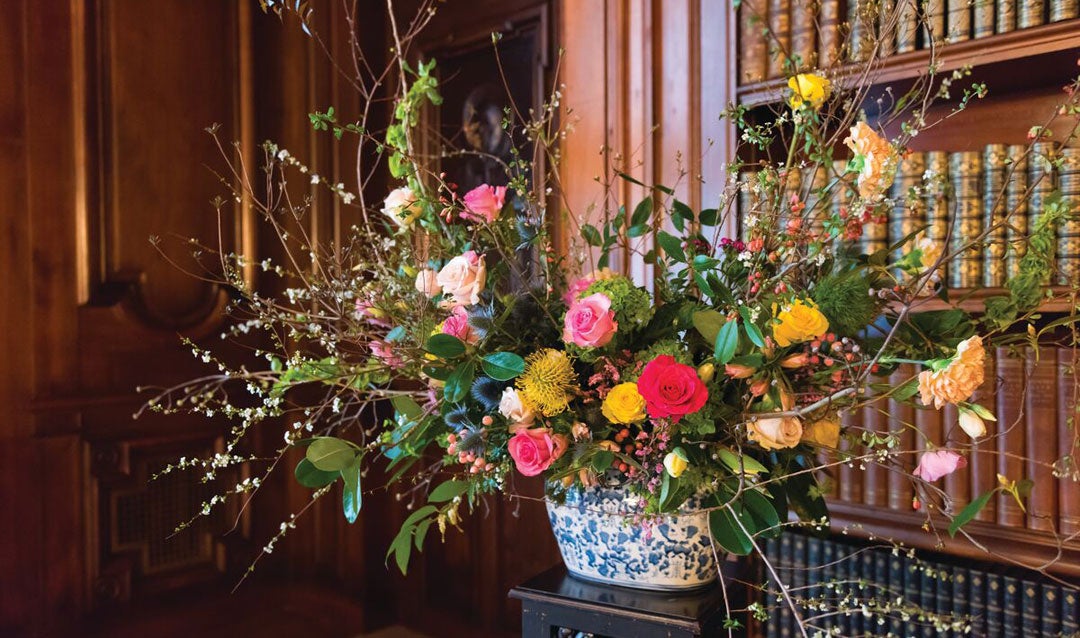 This year during Biltmore Blooms, Lizzie and her team will be delighting guests with an "Art in Bloom" theme that showcases some of the priceless portraits and fantastic furnishings in America's Largest Home®.
Create your own stunning spring centerpiece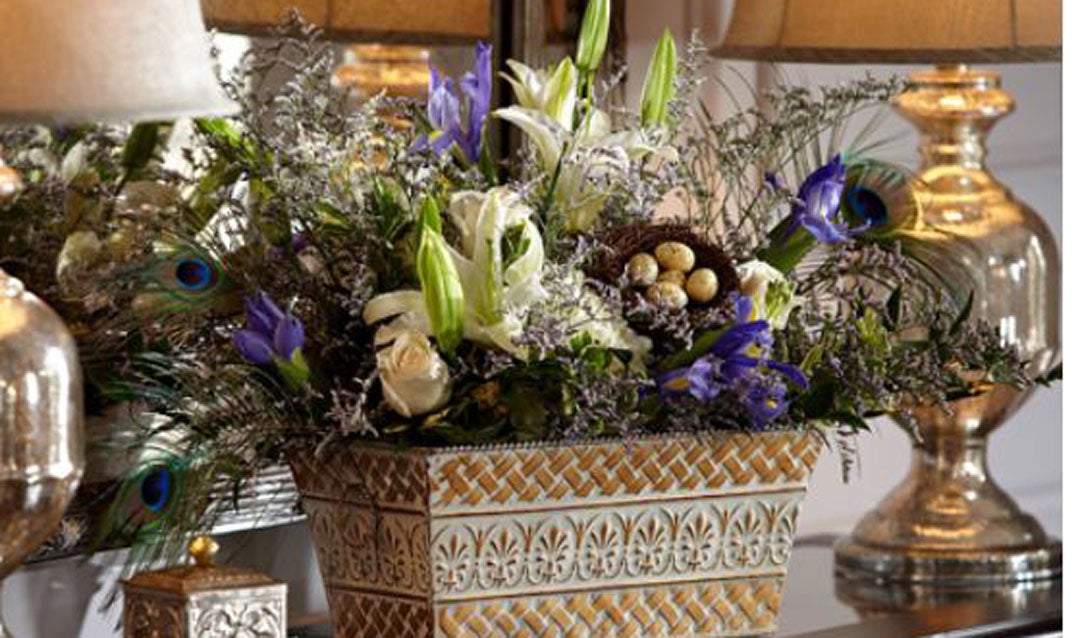 Ready to create your own spring centerpiece inspired by Biltmore?
With some helpful suggestions from our floral team, you can create a stunning design that evokes the fresh feeling of spring with a classic blue-and-white theme.
"Although we're used to making arrangements on a grand scale that suits Biltmore House, you can use our techniques to achieve a centerpiece that works for your space," said Lizzie. "Just choose a smaller container as your starting point!"
In addition to the blue-and-white blooms recommended below, try adding pretty pops of color with unexpected touches like peacock feathers and a decorative egg-filled bird's nest as a special nod to spring.
Suggested Materials
Neutral-colored container
Floral oasis
Blue spring Dutch iris
Caspia
Cream stock
Pittosporum (potted version used in this arrangement)
White roses
White hydrangea
Peacock feathers (optional)
Decorative bird nest with eggs (optional)
Begin by cutting a piece of floral oasis foam to fit snugly inside your container. Soak it well, then begin adding flowers and greenery.
Tips: you can create an equally pretty arrangement by using small potted plants (or even permanent botanicals) rather than freshly cut flowers.
Choose green and flowering plants of different heights for texture and interest, and add pieces of Styrofoam to lift some pots higher than others.
Plan your Biltmore Blooms visit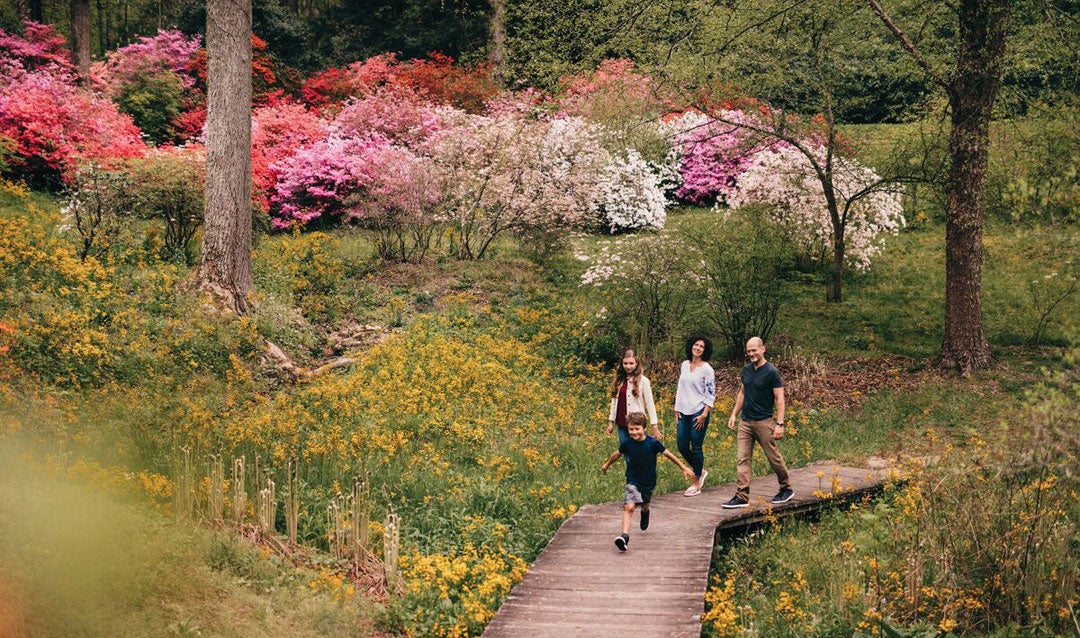 Make plans now to celebrate spring during Biltmore Blooms, April 1 – May 27, 2021.
In addition to the wonders of Biltmore Blooms, you'll be able to enjoy Biltmore Gardens Railway in the Conservatory, Stickwork by Patrick Dougherty in Antler Hill Village, and much more!