BACK TO BLOG
The 1940 Azalea Garden Ceremony: Revisited
Written By Amy Dangelico
Posted 02/07/22
Updated 02/03/23
Estate History
In the past, we've shared the story of the 1940 Azalea Garden ceremony honoring Chauncey Beadle, an estate horticulturalist who later became superintendent, for his lifetime of service to the estate. Thanks to this new research from our Museum Services team, we now know that nine other employees were also honored for their many years of service in that ceremony, including four Black men affiliated with the Landscape Department.
There is limited information on each of these men, with some scattered archival references to their work throughout their years of service. By its very nature, our archival collection is fragmented—consisting of various payroll records, correspondences, and other documents that have fortunately been preserved over the estate's more than 125-year history. Our effort to process these materials and learn more about these individuals is ongoing—yet we are eager to begin shedding light on them as well as many other notable employees.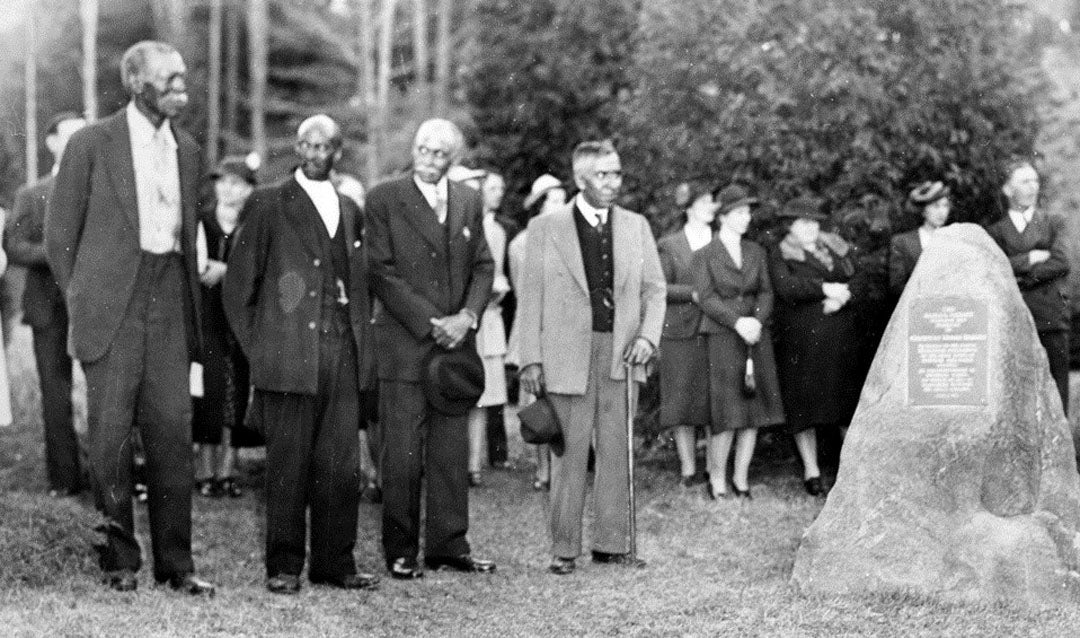 Charlie Lytle
Though he was employed by Biltmore the longest of the group, there is the least amount of information about Charlie Lytle in our archives. He is only mentioned in construction-era payroll records, some incident reports, and a few employee Christmas gift lists, but he is generally listed as a laborer for planted areas in these documents. Lytle was honored for 51 years of service in the Azalea Garden ceremony. According to his death certificate, he was still a laborer for the estate when he died in 1943 at age 72.
James "Jimmie" Rutherford
Like Lytle, most archival mentions of James "Jimmie" Rutherford are incident reports and employee Christmas gift lists, though several letters confirm that he was working as a lineman for waterworks, sewers, and drains from at least 1914 to 1937. In 1931, an incident report reveals that he also laid bricks in a furnace for the estate, which tells us he wore many hats. Per census information, he was a superintendent for a private estate water worker in 1940, indicating a more managerial role later in his career. Rutherford was honored for 49 years of service in the Azalea Garden ceremony. He was 70 years old.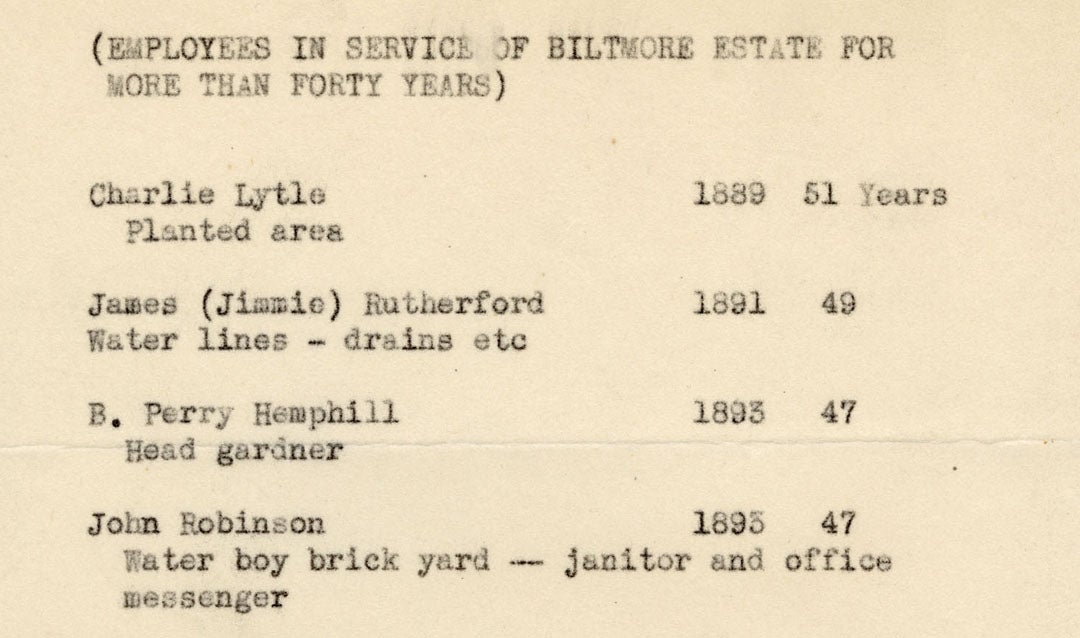 Benjamin Perry Hemphill
The picture of Benjamin Perry Hemphill's contributions to Biltmore is a bit more complete. The first mention of him in the archival records is an 1896 letter in which Beadle writes that he hired Hemphill to assist him "in caring for the greenhouses and formal gardens." By 1903, Hemphill was head gardener in the Walled Garden and Conservatory, reporting to Chauncey Beadle.
It was uncommon for most employees to be in direct communications with the Vanderbilts about estate operations; these conversations were typically relayed through a chain of command. However, a 1906 correspondence shows Edith Vanderbilt conveying directly to Hemphill her wishes for specific varieties of azaleas to be sourced and brought to Biltmore, demonstrating how trusted he was as a Biltmore employee.
Hemphill was honored for 47 years of service in the Azalea Garden ceremony. According to his obituary in January 1948, he retired from working at Biltmore in March 1947, at around the age of 82.
John Robinson
John Robinson began working for the estate in 1893 as a water boy in the brick yard during construction. Correspondence from 1902 indicates that around that time, he was a road sweeper, primarily over the Approach Road and the Service Road. He became an office messenger, similar to a mail carrier, by the 1910s, assisting Chauncey Beadle with a variety of requests from the family.
Like Hemphill, Robinson's direct communication with the Vanderbilts demonstrates what a trusted and valued employee he was. In 1924, he was one of two people that Edith Vanderbilt personally requested to hand-deliver invitations for her daughter Cornelia's wedding to John F.A. Cecil.
Robinson was honored for 47 years of service in the Azalea Garden ceremony. According to his 1957 death certificate, he was employed by Biltmore for "some 60 years."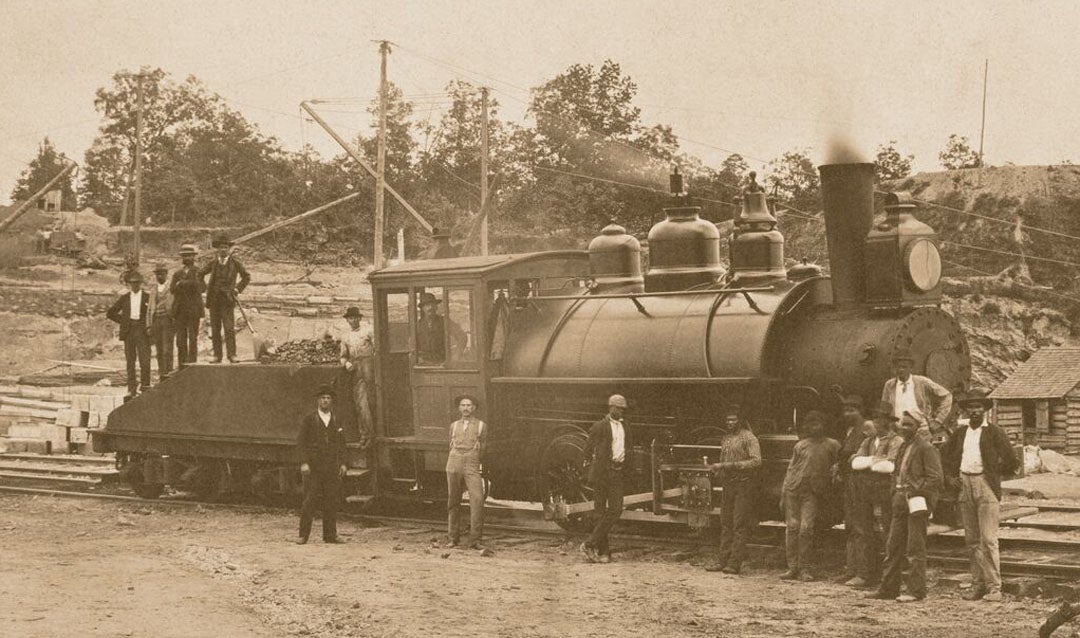 An Ongoing Effort
Charlie Lytle, James "Jimmie" Rutherford, Benjamin Perry Hemphill, and John Robinson all started their employment with the estate during the construction-era of Biltmore House. Additional employee stories from this research are shared in our new permanent exhibit: Building Biltmore House, on display in the Halloween Room beginning February 4.
We are committed to learning more about the contributions of these and other employees at Biltmore. If you have any family connections to the estate's history, you can reach us at museumservices@biltmore.com.
Feature image: Crowd gathering for the Azalea Garden ceremony. Photograph donated to Biltmore by Ione Rudolph Shine, Chauncey Beadle's niece.