BACK TO BLOG
The Banquet Hall Tree: A Christmas at Biltmore Tradition
Written By Amy Dangelico
Posted 10/01/20
Updated 12/08/21
Estate History
The Banquet Hall tree has been a Biltmore Christmas tradition for 125 years.
The 35-foot-tall Fraser fir selected for the Banquet Hall each year is always the tallest tree inside Biltmore House. Adorned with hundreds of lights and ornaments, the towering tree is a beloved Yuletide symbol that was introduced during the first Christmas at Biltmore.
Preparing for the first Christmas at Biltmore
While George Vanderbilt moved into Biltmore House in October 1895, he didn't formally open the house until Christmas Eve of that year. He invited his extended family from the north to a grand holiday housewarming party.
"Mr. Vanderbilt is to entertain in his chateau 300 guests from New York, who will arrive by special train. The scene of mirth and happiness which the yule-tide season will witness in this modern Aladdin's palace will be the realization of even that lucky man's wildest dreams…"
– Galveston Tribune as quoted by The Asheville Citizen Times*
Thanks to news articles and correspondence between George and his staff, we know that preparations for the big event were extensive and no detail was left unattended.
Managers debated which nearby county had the best holly and the most desirable mistletoe, while staff scouted the perfect candidate for what would become one of Biltmore's most prominent holiday elements: the Banquet Hall Christmas tree.
Chauncey Beadle wrote estate manager Charles McNamee:
"I quite agree with you that we should have a very large tree for this occasion; in fact, I think a twenty foot tree in that large Banquet Hall would be rather dwarfed."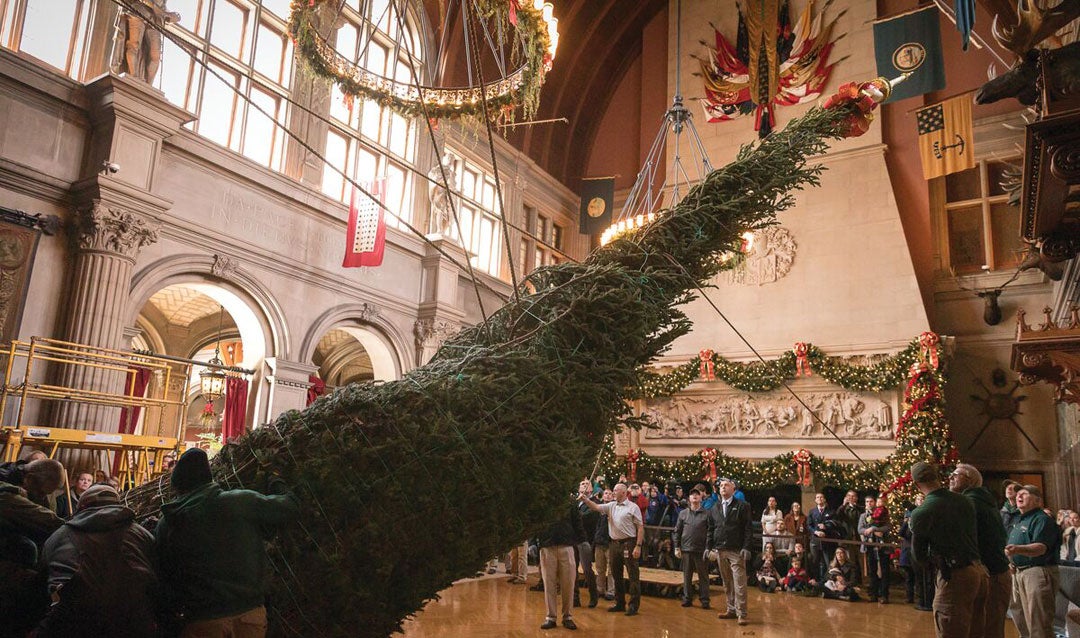 Christmas Eve 1895
On the evening of December 24, guests gathered in the Banquet Hall, which showcased the splendidly tall and beautifully decorated tree laden with gifts for estate workers. At the foot of the tree was a table piled high with family gifts.
"The Imperial Trio furnished music for the occasion, and the rich costumes of the ladies, the soft lights and the tastefully draped garlands of evergreen and mistletoe, interspersed with the shining leaves and red berries of the holly, created a beautiful scene to look upon."
– The Asheville News and Hotel Reporter, December 28, 1895
George's mother, Maria Louisa Vanderbilt, attended as well as several of his brothers and sisters with their spouses and children.
One of George's nieces, Gertrude, daughter of Cornelius and Alice Claypoole Vanderbilt, kept a series of Dinner Books recording of all the parties and formal dinners she attended. The first Christmas dinner at Biltmore was Gertrude's 193rd event that year, listed in the second volume of her 1895 Dinner Book.
In her seating diagram for the occasion, she listed 27 Vanderbilt family members, including "Uncle George," "Grandma," and numerous aunts, uncles, and cousins.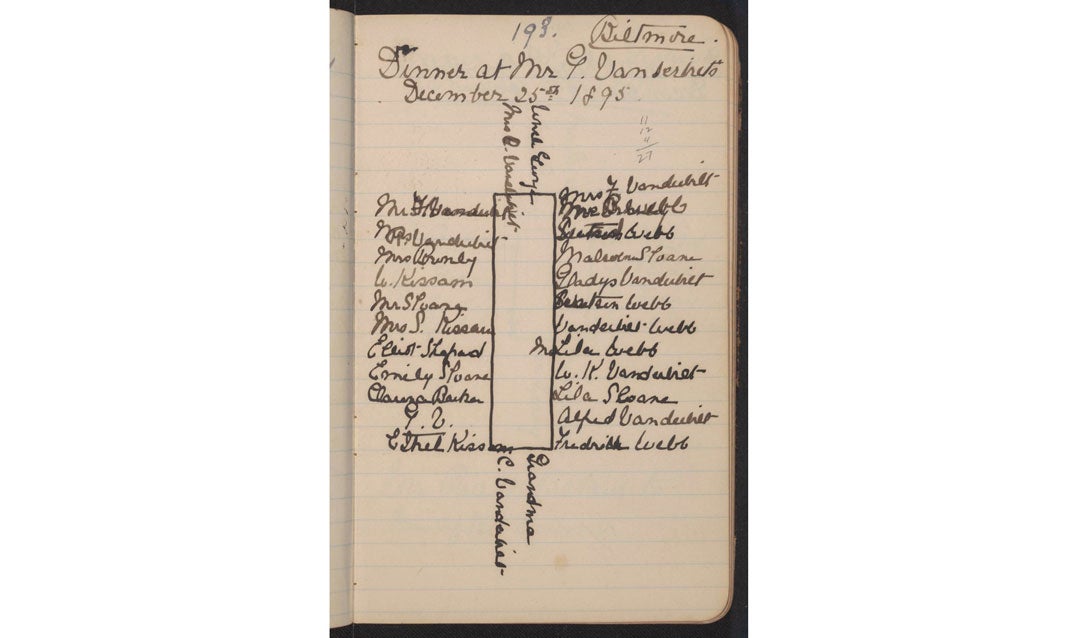 The lofty holiday event was a Vanderbilt family reunion of sorts. It was said to have been the largest gathering of the family since the death of George's father, William Henry Vanderbilt, almost ten years earlier.
Ultimately, 40 family members and close friends signed the Biltmore House Guest Book throughout the holiday season.
Christmas Day 1895
At the time, Biltmore's full domestic staff had yet to be hired, though George had temporarily employed local men and women for service during the holidays. On Christmas Day, George invited the estate's many temporary and permanent employees and their children to the first Biltmore employee Christmas Party.
Still a bachelor at the time, he enlisted the help of Mrs. Charles McNamee to purchase gifts for the guests. (Edith Vanderbilt enthusiastically assumed this role after she and George married in 1898.)
George greeted everyone in the Banquet Hall mid-afternoon, where family members helped distribute gifts.
We imagine that most of the employees and their children had never seen anything like the Banquet Hall tree. At the time, less than 20% of US families brought Christmas trees into their homes, much less such an oversized tree with electric lights and hundreds of presents wrapped beneath it.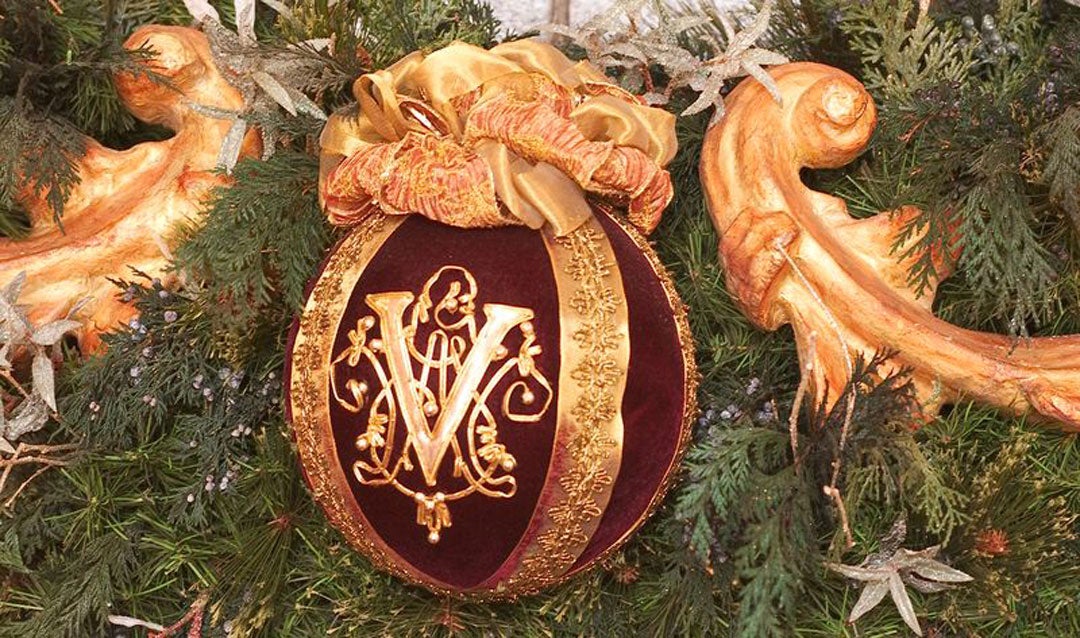 The tradition continues
George Vanderbilt's hosting of family and employees at Christmas is a tradition that continued long after 1895. Local and national newspapers published accounts of seasonal celebrations at Biltmore almost every year. And every year, those celebrations took place in the Banquet Hall, next to the tallest Christmas tree in Biltmore House.
Make reservations now to visit during Christmas at Biltmore or Candlelight Christmas Evenings and experience the enchantment of this beloved Yuletide symbol.
*Sourced by an uncited newspaper from our Museum Services history files.

**Photo courtesy of Gertrude Vanderbilt Whitney papers, Archives of American Art, Smithsonian Institution. Whitney Museum of American Art, Gertrude Vanderbilt Whitney papers. Gift of Flora Miller Irving.