BACK TO BLOG
Wrap Up Holiday Gift Giving with Biltmore Wines!
Written By Jean Sexton
Posted 10/16/22
Updated 10/13/23
Holiday Traditions
When you wrap up your holiday gift giving with Biltmore wines, everyone on your gift list will know how much they mean to you!
Floral designer Hope Wright recently retired from a 23-year career at Biltmore where she specialized in floral design at A Gardener's Place gift shop below the Conservatory. We caught up with Hope for some expert guidance on gift wrapping wine to make it even more special.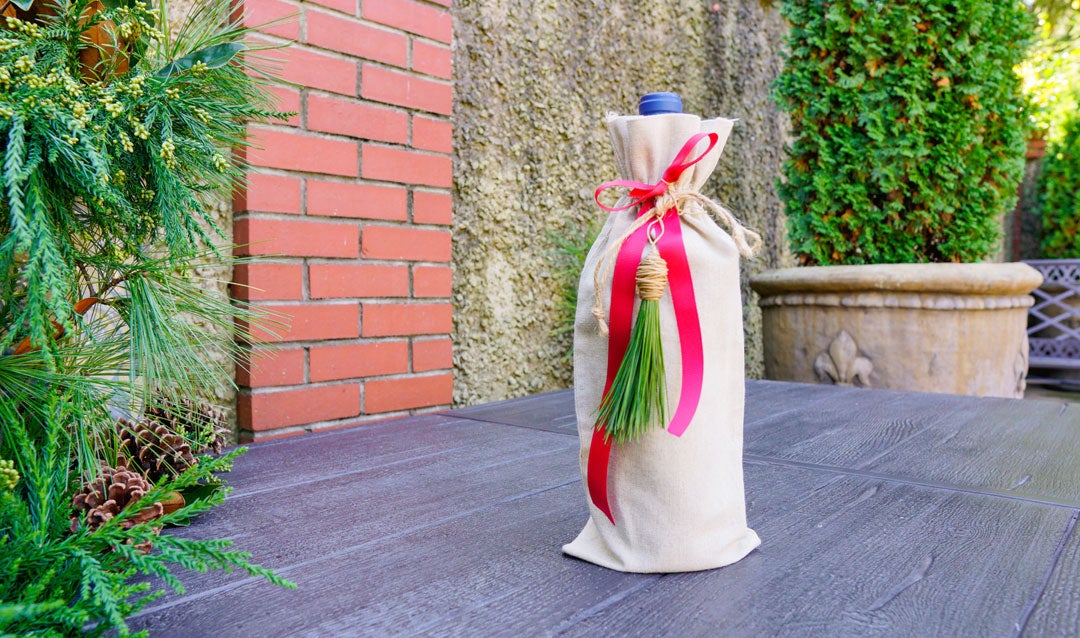 "I love Biltmore wines and I often give them as gifts, especially during the holiday season," said Hope. "And while there's nothing wrong with simply placing a bottle of wine in a gift bag, it's also nice to wrap it in a creative way that says 'you're special' to your recipient."
Timeless natural elements
"Here are two easy ideas that look beautiful using a little bit of ribbon and the kind of greenery you can often cut from your own backyard or local park," Hope said. "It doesn't take much to make a big impact."
Crown of ivy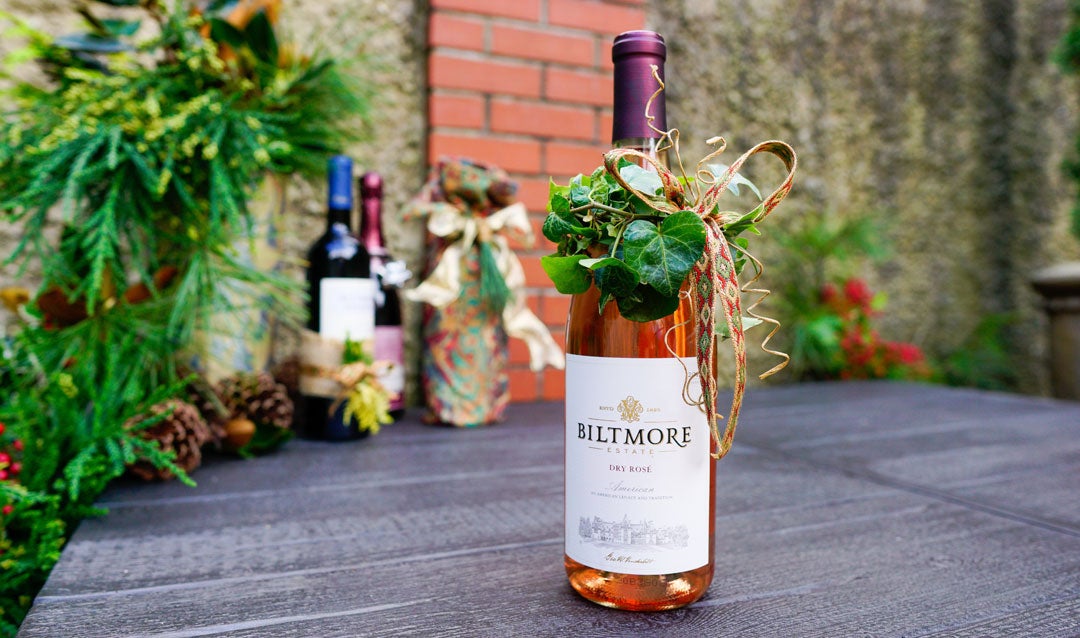 To create this "crown of ivy" topper for our Biltmore Estate® Dry Rosé, Hope clipped an 18-inch strand of small leaf ivy and wrapped it several times around the neck of the bottle, tucking the end of the vine into itself to keep it in place.

She used about 18 inches of narrow, patterned ribbon to tie a simple shoestring-style bow and attached it to the ivy crown with wired twine. "I purposely attached the bow off-center," said Hope, "so the wine label shows prominently,"
As a finishing touch, Hope clipped the ends of the bow to a length she liked and wound the ends of wired twine into a few whimsical tendrils that complemented the ivy.
Ribbon wrapping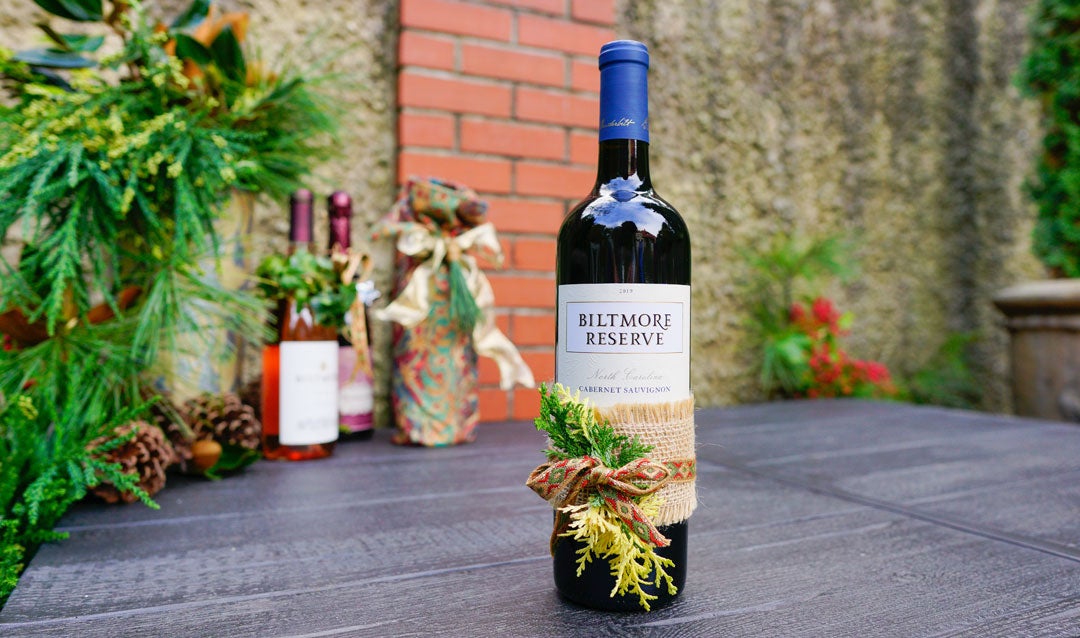 Hope wrapped a length of burlap ribbon around the bottle just below its mid-section, making sure not to cover up the label. Our Biltmore Reserve wines on this outstanding Biltmore® Reserve Cabernet Sauvignon North Carolina. Handcrafted from estate-grown grapes, all of our Biltmore® Reserve wines offer an excellent way to give a local item as a gift.
She used a different type of ribbon to tie a simple bow around the bottle, centering it over the first ribbon for contrast.
"Once you have the ribbons and the bow in place, you can tuck in any type of greenery you like. I used two different colors of arborvitae to create more interest and texture, but sprigs of ivy would work, or a twig with berries–the possibilities are endless!" Hope noted.
Wrap up your holiday gift giving
To wrap these wine bottles for gift giving, Hope used the same wrapping technique on each of them, but varied the wrapping material and trimmings.
Global journey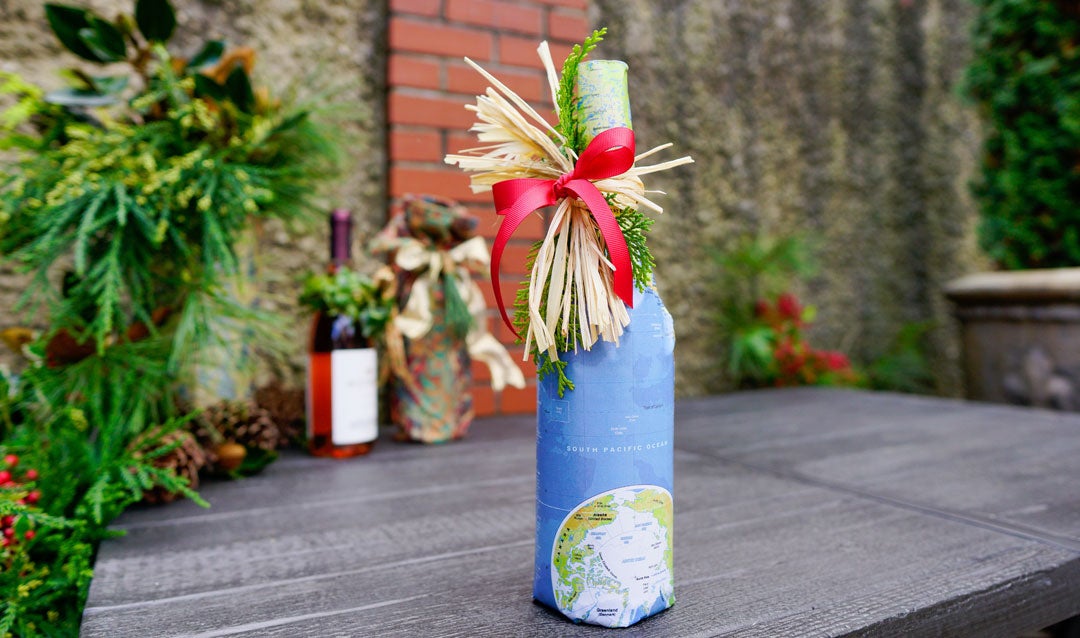 For the travelers on your gift list, wrap a bottle of wine in a vintage map, like this one that Hope found in a thrift store. For an eco-friendly option, you could also opt for recycled brown craft paper or upcycled paper shopping bags.
To fully cover a Biltmore Wine bottle with your paper of choice, you'll need a 24″x 24″ section of the paper. After wrapping the wine, Hope knotted a length of raffia around the neck of the bottle, then added a simple bow of red ribbon and a bit of greenery for some holiday flare.
Wrap it royally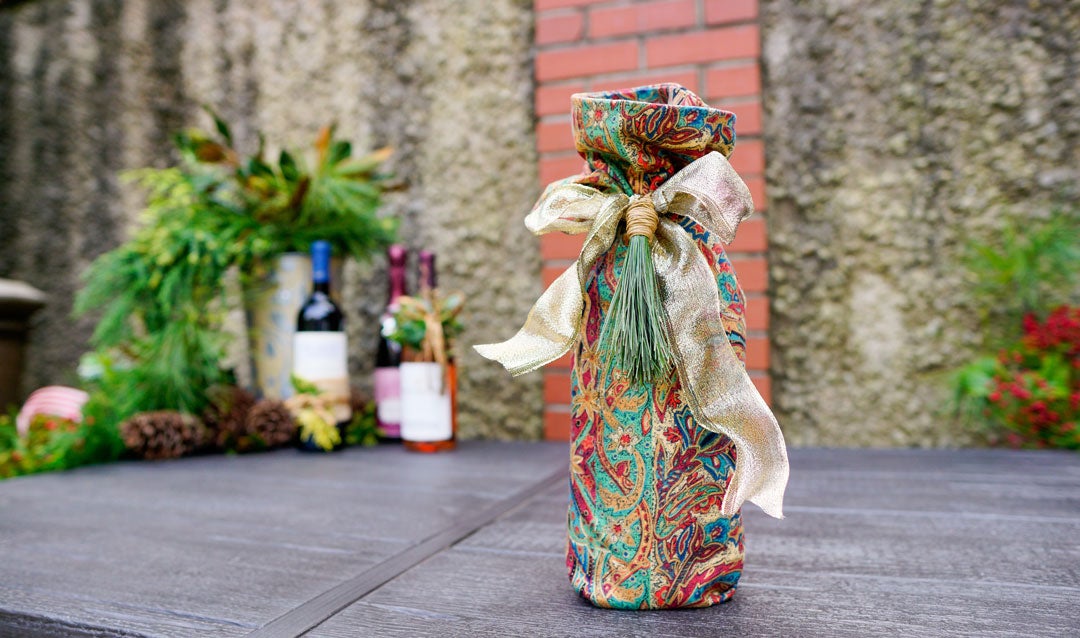 "In addition to vintage maps, I look for beautiful fabric remnants that will make gorgeous gift wrap for wines," said Hope. "Simply wrap the bottle, then tie a coordinating ribbon around the neck–that's all you need to make it special."
As a bonus, Hope created an elegant pine tassel to set off the regal look of this wine gift, She clipped enough white pine needles to get a full-looking tassel, hot-glued the tops together, and bound the top with narrow wired twine to hide the glue. While binding the top, she also made a loop of the wired twine to go around the neck of the bottle.
Step-by-step: tea towel wine gift wrap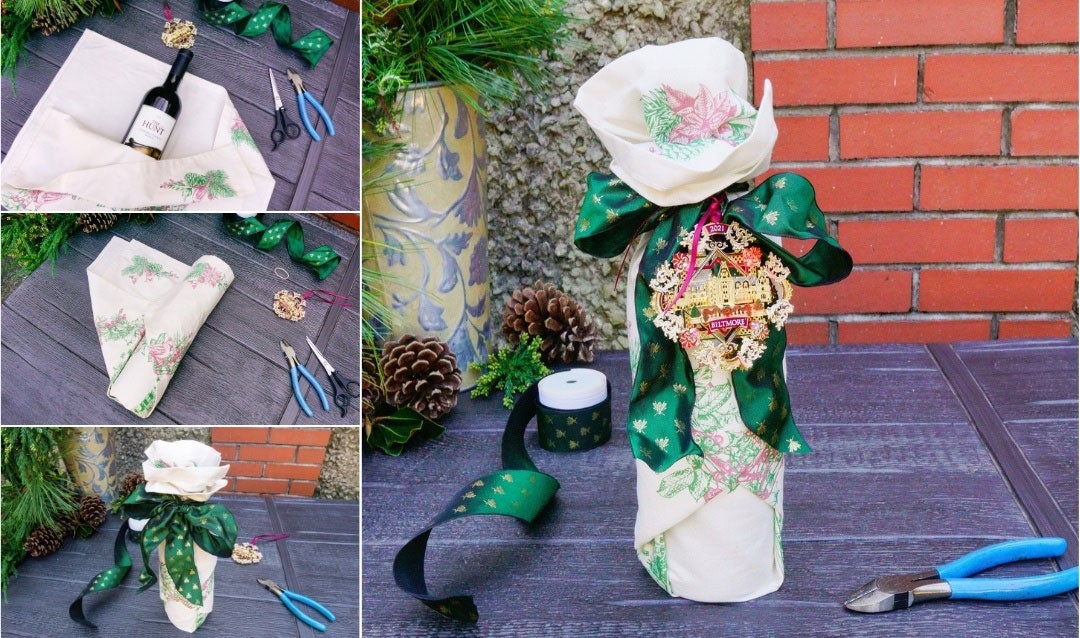 Hope chose a Biltmore tea towel with a Christmas pattern to gift wrap this exceptional bottle of The Hunt Red Blend Sonoma County. After fluffing the ends of the tea towel, she tied an elegant bow of wired silk ribbon around the neck.
To make the gift twice as nice, Hope added a pretty Biltmore Christmas ornament to the bottle.
"Look at each of steps shown in this instructional collage," Hope said, "and you'll see how easy it really is to gift wrap a wine bottle in a tea towel!"
Gift giving: bundles and baskets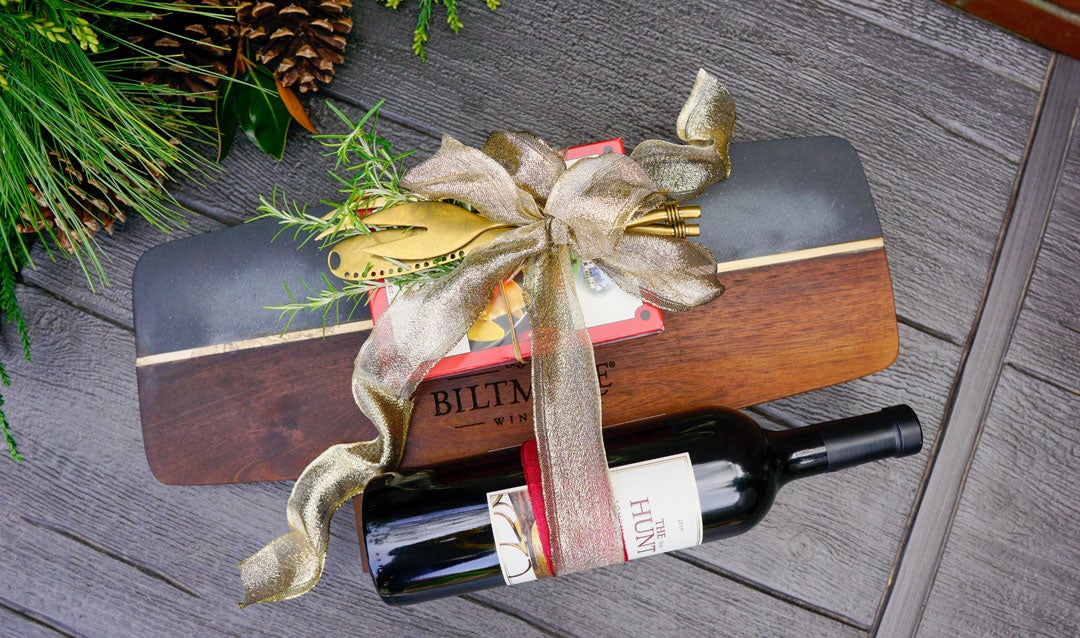 Wrap up a bountiful bundle
"Here's an easy way to create a bundle of gifts that share a common theme," said Hope. "Choose a sturdy cheeseboard and secure a bottle of Biltmore wine to it with a ribbon. Add a stack of Biltmore's delicious gourmet food mixes and dips to the board and tie a wide ribbon around the whole bundle."
For an extra surprise, Hope turned a set of cheese knives into a special topper for the bundle, then tucked a few sprigs of fresh rosemary around the tools.
"The rosemary is the crowning touch that pulls the culinary theme together," Hope noted, "and it smells wonderful, too!"
Holiday hospitality in a basket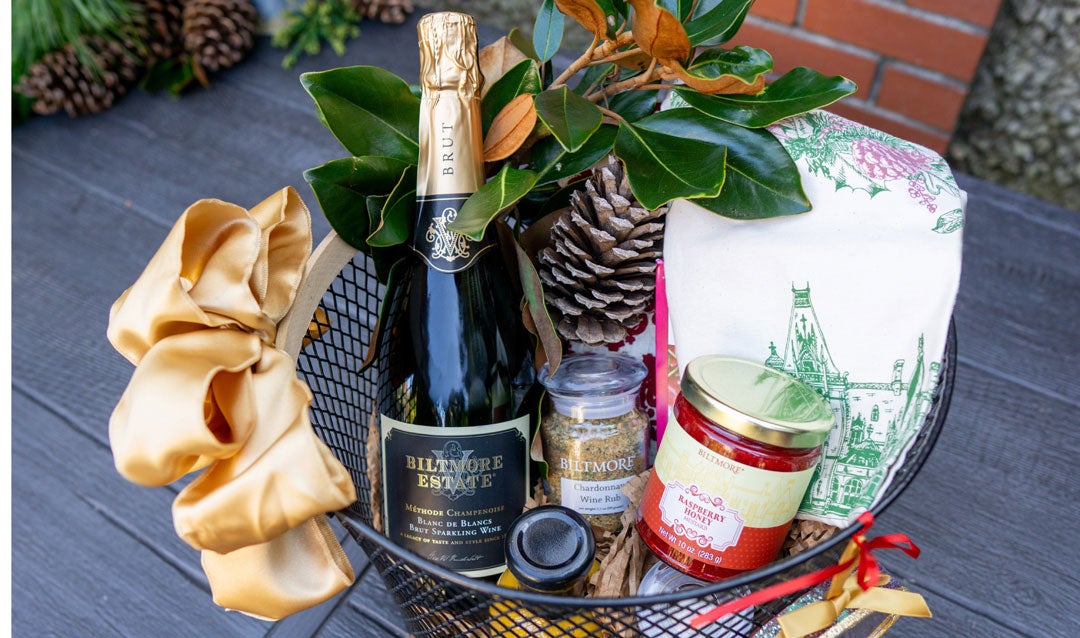 Who wouldn't want to receive a basket of holiday hospitality full of Biltmore wine and gourmet goodies, especially when it is embellished with fresh greenery and ribbons?
"For this gift giving example, I chose a medium-sized basket that would easily hold a bottle of Biltmore Estate® Blanc de Blancs sparkling wine, a selection of Biltmore mixes and dips, Wassail Drink Spice, seasonings and sauces, and a holiday tea towel," said Hope.
She lined the basket with a type of honeycomb packaging paper that's recyclable, and tucked in a few cardboard risers to keep smaller items from falling to the bottom.
Once everything was arranged to Hope's satisfaction, she filled in the background with magnolia leaves and pine cones, wired an elegant golden bow to the basket's rim, and balanced the look with a Biltmore Christmas ornament on the other side.
Make holiday gift giving more merry!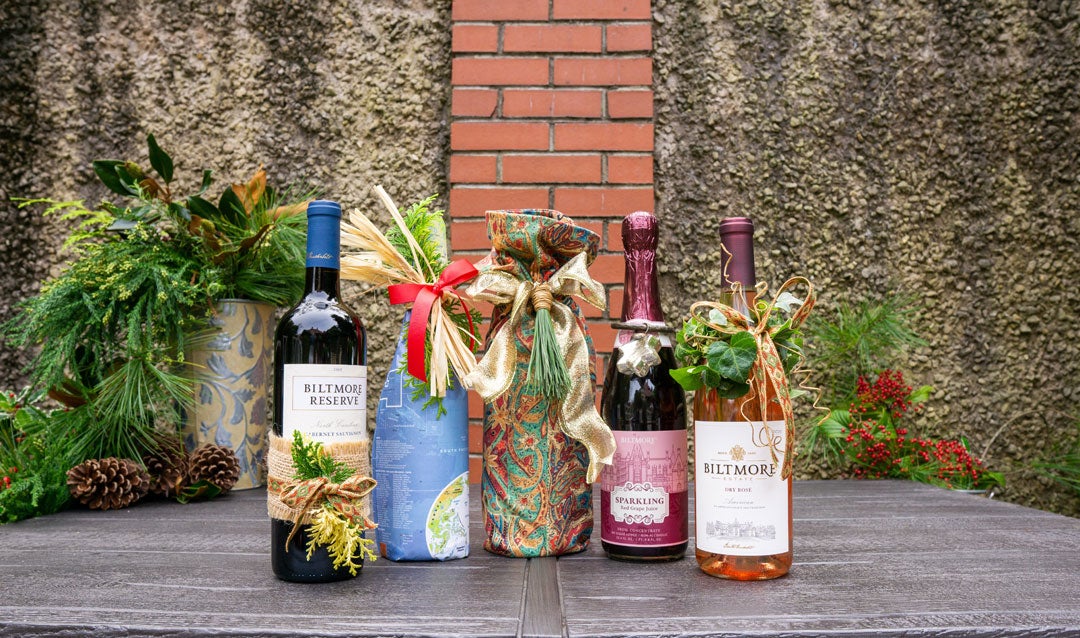 "All the ideas I've shown here easy to recreate," Hope said, "and that was my goal. I hope you'll be inspired to surprise friends and family with special touches like these that make your holiday gift giving even more meaningful."
Find everything you need to celebrate the season in style–including Biltmore wines, Biltmore sparkling grape juice, and gourmet foods–at estate shops and online at biltmoreshop.com.