Summer entertaining is as easy as chill, grill, and thrill!
Summer entertaining with the Vanderbilts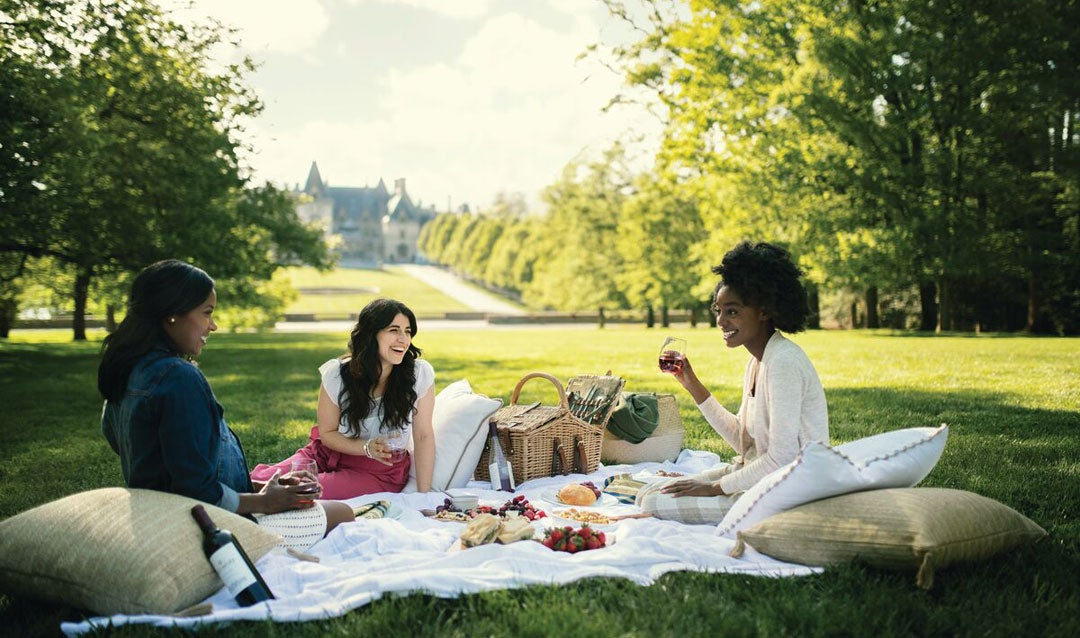 At Biltmore, summer entertaining was a favorite pastime for the Vanderbilts and their guests.
From birthday parties in the Rose Garden to picnics on the grassy slopes of Mt. Pisgah, warm weather offered the perfect excuse to leave formal dining behind and enjoy a gathering in the great outdoors.
Chill, Grill, and Thrill
Inspired by their example, here are three easy "chill, grill, and thrill" steps to simplify your summer entertaining whether you're in the kitchen, on the porch, by the pool—or wherever your plans take you.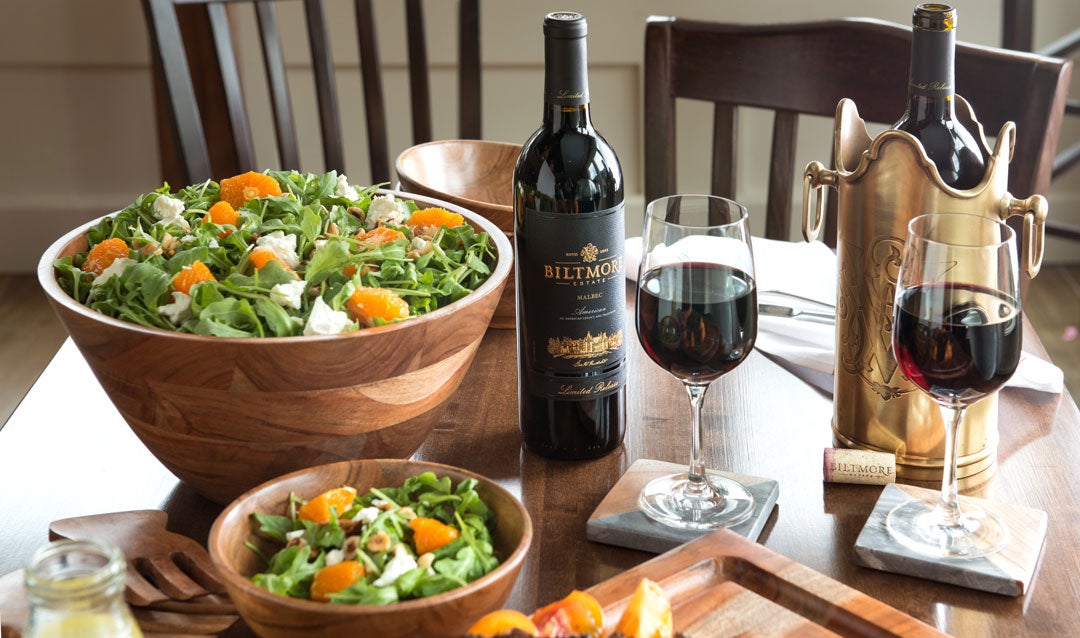 1) CHILL
First, let's start with an easy recipe for Grilled Skirt Steak with Tomatillo Salsa created by our Biltmore chefs to take advantage of summer's bumper crop of tomatillos and heirloom tomatoes.
Grilled Skirt Steak with Tomatillo Salsa
Ingredients
2 pounds trimmed skirt steak (can substitute 4 ribeye steaks)

10 fresh tomatillos, husks removed and tomatillos quartered
8 cloves fresh garlic
3 green onions, roughly chopped
1 large shallot, peeled and roughly chopped
1 bunch fresh cilantro with stems and leaves
1 bunch parsley with stems and leaves
1 tablespoon fresh thyme leaves
3 tablespoons salt
1 tablespoon ground black pepper
1 teaspoon crushed red pepper (optional; use to taste)
1/4 cup extra virgin olive oil

Optional for serving: heirloom tomatoes, quartered; olive oil; fresh lemon juice, salt and pepper to taste
Method
The salsa doubles as a marinade for the steak, so prepare it first by combining tomatillos, garlic, onions, shallot, herbs, seasonings, and olive oil in a blender and blending until smooth. Reserve 1/2 cup of the tomatillo salsa for garnish.

Place steak and marinade in a large zip-top bag and allow to marinate for 1–3 hours in the refrigerator.
Tips for chilling
2) GRILL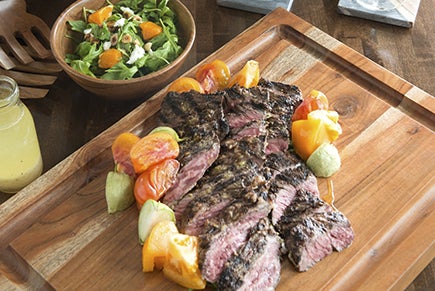 Grill marinated steaks on medium-high heat for 3–5 minutes on each side for medium-rare. When done to your liking, remove steak from the grill and put it on a clean cutting board or platter to rest while you finish the rest of your preparations.
Tips for grilling
While the grill heats, prepare a green salad to accompany the meal.
After the steak is done, split and toast a couple of baguettes on the still-hot grill to serve with the salad (and soak up those heirloom tomato juices).
3) THRILL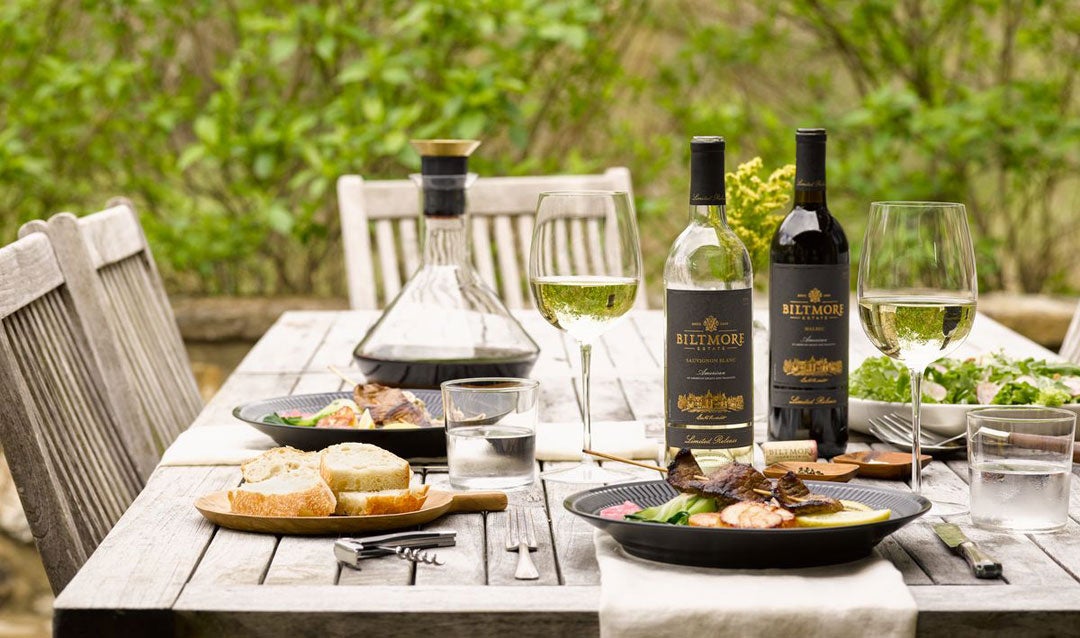 Slice the steak and top with reserved salsa.
Dress quartered heirloom tomatoes with olive oil, lemon juice, and salt and pepper to taste. Arrange around the steak.
Tips for thrilling
Bring the entire entrée to the table on the cutting board—no need to transfer to another dish.
Use a chiller filled with a mix of ice and water to keep your wine cool, especially if you're eating outdoors.
Gather your guests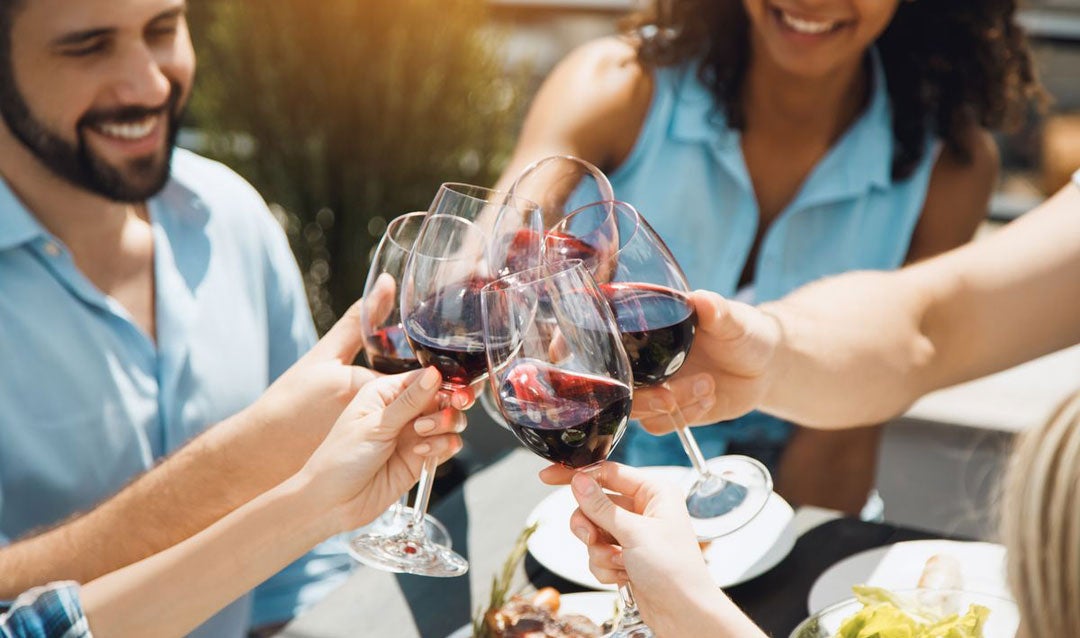 Enjoy the chill, grill, and thrill of summer entertaining—plus delicious dining—done the easy way!
Discover more delicious Biltmore recipes and find our award-winning wines online.