Biltmore's holiday gingerbread house was built to last–mostly because it's not really made from real gingerbread!
Although the fanciful replica of America's Largest Home® appears to be constructed from freshly baked gingerbread that's been decorated with swirls of snowy icing and old-fashioned candy details, it's actually an incredibly detailed work of art from our friends at Applied Imagination.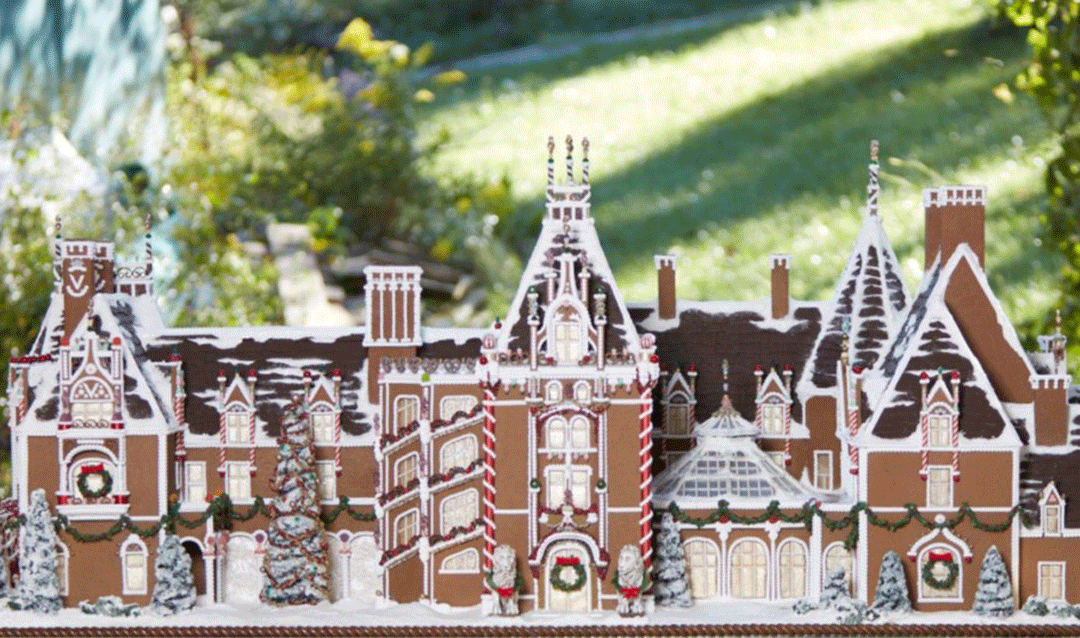 These talented artists specialize in handcrafting architectural models, sculptures, and garden railways out of natural materials. They created all of our Biltmore Gardens Railway displays and Ciao! From Italy Sculptural Postcards in Antler Hill Village now through February 19, 2024.
In past years, our talented Biltmore Estate pastry chefs created real confectionary replicas of Biltmore House, but it was always a monumental task that took weeks to complete and needed a lot of space to assemble. It was also challenging to transport the finished gingerbread house to the Main Kitchen without losing some wreaths and roof tiles along the way!
A firm foundation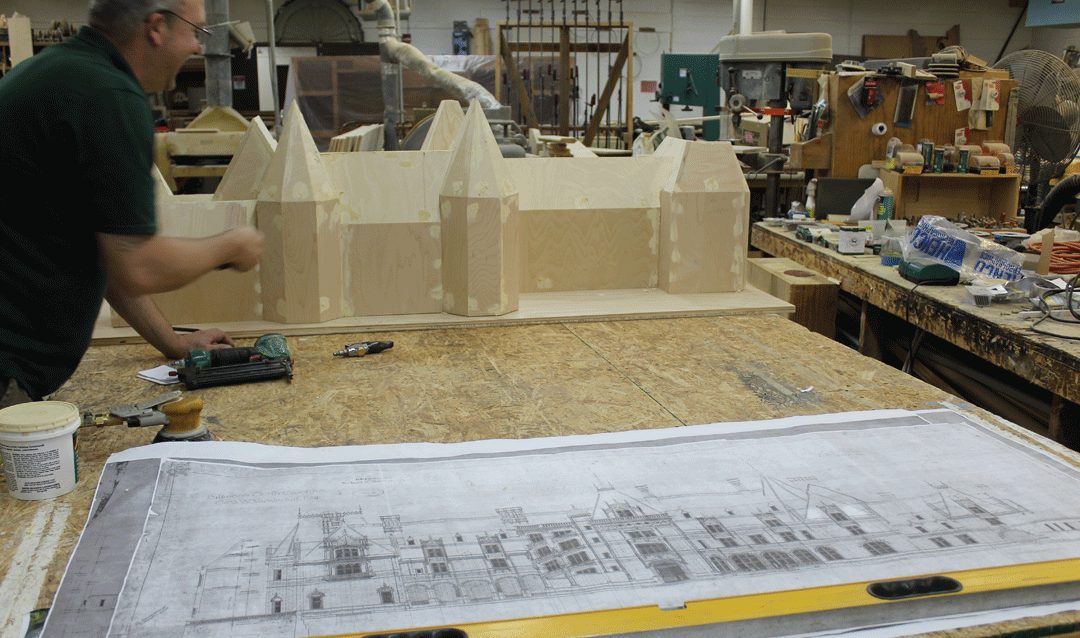 In 2017, Jason Pleva, a member of Biltmore's carpentry team, used the plans of Biltmore House to build a wooden scale model that could be used as a base for a gingerbread house. It was a good solution that shaved off a lot of construction time, but unfortunately, our chefs found that decorative icing doesn't cling to wood as well as it does to gingerbread.

Because we'd had so many wonderful experiences with Applied Imagination and the amazing structures they'd created for our Biltmore Gardens Railway displays, we asked if the artists could tackle this Christmas conundrum for us, using Jason's model as a base for a gingerbread house that would be as long lasting as it was beautiful.
In September 2021, Stephanie Winters, Creative Director/Lead Sculptor, and Ava Roberts, Assistant Sculptor, of Applied Imagination finished their version of America's Largest Home®. The results were breathtaking, and our "gingerbread house" now takes place of pride in our Main Kitchen during Christmas at Biltmore.
Fun facts from the gingerbread construction project:
Time to complete: 1200 hours over the course of five months
Measurements: 78½" wide x 32" deep x 32" high (including spires)
Building materials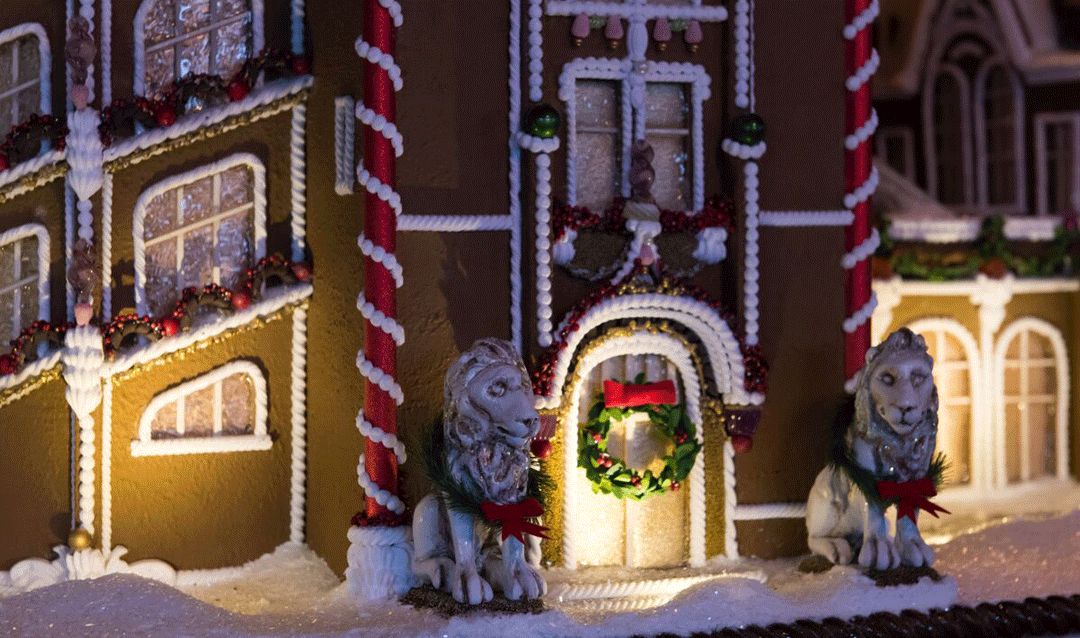 Gingerbread Cookie Base

Tile grout mixed with Mod Podge® Matte and sponged onto 3/16" Gatorboard shapes

Wavy Shingled Roof

Wooden fan handles covered with tile grout and Mod Podge

Windows and Mullions

Window panes created with modeling dowel rods and architectural modeling materials (bass wood).
Windows created with poured casting resin sprinkled with clear glitter.
Textured windows (exterior staircase) have the addition of large, granular, clear beads mixed with resin.
Windows backed with gold shimmer paper to resemble the effect of being lit within.

Spires on Roof, Staircase Facade, Window Tops, Railing Tops

Antique glass headpins; large and small twist shapes in dark green, light green, purple, and pale ice; top spires painted antique gold

Piped Icing Shapes

All piped icing that makes up the majority of detail on the Biltmore House model was created completely by hand with Liquid Sculpey® (polymer clay). Shapes were formed using latex cake-decorating molds.

Snow Blanket

Spackling paste to create a base for sculpting and building shapes
Clear glass diamond glitter was sprinkled on wet paste to give snow drifts and mounds the look of fresh powder

Trees and Bushes

Dry floral design cones and spheres, further sculpted by hand to resemble pine tree shapes. Finished with paint and landscape modeling greenery.

Biltmore Lions

Paper clay and white acrylic paint with a small amount of gold tinted glitter/mica.

Garland

Thin and flexible English faux pine rope
Faux miniature boxwood/bay leaf roping
Feathery evergreen (lions' necks)
Floral accents: faux red and gold berries; red velvet and gold-backed ribbon hand-fashioned into miniature bows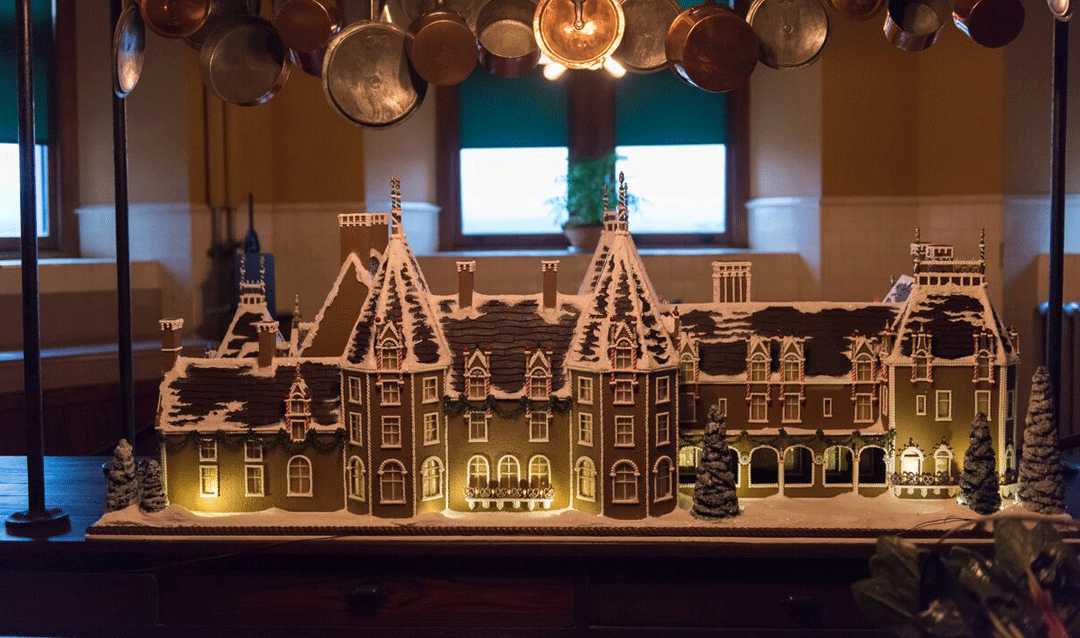 Candy decorations
Faux Candy Decorations

Resin gumdrops and gummies (edge and facade details)
Sculpey clay chocolate swirls (base of the spires)
Chocolate shavings, glass glitter (soot/embers in chimney tops, base of lions, base of spires, front facade details)
Resin chocolate pretzels (fancy railings)
Resin chocolate chips (spires inset)
Small sugared gum drops, glass/plastic headpins (main detail throughout in purple, orange, yellow, red, green)
Variety of candy colored balls of various sizes (beads and headpins)
Sculpey clay swirled balls (small detail elements)

Cut Cinnamon Sticks

Facade details, small railings, wrought iron base for spires

Peppermint Sticks

Small (vintage paper hand-rolled on dowel rods)
Large sticks on main facade (decorative paper on dowel rods)
Peppermint balls on main facade (vintage spun cotton and thread)

Gumballs, Gingerballs, Round Bulb Ornaments

Green and red faux floral berries, gold- and silver-painted floral berries, painted beads
Celebrate Christmas at Biltmore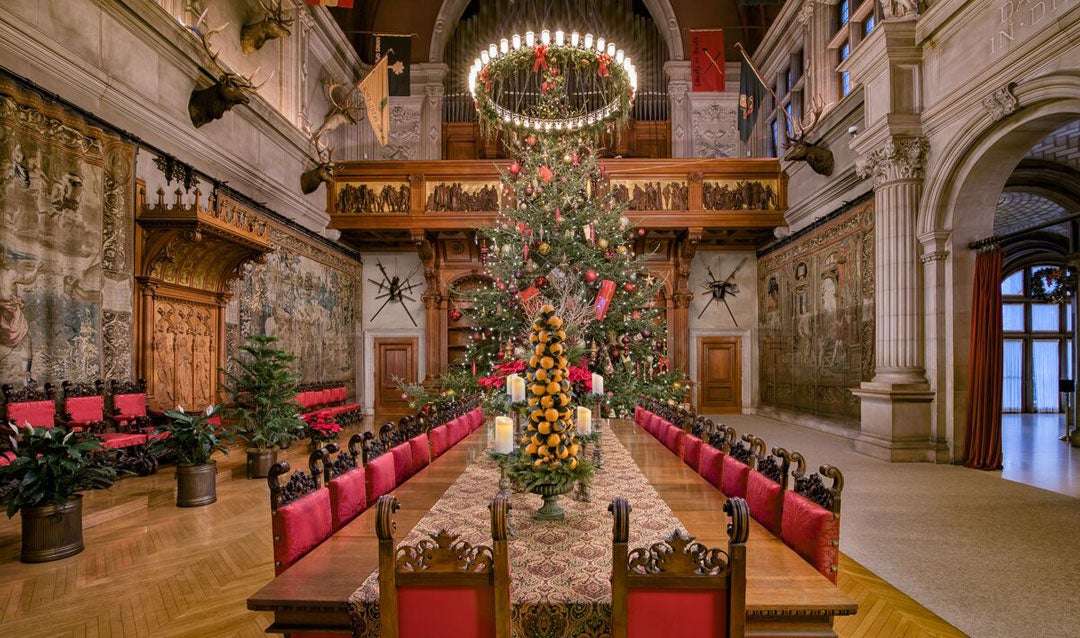 To see this marvelous piece of eye candy displayed in the Main Kitchen, make reservations for a holiday visit during our annual Christmas at Biltmore celebration, November 3, 2023–January 7, 2024, in Asheville, NC.