To share the warmth and cheer of Biltmore wines, we've created our Holiday Wine Guide to help you make the most of this special season.
"The Holiday Wine Guide covers all the different celebrations from Thanksgiving to New Year's," said Jill Whitfield, senior wine marketing manager. "There are recommendations for each special occasion, including thanking your hosts and having gifts on-hand for surprise guests."
Holiday Entertaining with Wines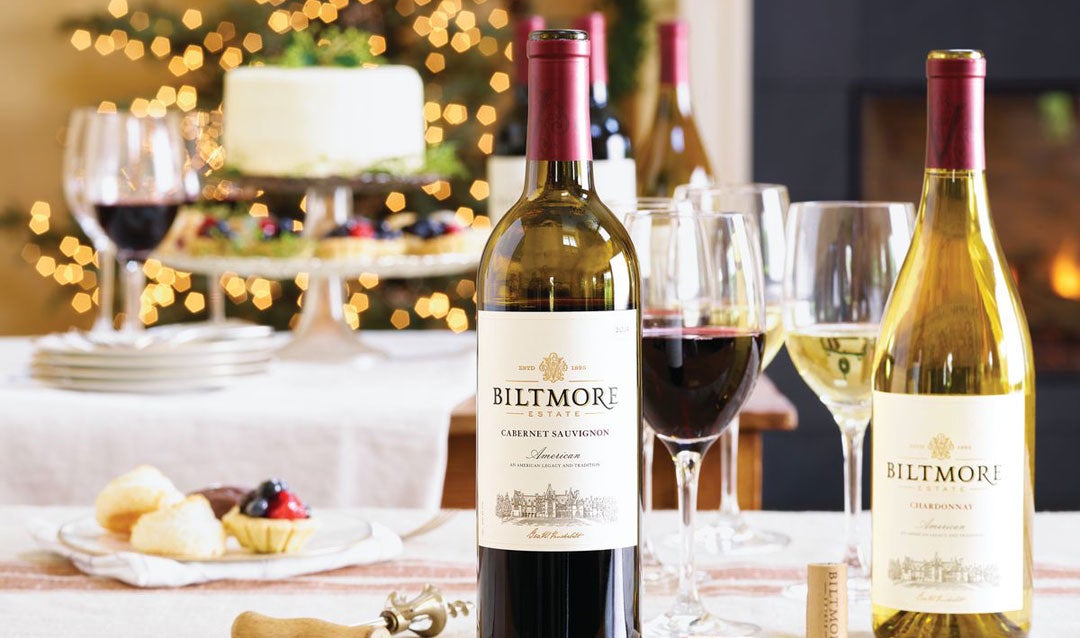 "For general holiday entertaining, Biltmore® Estate Cabernet Sauvignon–awarded 95 points in the prestigious San Francisco International Wine Competition–and Biltmore Estate® Pinot Grigio, which received 90 points from the Beverage Testing Institute, are a great place to start," Jill said.
Jill recommends rounding out your selections with our Biltmore® Reserve Rosé North Carolina 2018, Vanderbilt Reserve Cabernet Sauvignon Dry Creek Valley 2017, and our bubbly Biltmore Estate® Blanc de Blancs sparkling wine.
Your Thanksgiving Table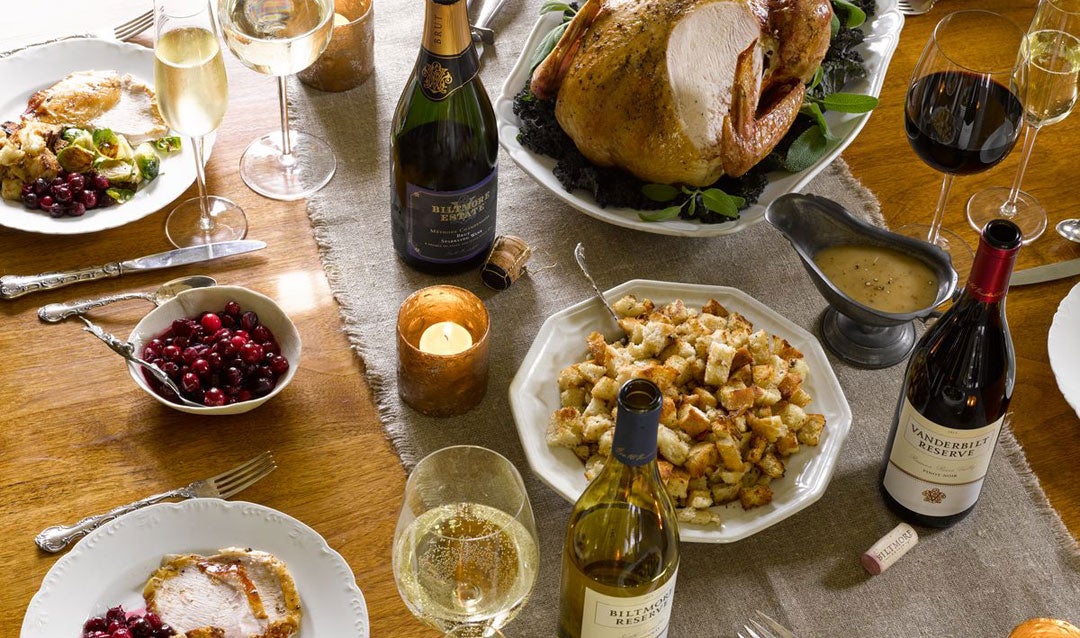 Whether you're adding a leaf to your table to accommodate a crowd or traveling out of town to visit family, Biltmore wines pair perfectly with everything from turkey and dressing to flavorful new "Friendsgiving" favorites.
"Our special Thanksgiving Trio featuring Biltmore® Reserve Chardonnay North Carolina 2018, Vanderbilt Reserve Pinot Noir Russian River Valley 2017, and Biltmore Estate® Brut makes it easy to pair all your holiday favorites with a fine wine," said Jill. "If you want to add a bit more variety, Biltmore Estate® Dry Rosé and Biltmore Estate® Merlot are great wines for delighting your guests."
Wrap-up Gift Giving with Biltmore Wines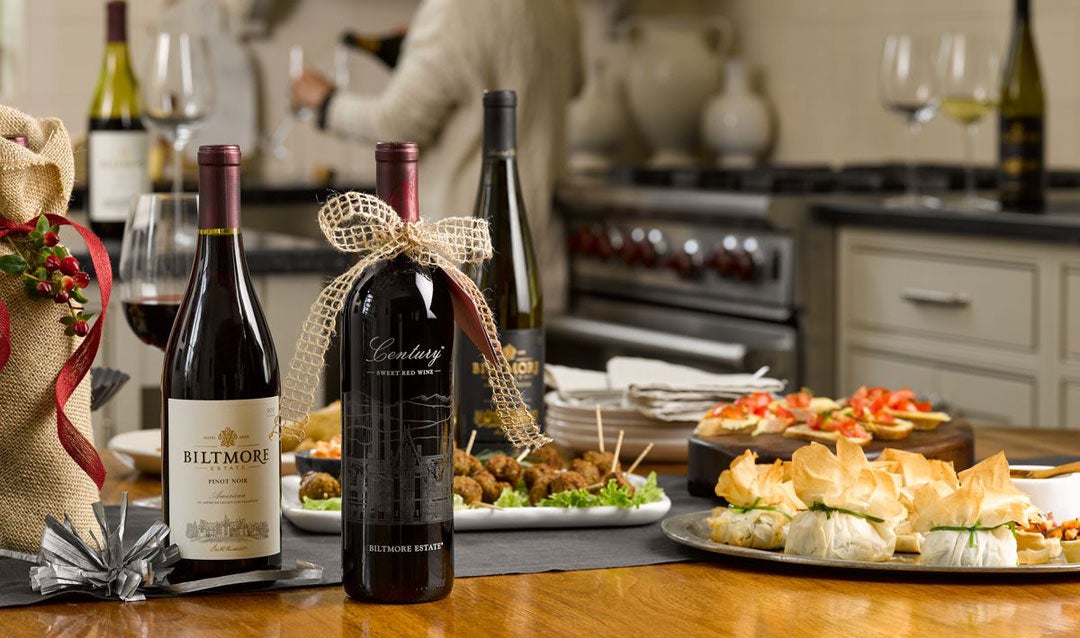 Simplify holiday shopping by sharing the gift of Biltmore wines. They make a thoughtful gift for anyone on your list or a special thank-you to your hosts for including you in their celebration.
Consider options such as The Hunt Red Blend Sonoma County 2017, which earned 91 points from Critics Challenge, our charming Mariporta Red Dessert Wine, long-time guest favorite Biltmore Estate® Cardinal's Crest, our lightly sweet Biltmore Estate® Limited Release Chenin Blanc, or our finest sparkling–Biltmore Estate® Château Reserve Blanc de Blancs North Carolina 2017, handcrafted from outstanding locally-grown grapes.
Savor Christmas with Biltmore Wines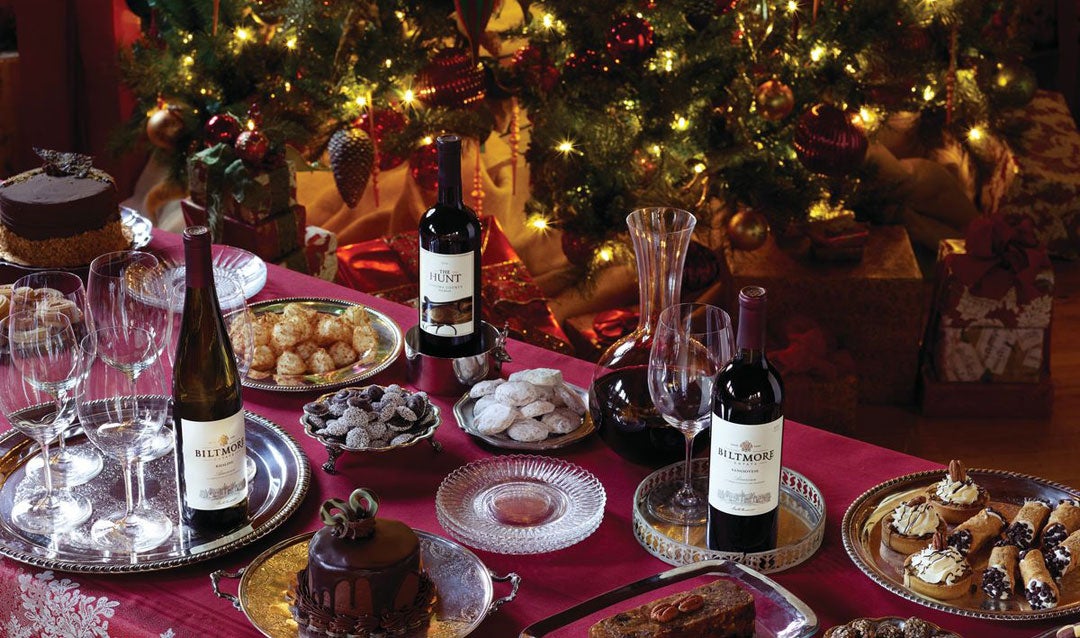 Showcase your Christmas Eve gathering, Christmas Day Brunch, and Christmas Day Dinner with our most versatile, food-friendly wines to complement any cuisine.
"Our Biltmore Estate® Sauvignon Blanc earned 91 points in the San Francisco International Wine Competition," Jill said, "while Critics Challenge awarded our Antler Hill® Cabernet Sauvignon Napa Valley 2015 93 points. We think you'll also enjoy sharing our Biltmore Estate® Riesling, Biltmore® Reserve Viognier North Carolina 2018, and our Biltmore Estate® Limited Release Malbec with your special guests."
New Year's: Ready, Set, Celebrate!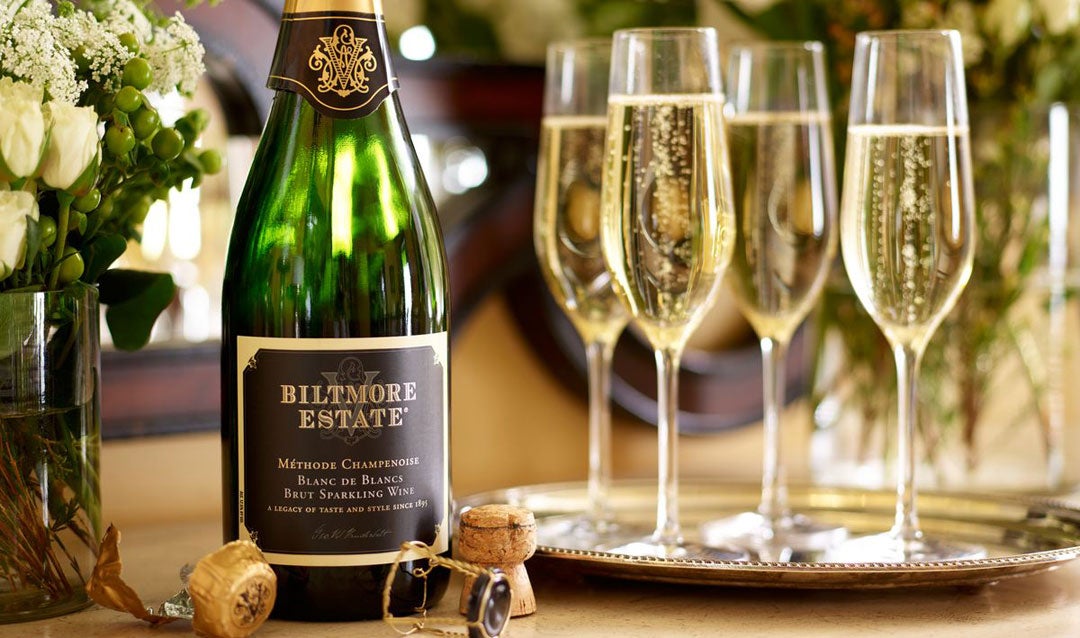 For a more memorable midnight on New Year's Eve or a brunch featuring traditional favorites the following day, be sure to include our sparkling wine, handcrafted in the time-honored méthode champenoise that creates the finest bubbles.
"Shake things up with our Biltmore Estate® Blanc de Noir," suggested Jill. "Not only is it delicious, but the soft coral color makes it a feast for the eyes, too!"
Sparkling wines may be traditional for New Year's, but Jill recommends considering a range of other options  including our Biltmore Estate® Limited Release Gewürztraminer, Biltmore Estate® Limited Release Tempranillo, Biltmore Estate® Pinot Noir, and Biltmore Estate® Chardonnay.
Enjoying Our Wines at Home for the Holidays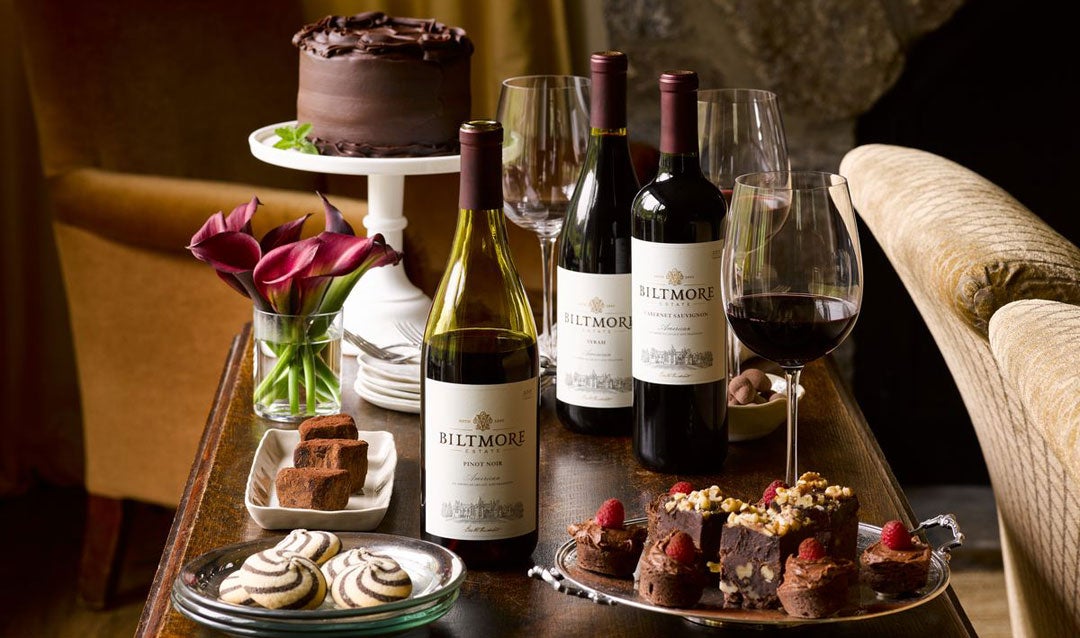 "If you're ready to re-stock your wine reserves, you can find Biltmore wines close to home with our Retail Locator," said Jill.
Join the Vanderbilt Wine Club®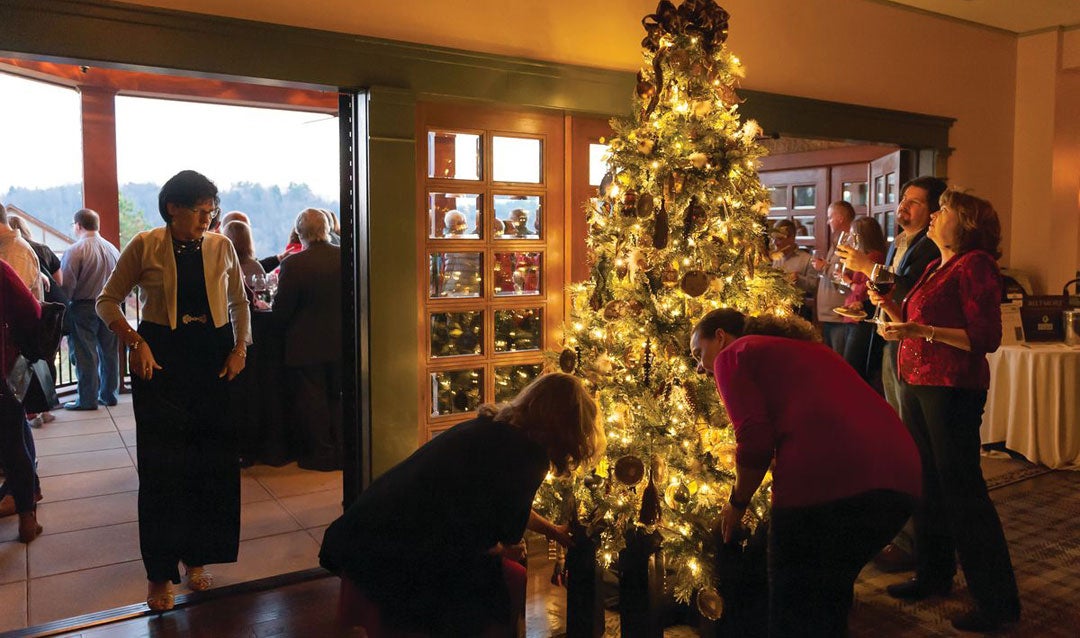 Give a year of wine to someone special with a gift membership in our Vanderbilt Wine Club. Members receive three hand-selected Biltmore wines each season, shipped direct to your door, and the first club shipment ships free.
In addition, members save up to 25% on all wine purchases online or at the estate, plus complimentary premium wine tastings, access to first release wines, members-only events, and much more.