Celebrate summer with sensational sangrias featuring your favorite Biltmore wines!
Whether you're a fan of reds, whites, or rosés, there's a perfect option in the following recipes to help you to create fun and fruity sangrias for solo sipping and friendly gatherings all season long.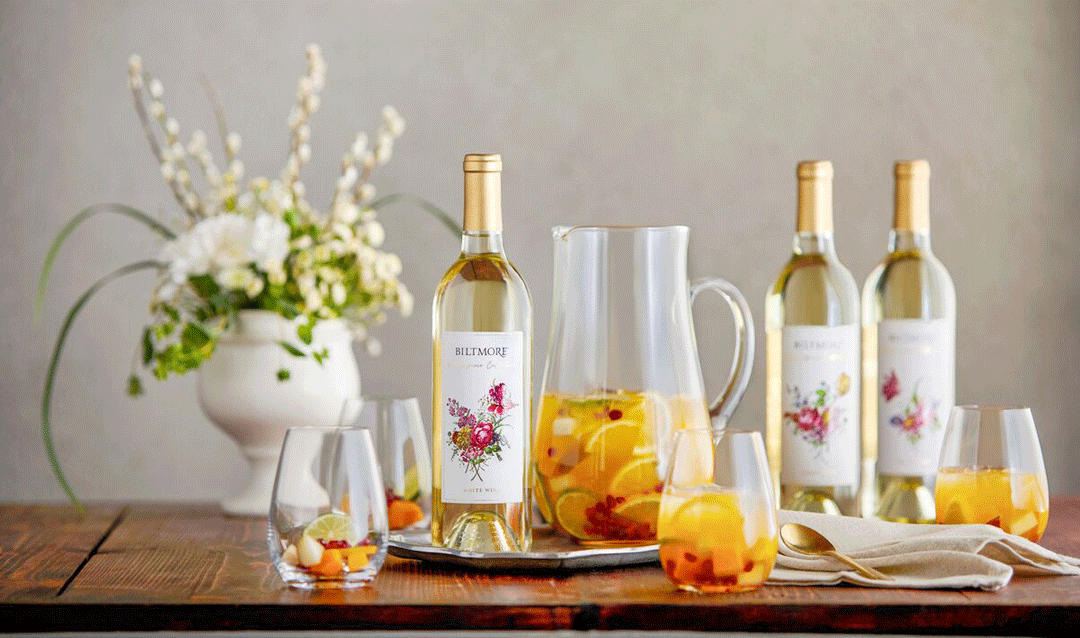 Although traditional sangria recipes tend to feature red wines, this version with our Biltmore Masterpiece Collection White Wine is a cool, refreshing treat for warm weather. Enjoy with friends and, should you have any left over (we doubt you will!), freeze it for a fun take on grown-up popsicles or slushies.
• 1 bottle Biltmore® Masterpiece Collection White Wine
• 4 ounces simple syrup
• 4 ounces brandy
• 2 ounces of freshly squeezed orange juice
• 2 ounces of freshly squeezed lime juice
• 2 ounces of freshly squeezed lemon juice
• 2 limes, sliced in wheels
• 1 lemon, sliced in wheels then halved
• 1 Fuji apple, cubed
• 1 Anjou pear, cubed
• 1 mango, cubed
• Seeds from ½ pomegranate (optional)
Combine all ingredients in a large pitcher and stir until well mixed, adding pomegranate seeds at the end for presentation as they tend to fall to the bottom after stirring. Serve over ice. If sangria sits overnight, add simple syrup to taste as additional juices will come forward the next day. Serves 4-6.
---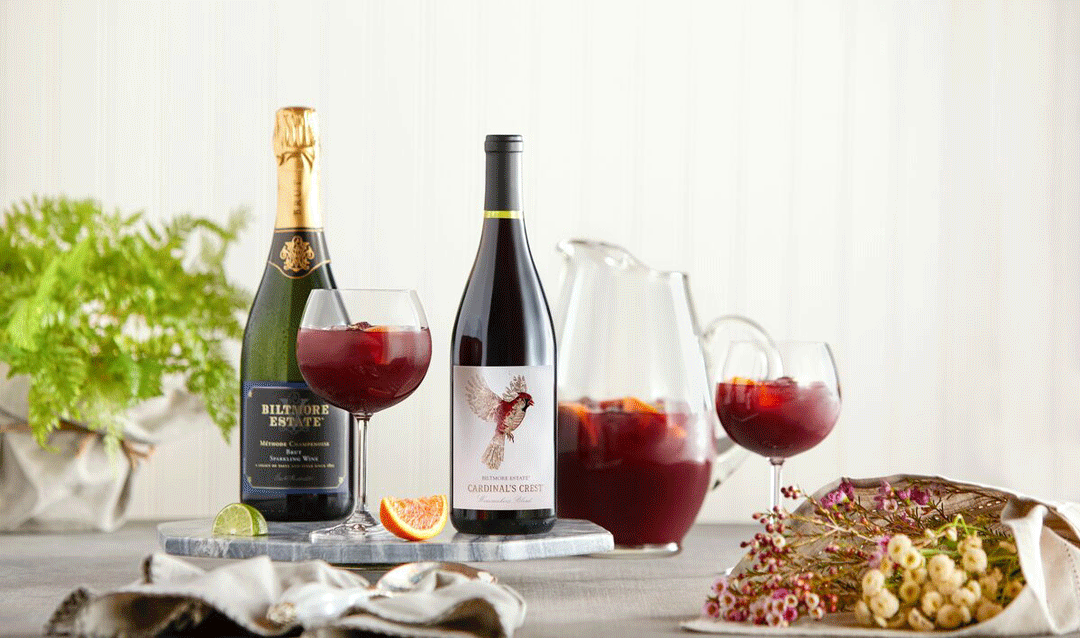 Take time for yourself with a glass of Cardinal's Crest Red Sangria—the perfect sparkling treat for a leisurely Sunday morning brunch or a long afternoon on the porch.

• 3 ounces Biltmore Estate® Cardinal's Crest
• ½ ounce Orange Curacao
• ½ ounce St. Remy Brandy
• ¾ ounce orange juice
• ¼ ounce grapefruit juice
• ½ ounce simple syrup
• 1 ounce Biltmore Estate® Brut sparkling wine
• Lime wedge and an orange wedge (optional garnish)
Add first 6 ingredients to a small pitcher or shaker; mix until combined. Pour over ice in a wine glass and top with 1 ounce sparkling wine and garnish with lime and orange wedges. Serves 1.
---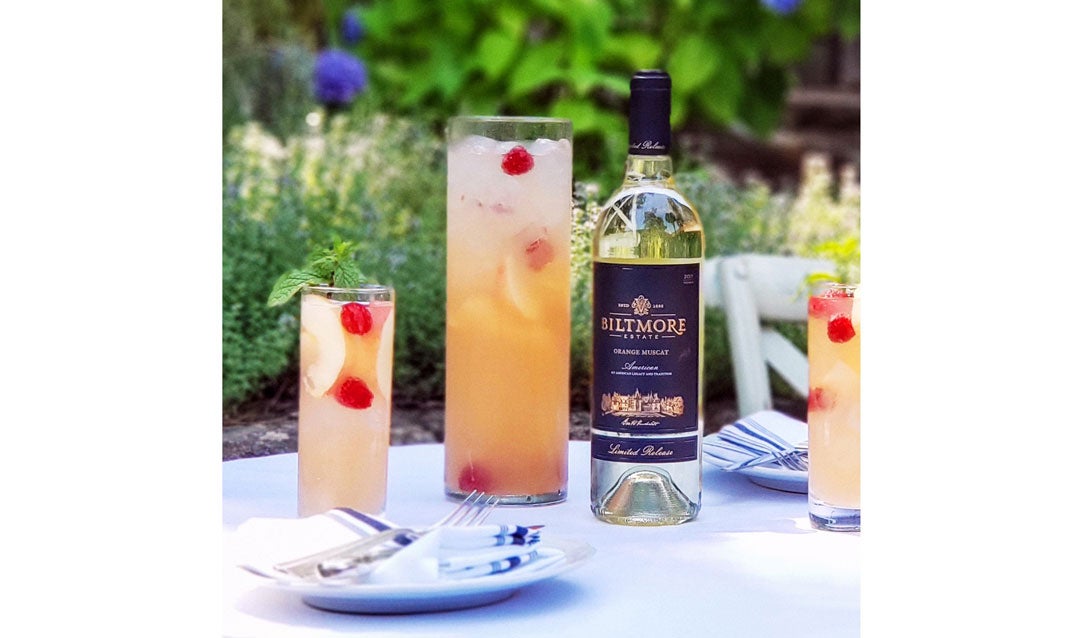 The delicious combination of our fragrant Orange Muscat with apricot brandy, followed by the infusion of peach puree and delicate raspberries for fresh fruit taste and texture, elevates this sangria to new heights! Stir up an icy pitcher to share with friends and family under a shade tree this summer.
• 1 bottle Biltmore Estate® Limited Release Orange Muscat
• 16 ounces Bellini Cipriani White Peach Puree
• 4 ounces vodka
• 4 ounces apricot brandy
• 1 peach, sliced
• 1 cup raspberries
• Fresh mint (optional garnish)
Add first 4 ingredients to a pitcher with enough ice to chill; mix thoroughly. Add white peach slices and raspberries and garnish with mint. Serve over ice in a Collins glass. Serves 4-6.
---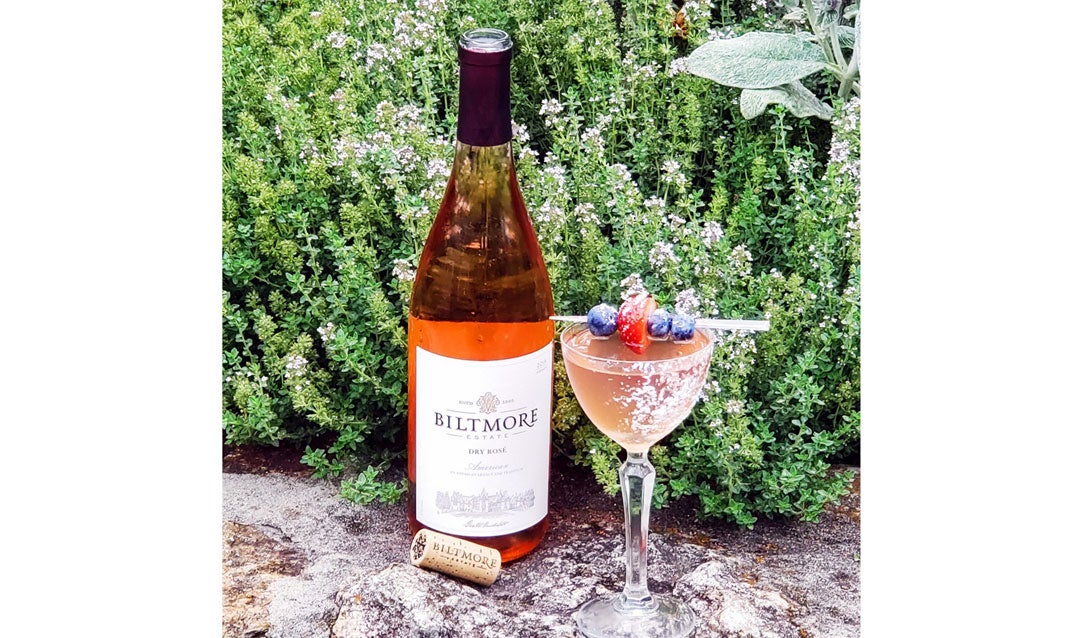 Vibrant and robust, this is a cocktail-forward sangria that allows the Dry Rosé to come out on the nose while the strawberry and limoncello are on the finish. The sweetness of the powdered sugar on the lips is the perfect complement to the cocktail, and really adds to the presentation. Serves 1.
• 2½ ounces of Biltmore Estate® Dry Rosé
• 1 ounce Absolut® Juice Strawberry Edition
• ¾ ounce of Caravella Limoncello
• ¼ ounce pomegranate simple syrup
• Strawberries and blueberries rolled in powdered sugar (optional garnish), plus more sugar for dusting
Add ingredients to a mixing glass with a handful of ice and stir gently for about 10 seconds. Dust a Nick and Nora glass with powdered sugar. Strain the sangria cocktail mixture into that glass and garnish.
Purchase Biltmore wines now
Our award-winning wines are available for purchase at estate shops, online, and close to home with our Retail Locator.
Want more options to celebrate summer? Uncork these refreshing summer cocktails featuring Biltmore wines.
Special thanks to Jeremy Hood of The Urban Gastronome in Asheville, North Carolina, for developing these recipes to help us celebrate summer with our sensational sangrias!