Craft incredible cocktails with Biltmore wines and enjoy a refreshing new way to savor summer sipping on the porch, patio, or by the pool!
Switch up the spirits
"Summer is the perfect time to craft incredible cocktails featuring wines handcrafted here at Biltmore's Winery in Asheville, North Carolina," said Chris Price, Wine Marketing Manager. "'And if you are looking for a lower-proof version of your favorites, simply switch out the spirit for a similar style of Biltmore wine,"
In the case of the white wine mojito below, we swapped the traditional rum for Biltmore Estate® Limited Release Sémillon. It makes a perfect "shady afternoon sipper" to enjoy while reading in the hammock (naps optional!).
White Wine Mojito Cocktail*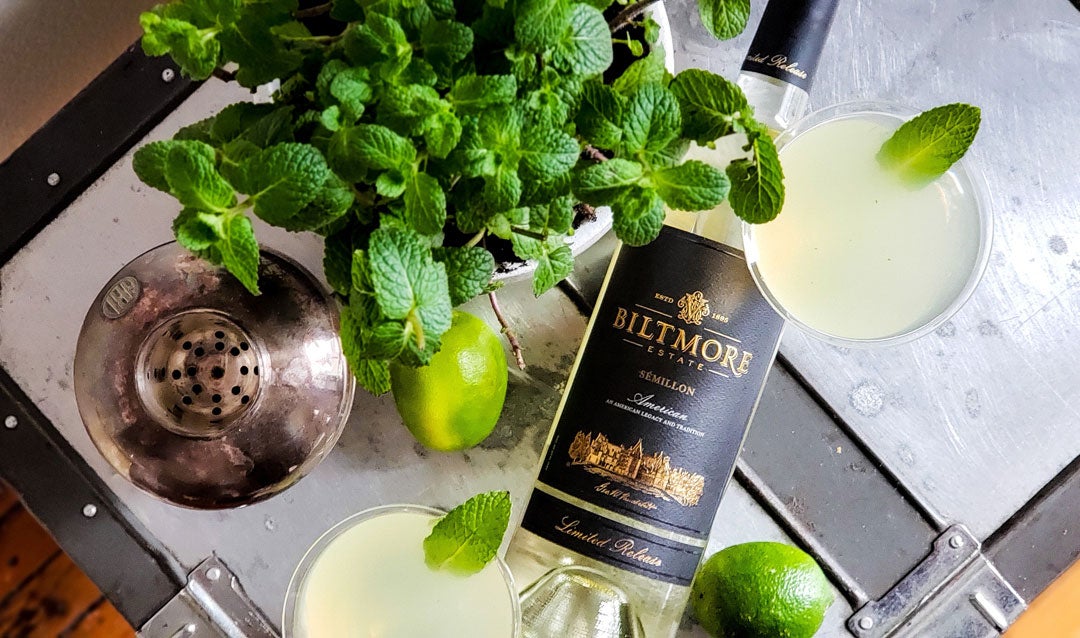 • 2 ounces Biltmore Estate® Limited Release Sémillon
• 2 ounces Italian lemon soda
• ¾ ounces freshly squeezed lime juice
• ¼ ounce simple syrup
• 4 mint leaves
Craft the cocktail: Muddle 4 mint leaves thoroughly in 2 ounces of Biltmore Estate® Limited Release Sémillon using a rough edge muddler. Add lime juice, simple syrup, and shake briefly on ice in a Boston shaker. Double strain into a martini glass and top with Italian lemon soda.
Serve straight up with a floating mint leaf as a garnish so ice does not overly dilute the cocktail. (Muddle different types of fruit to bring new flavors to this recipe—we give you a license to be creative!) Serves 1.
Wine: Recognized for its notably smooth texture and significant palate weight, our Biltmore Estate® Limited Release Sémillon, handcrafted at our estate winery, is a full-bodied, dry white wine. The rich, silky texture complements the fresh melon flavors and zesty citrus aromas. An exciting wine for any occasion, it pairs well with chicken, halibut, pork, turkey, and salads.
Summer Riesling & Tonic Cocktail*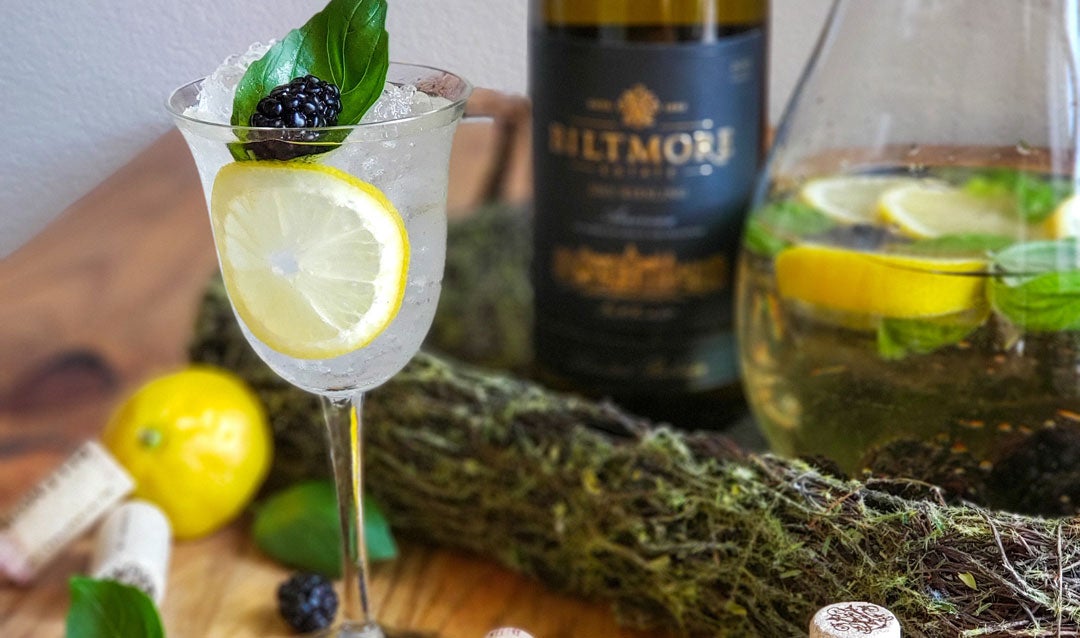 "Fresh fruit and wine pair beautifully together, and warmer weather is the perfect time to experiment with your favorites and share the delicious results," Chris said.
Whether you're serving craft cocktails on the patio, porch, or poolside, outdoor entertaining takes on a new meaning when you invite a special guest like rum. Yum!
• 1 bottle Biltmore Estate® Limited Release Dry Riesling
• 8 ounces white rum
• 1 cup blackberries
• 1 cup fresh basil leaves (reserve some for garnish)
• 2 lemons (sliced into thin wheels and halved)
• Elderflower tonic
Craft the cocktails: The day before you want to serve these cocktails, pour Biltmore Estate® Limited Release Dry Riesling and your choice of white rum into a pretty pitcher. Submerge several basil leaves and blackberries in the mixture and refrigerate overnight.
When ready to serve, use your favorite glassware and build each drink with ice, blackberries, basil leaves, and a couple of lemon wheels. Fill glasses a quarter of the way with elderflower tonic, and the rest of the way with the chilled wine and rum mixture. Enjoy! Serves 6.
Wine: Discover the drier side of Rieslings with our Biltmore Estate® Limited Release Dry Riesling. It is quite enchanting, with bright citrus and spice aromas followed by flavors of stone-fruit. However, it is the dryness that makes this Riesling so extraordinary, and different than most types of this varietal you will experience. You can pair our Dry Riesling with rabbit, crab, oysters, and shrimp for delightful dining.
Chenin Blanc Pineapple Slushies*
"This craft cocktail is a fun way to liven up a summer gathering," Chris said. "There's a bit of nostalgia to any slushie drink, but this is definitely a grown-up version of the ones you remember from childhood!"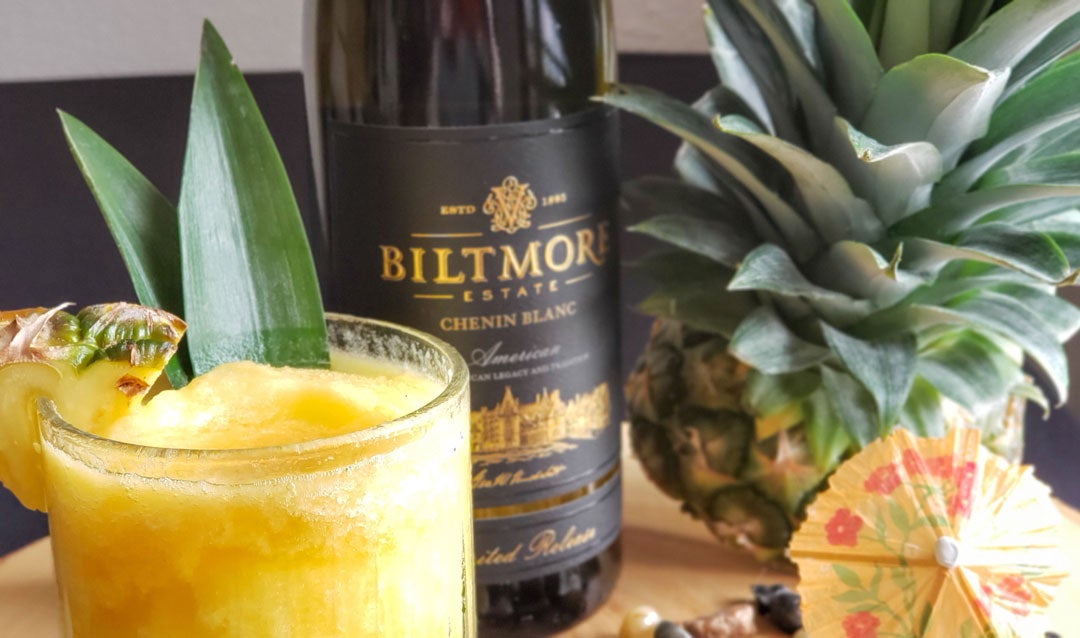 • 8 ounces of chilled Biltmore Estate® Limited Release Chenin Blanc
— Tip: put wine in the freezer 30 minutes prior to mixing these cocktails
• 4 ounces chilled Plantation Pineapple Rum (used as a float)
• 2 cups frozen pineapple chunks
• 1 cup frozen mango chunks
• 6 ounces pineapple juice
• 3 ounces freshly squeezed lime juice
• 2 ounces ginger syrup (recipe below)
• 4 dashes Bittermen's Tiki Bitters (or your favorite brand)
• Ice

Ginger Syrup
• 1 cup of water
• 1½ cups organic sugar
• 1 medium ginger root, sliced

Place all ginger syrup ingredients in a pot and bring to a boil, stirring constantly so sugar doesn't burn. Remove from heat and allow to steep for 1 hour while it cools. Refrigerate for up to 2 weeks. Makes 1½ cups of syrup.
Craft the cocktails: Place all ingredients except rum in a blender. Blend until you have obtained a super slushy consistency. Pour into a glass, leaving room to float 1 ounce of Plantation Pineapple Rum on top, then garnish with extreme creativity! Serves 4.
Wine: An estate and online exclusive, our handcrafted Biltmore Estate® Limited Release Chenin Blanc is a rarity among its kind. Enjoy the balanced and fruity introduction, with a lingering, sweet finish accented by floral aromas and citrus flavors. The rich notes make it a wine that can stand firmly on its own, but it does pair well with Asian cuisine, crème brûlée, fresh fruit, fruity desserts, and tiramisu.
Purchase award-winning Biltmore wines!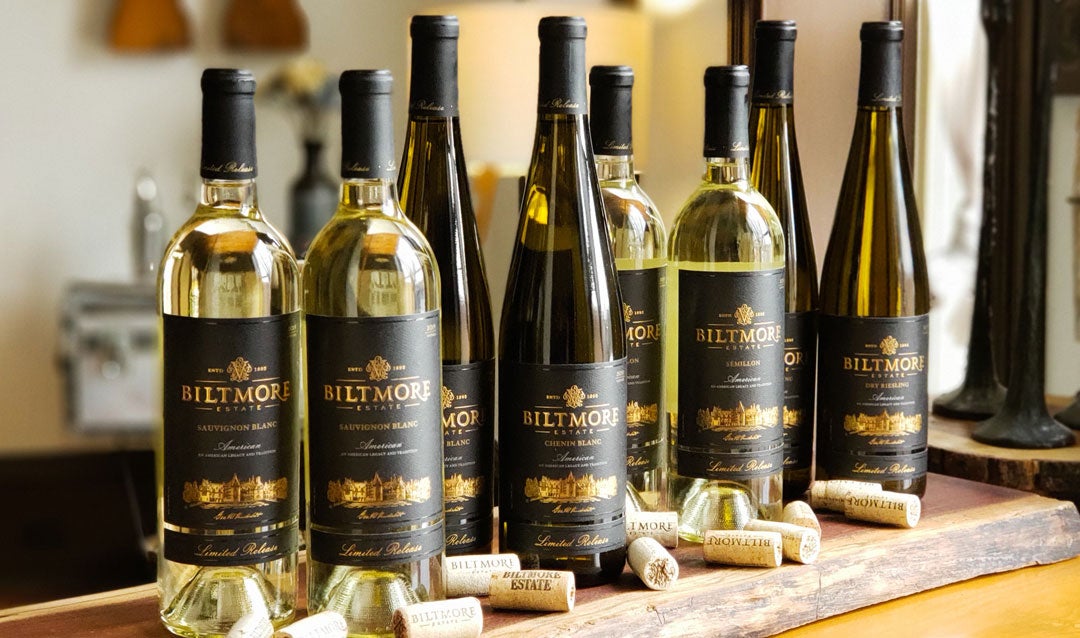 While the three delicious Biltmore Estate Limited Reserve wines featured in the craft cocktails above are available only in estate shops or online, you can find many of our wines close to home with our Retail Locator.
*Special thanks to The Urban Gastronome for creating the recipes for the craft cocktails featured in the post!