Getting to know Albariño–an intriguing white wine–is a great way to explore a less well-known varietal that is definitely worth discovering!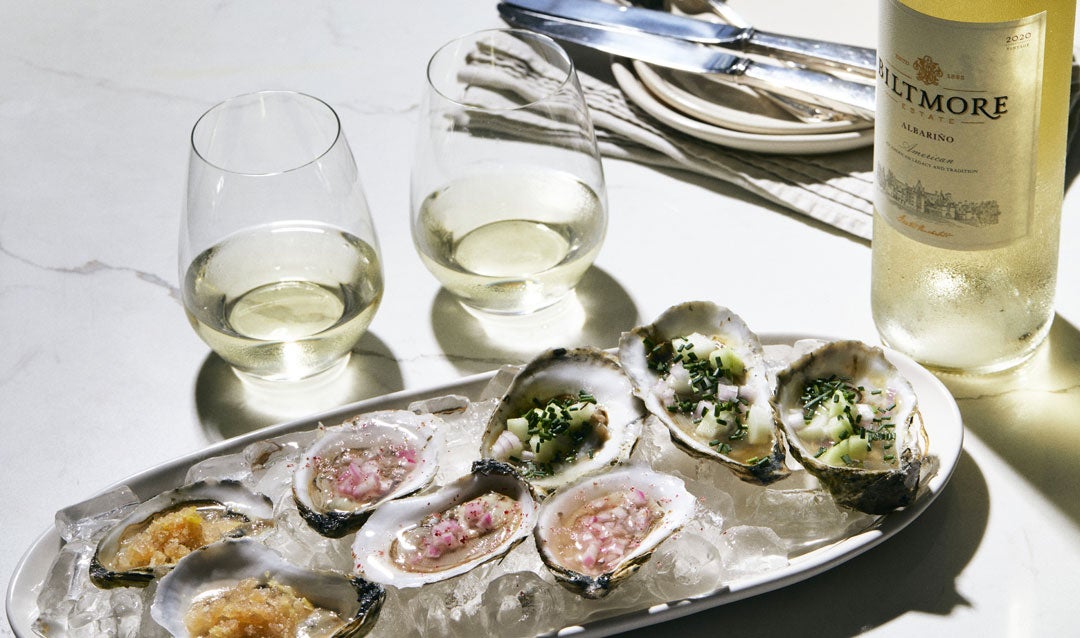 Origins of the wine
Prized for its bright acidity and characteristic hints of coastal brine, Albariño is white varietal that probably originated in Galicia on the Iberian Peninsula of northwestern Spain, where some still refer to it as vino del mar or "wine of the sea."
In neighboring Portugal, the grape is known as Alvarinho. Both names are a reference to the grape's white color.
Growing conditions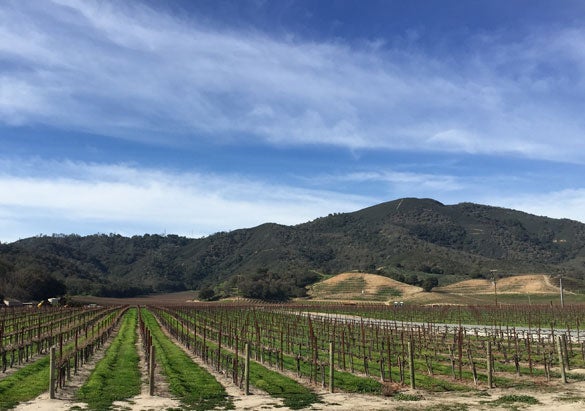 Although some Albariño vines in Europe are estimated to be as much as 300 years old, the varietal is a relative newcomer to North America, with only about 300 acres in cultivation in California's Central Coast region.
It's also grown in Australia and South America, but it thrives in cool, foggy climates similar to the Iberian coast that experiences frequent Atlantic storms. While its characteristic sturdy stems and thick skin offer protection from the elements, Albariño vines are usually trained on an overhead trellis that allows better air circulation around the grapes and leaves.
Biltmore Estate Albariño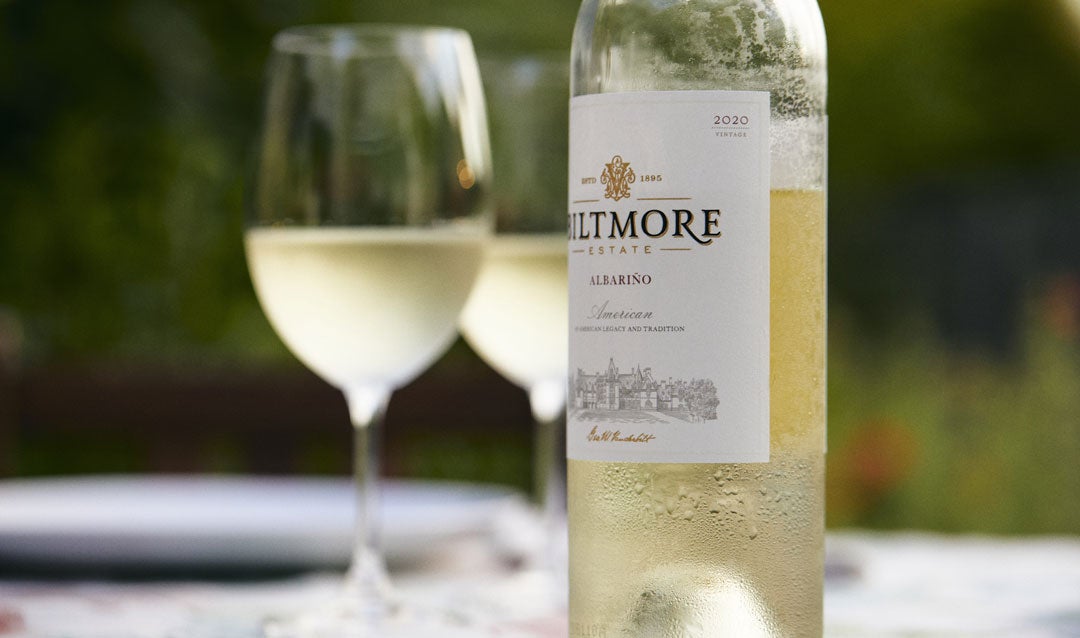 "For our new Biltmore Estate Albariño, I selected grapes from our California vineyard partners who are producing excellent fruit," said Sharon Fenchak, Biltmore winemaker.
"Albariño is an intriguing white wine, and I was interested in getting to the heart of what makes it so distinctive," Sharon said. "Plus, I wanted to give our Biltmore wine enthusiasts the delightful discovery of a wine that's not as familiar to them."
Sharon handcrafted a bright straw-colored wine that features fresh aromas of spice and tropical fruit. In addition to notes of ruby red grapefruit and pepper, this crisp and refreshing light-bodied Albariño offers a round creaminess with good mouthfeel.
Getting to know Albariño
"It's more complex than you might suspect at first," noted Sharon. "I think it's the slight hint of salinity that elevates the other flavors, and makes you want to taste it again and again to really understand the subtleties of Albariño."
To make the most of its coastal complexities, Sharon suggests savoring our new Biltmore Estate Albariño with seafood dishes such as bacon-wrapped scallops, fried grouper, and classic Spanish-style paella. For vegetarian pairings, consider baked butternut squash and pesto pasta.
The following recipe showcases Biltmore Estate Albariño as both an ingredient and a perfect pairing for this simple yet sophisticated dish!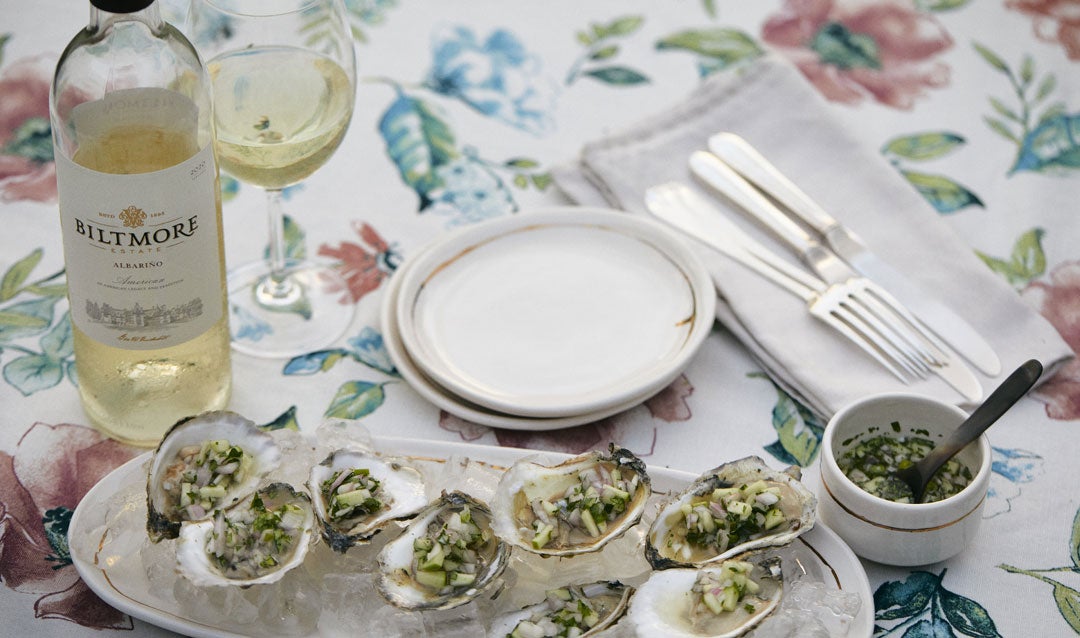 Grilled Oysters with Albariño Garlic Butter
2 dozen oysters on the half shell
6 tablespoons salted butter, divided
3 large garlic cloves, grated
½ cup Biltmore Estate Albariño
1½ teaspoons champagne vinegar
3 tablespoons chopped fresh flat-leaf parsley, plus more for serving
Lemon wedges for serving
Open bottom vent of a charcoal grill completely. Light charcoal chimney starter filled with briquettes. When briquettes are covered with gray ash, pour them onto bottom grate of grill. Adjust vents as needed to maintain an internal temperature of 400°F to 450°F. Place top grate on grill. (If using a gas grill, preheat to medium-high [400°F to 450°F].)

Melt 3 tablespoons butter in a small skillet over medium-high. Add garlic; cook, stirring constantly, 30 seconds. Carefully add Albariño and champagne vinegar; cook, stirring occasionally, until reduced to about 1/4 cup, 8 to 10 minutes. Reduce heat to low. Add remaining 3 tablespoons butter, stirring until butter melts. Stir in parsley.

Arrange oysters on a rimmed baking sheet; top each oyster with a scant 1 teaspoon butter mixture. Place oysters on unoiled grates. Grill, covered, just until oyster juices begin to bubble vigorously, 3 to 4 minutes. Serve warm with parsley and lemon.
Find Biltmore Estate Albariño close to home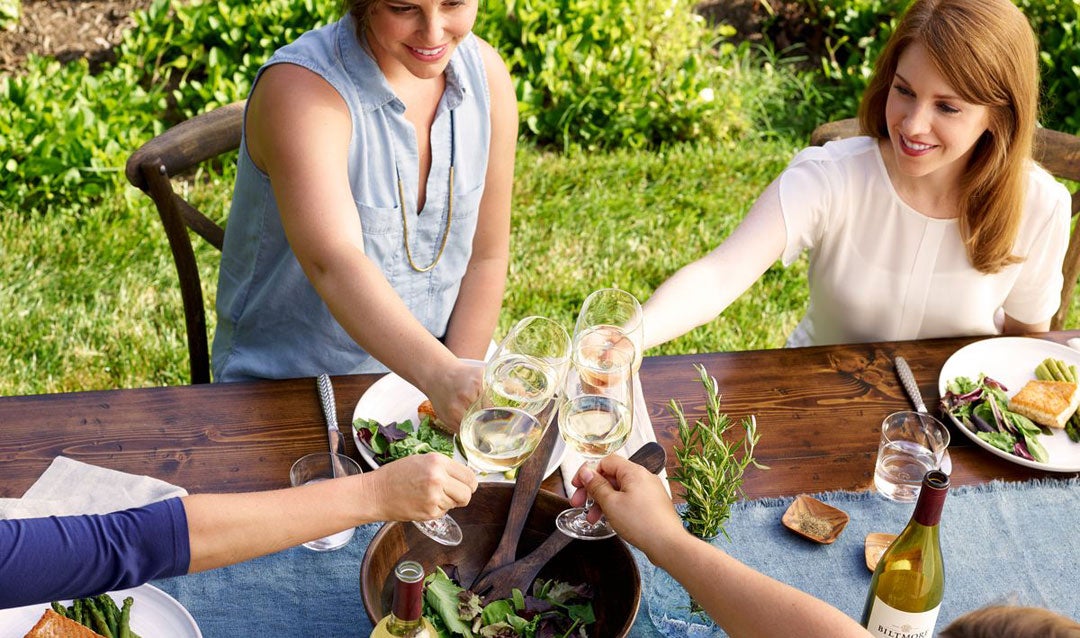 Our easy-drinking Albariño is perfect for sipping at brunch, on picnics, and around the fire pit on cool fall evenings, but don't look for it on the estate or in our online store–it's only available for purchase with local retailers. Find it in your area with our Retail Locator.