Take spooky-season fun to the next level with our special Halloween how-to on pairing Biltmore wine with classic candy at home.
"There's nothing scary about enjoying Biltmore wines with your favorite sweets," said Shruthi Dhoopati, Assistant Winemaker.
"The same principles that apply to successful food-and-wine pairings also work with candy," Shruthi said. "For desserts, you'd normally choose a wine that's sweeter than the dish you're serving, but this Halloween how-to focuses on pairings that add a little sophistication and a lot of fun to the mix."
To make it even easier to enjoy Biltmore wines with Halloween treats, consider the following classic wine-and-candy pairings detailed below.
Complement candy corn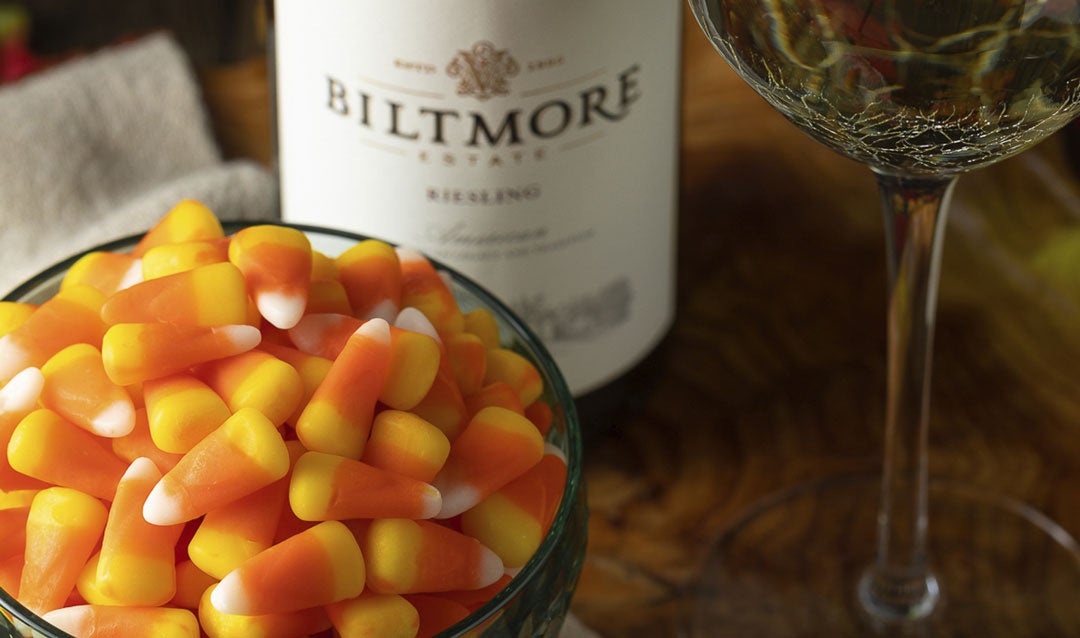 For those who love the seasonal stripes and sugary sweetness of old-fashioned candy corn, it's twice as nice with a glass of Biltmore Estate® Limited Release Dry Riesling.
"Our Dry Riesling opens with scents of bright citrus and hints of spice that that make you think of fall," Shruthi said, "while the taste recalls sun-warmed plums, nectarines, and other stone fruits. The wine's flavor and dryer style provide a pleasant balance for the pure sweetness and soft, waxy texture of candy corn."
Peanut butter perfection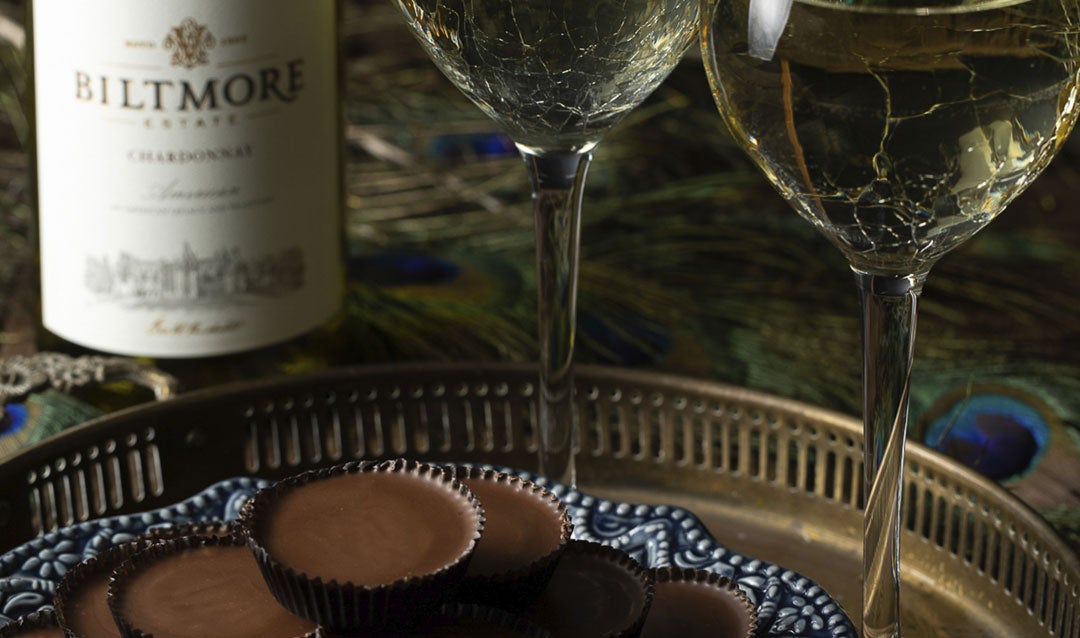 If your Halloween traditions include snagging all the chocolate-covered peanut butter cups out of the treat bags to savor later, we suggest you consider complementing the dynamic duo with our approachable Biltmore Estate® Chardonnay.
"This is a pairing that surprises people," Shruthi admits, "because you don't normally pair peanut butter with wine. But if you think about it, what's more perfect with peanut butter than grape jelly, which gives you a point of reference."
According to Shruthi, our Chardonnay works well because it's a delightfully smooth wine with fruit flavors and hints of oak that enhance most food flavors. It's also crisp and offers good acidity to balance the higher fat content and rich mouthfeel of peanut butter.
Savor the dark side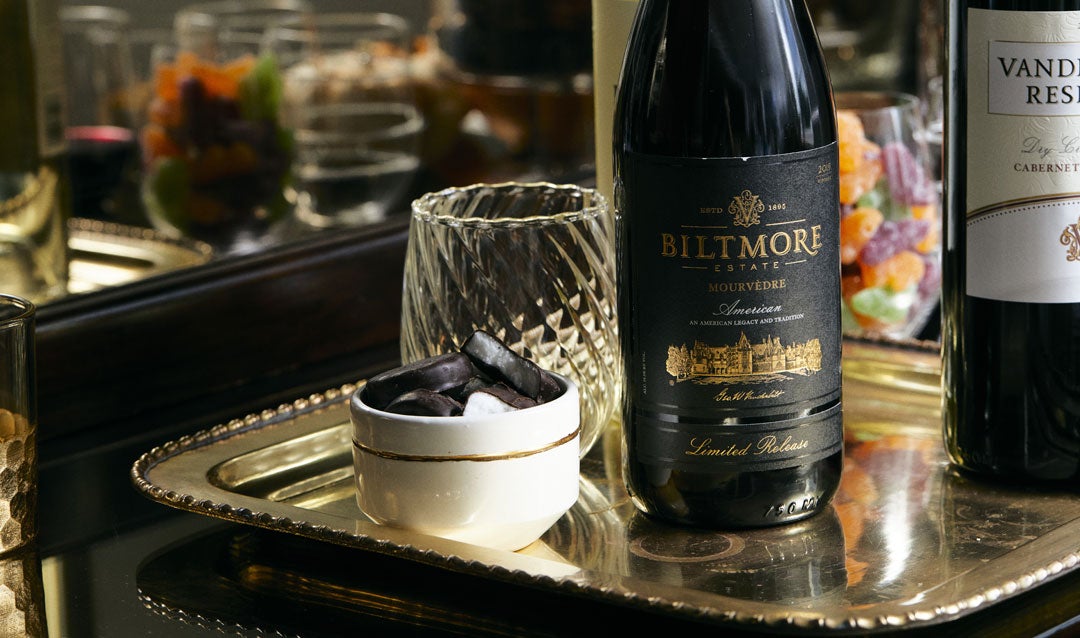 While chocolate is frequently served with red wine, the combination of dark chocolate and a strong mint filling makes pairing classic peppermint patties a bit of a challenge, but Shruthi says it's okay to savor the dark side with our Biltmore Estate® Limited Release Mourvédre.

"This wine offers wonderful aromas of black cherry, vanilla, and soft oak that carry through to the palate with flavors of chocolate, blueberry, vanilla, subtle hints of cedar, and soft tannins," said Shruthi. "It has a kind of rustic elegance that complements the sophisticated notes of dark chocolate and peppermint."
Sweet-and-sour surprise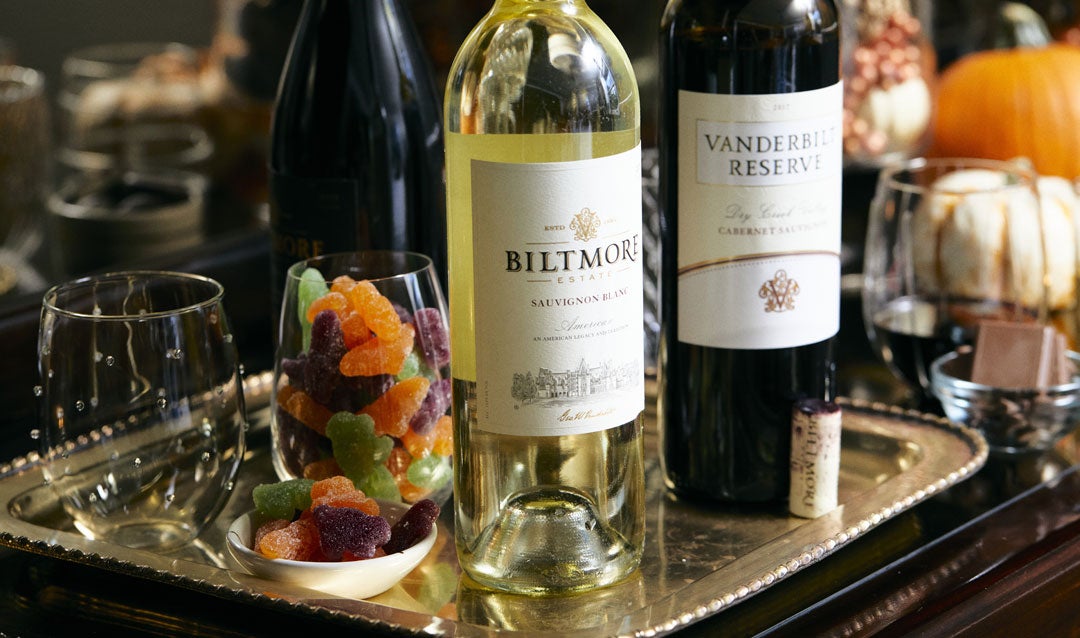 "This is another surprising pairing," said Shruthi, "mostly because nobody thinks about trying sweet-and-sour Halloween candy with wine–especially an elegant white varietal like Sauvignon Blanc!"
The pairing works on two levels, Shruthi said, beginning with the bright citrus aromas of Biltmore Estate® Sauvignon Blanc that complement the playful scent of the candy.
"Smell them separately," said Shruthi, "and you'll start to understand how they can work together. The Sauvignon Blanc is crisp, with refreshing flavors of peach and a touch of minerality that keeps the candy from being overly sweet, making them perfect partners for each other."
Halloween how-to with Biltmore wine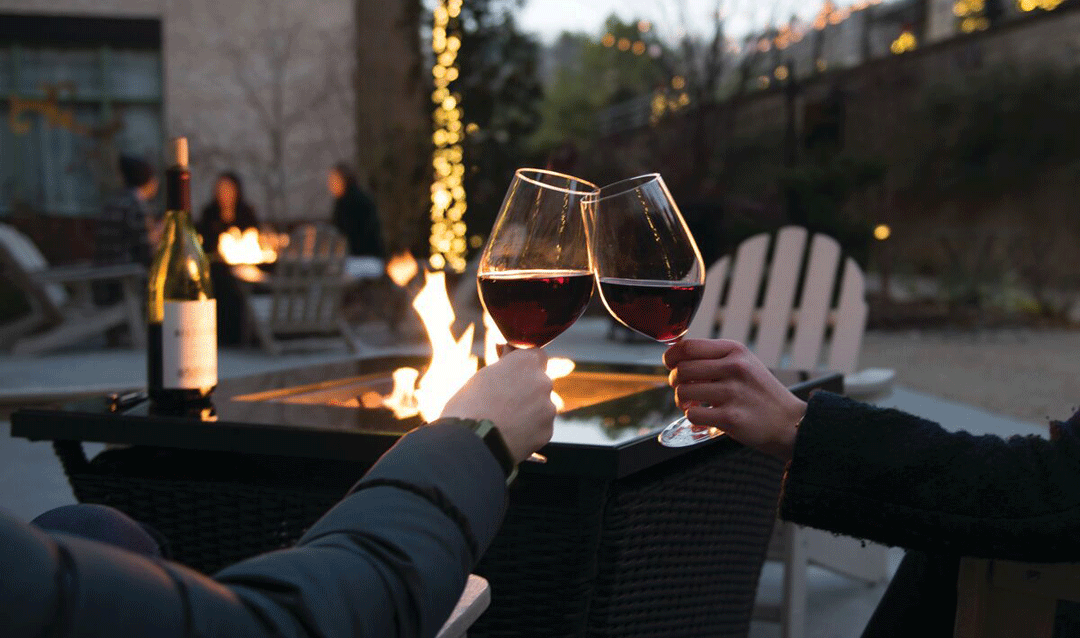 Ready to try our Halloween how-to and savor Biltmore wines at home with your favorite trick-or-treat candy? Find our award-winning wines at Biltmore Estate in Asheville, NC, online, or close to home with our Retail Locator.