If you're looking for a match made in heaven, look no farther than the Red Wine and Chocolate Tasting offered daily at Biltmore's Winery.
How it works
"Pairing red wines with chocolates is an exciting way to discover nuances in both flavors," said Les Norman, one of several knowledgeable Winery hosts who guide guests through the tasting.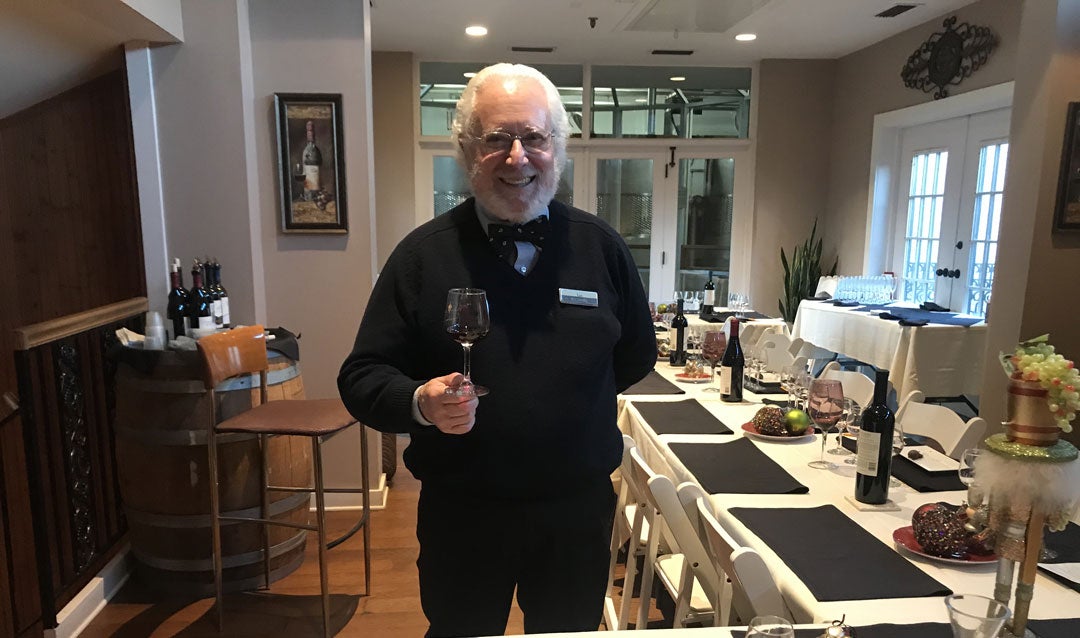 "Biltmore has partnered with French Broad Chocolates to provide six different delectable chocolates to pair with four of our premium Biltmore wines," Les said. "In some cases, this local artisan chocolate company that specializes in bean-to-bar products has created a new flavor to match specific characteristics in a certain wine."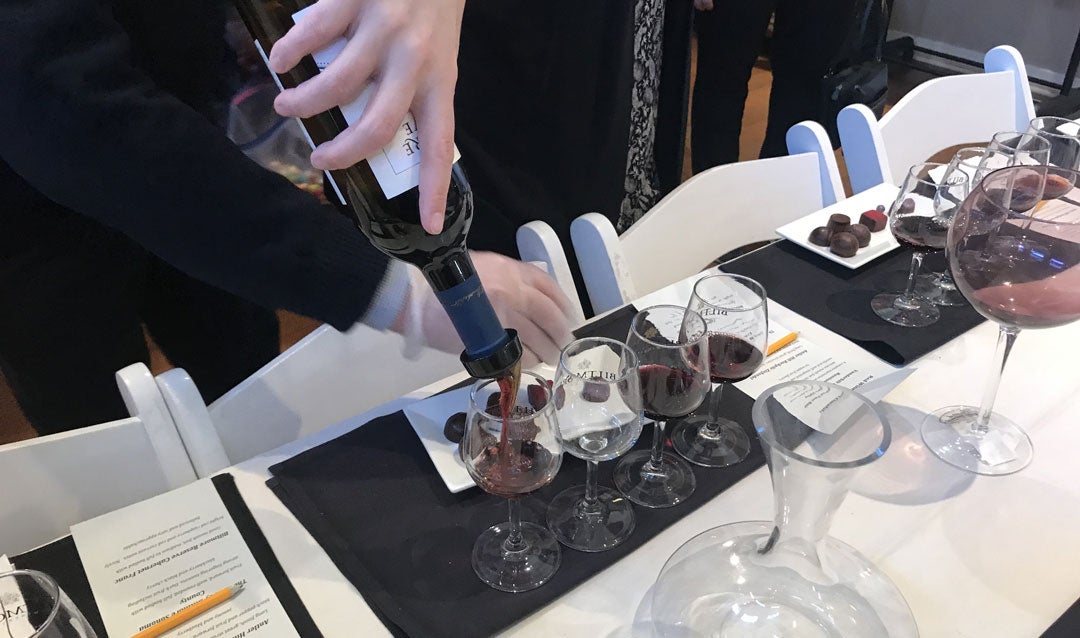 Getting started
Les likes to begin the tasting with a bit of background about Biltmore Winery and the award-winning wines handcrafted there. He offers guests a fascinating glimpse into the estate's vineyards, production methods, and winemaking philosophy under the direction of Winemaker Sharon Fenchak.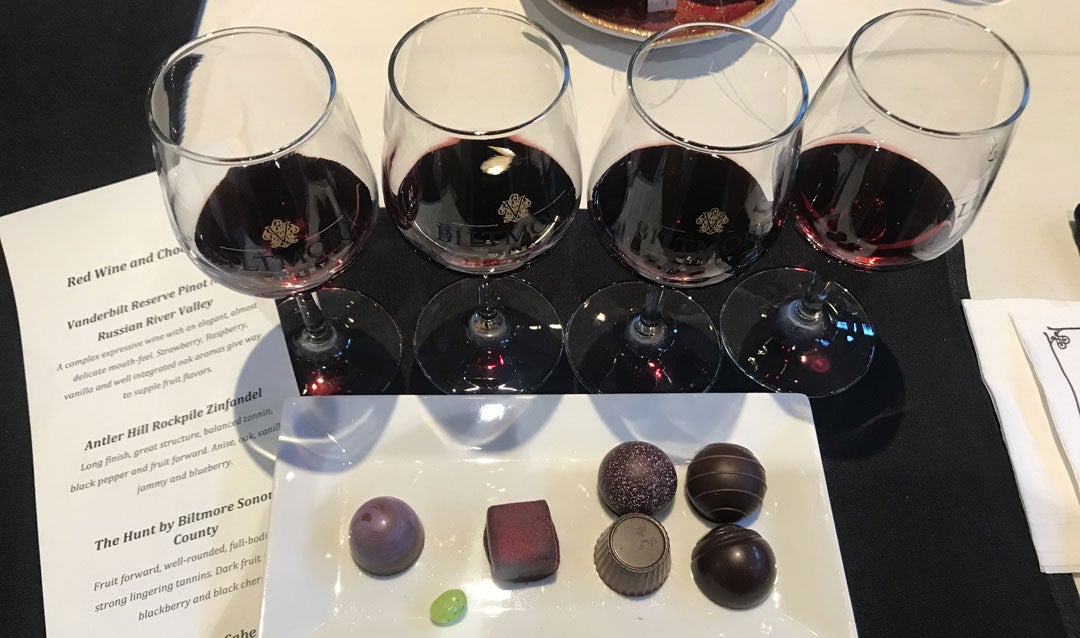 Once he sets the scene, Les describes the process of tasting wines, and has participants take a fun jellybean "test" to better understand how smell and taste affect our sensory perceptions.
Pairing red wines and chocolates
"Now we're ready to pair our red Biltmore wines with chocolates!" Les declares, "starting with our Vanderbilt Reserve Pinot Noir 2017 crafted with grapes from California's Russian River Valley."
Complex and expressive, this Pinot Noir has an elegant mouthfeel that's almost delicate, making it an exceptional pairing with a delicate dark chocolate truffle flavored with lavender and honey.
Les makes sure guests take time to savor the bouquet of each wine and understand its flavor profile as they taste the possibilities. He offers interesting details about viscosity and alcohol content, effortlessly blending his extensive knowledge of wines with the delightful pairings.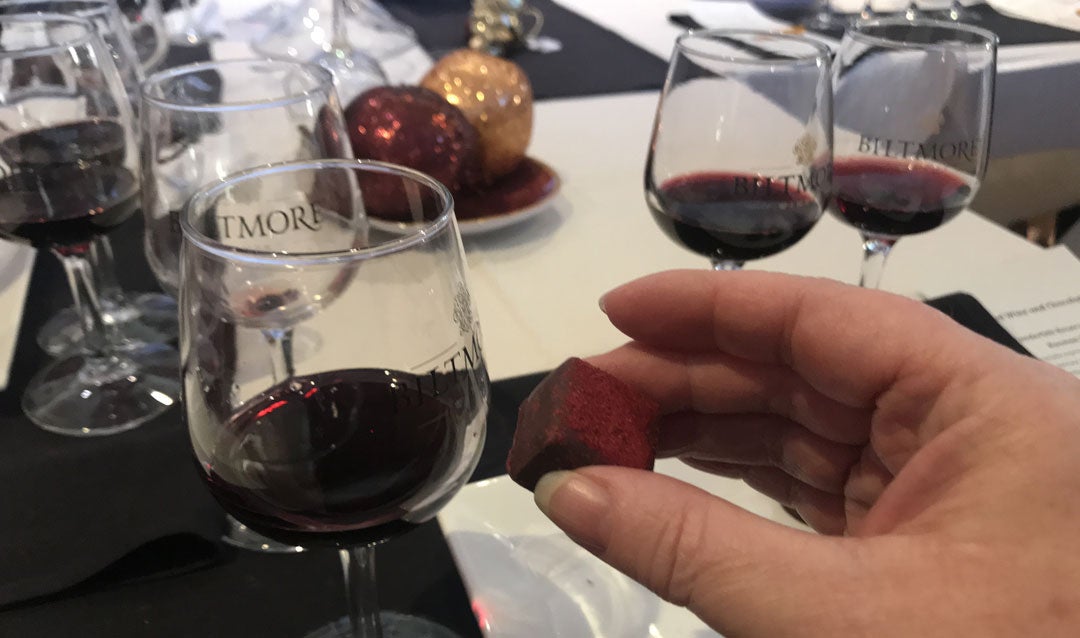 The tasting continues with an amazing pairing of our Antler Hill Zinfandel Rockpile 2017 and a dark chocolate raspberry truffle, followed by The Hunt Red Blend Sonoma County 2017 partnered with two different truffles. The first features slightly savory hints of grapefruit, olive oil, and fennel; the second is a classic dark chocolate and coffee flavored with locally roasted Pennycup Coffee.
Our Biltmore Reserve Cabernet Franc North Carolina rounds out the tasting and is paired with a dark chocolate caramel. There's also a classic hazelnut truffle that works well with several of the wines, so be sure to save a sip or two in each glass!
Discover the delights of red wine and chocolate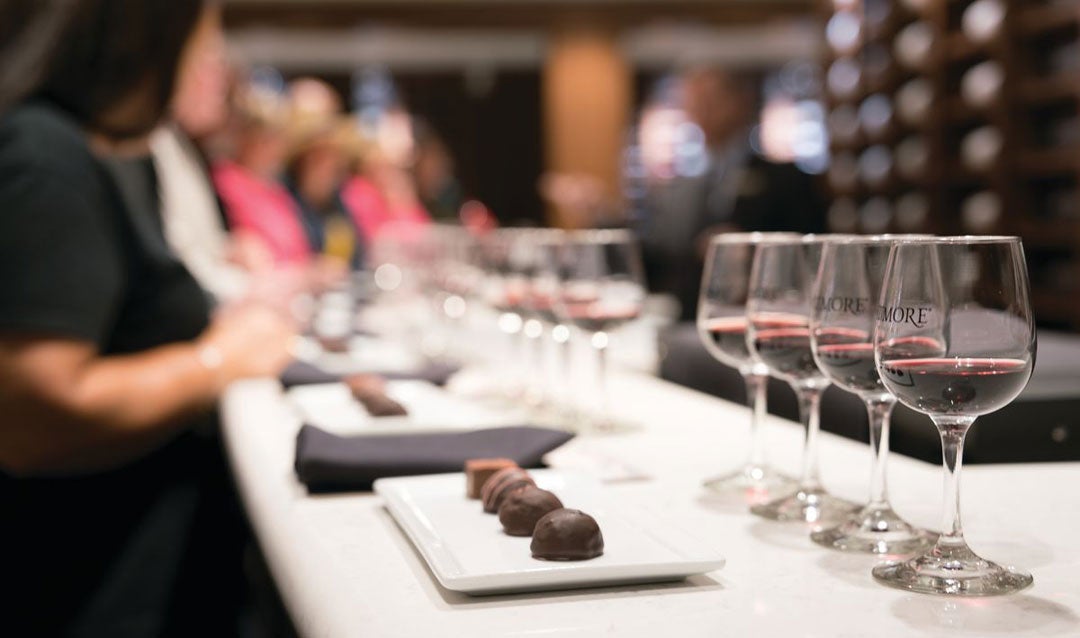 Our Red Wine and Chocolate Tasting is offered daily at the Winery at 1 p.m., 3 p.m., and 5 p.m. for $55 per person. Capacity is limited to 10 guests per tasting. To reserve your spot, call 1-800-211-9803 or visit any Guest Services location on the estate.