BACK TO BLOG
Romance Sparkles at Biltmore
Written By Jean Sexton
Posted 12/02/19
Updated 08/04/23
Our Wines
In addition to being America's Largest Home®, Biltmore also features a state-of-the-art working winery.
There are other distinctions that set Biltmore's Winery apart, such as the fact that our winemaker crafts both still and sparkling wines here. It's unusual to offer both—most wineries specialize in one or the other—but Biltmore has a long history of doing the unexpected.
Our sparkling legacy
One reason for our sparkling wine program is to honor the legacy of Edith Stuyvesant Vanderbilt's family.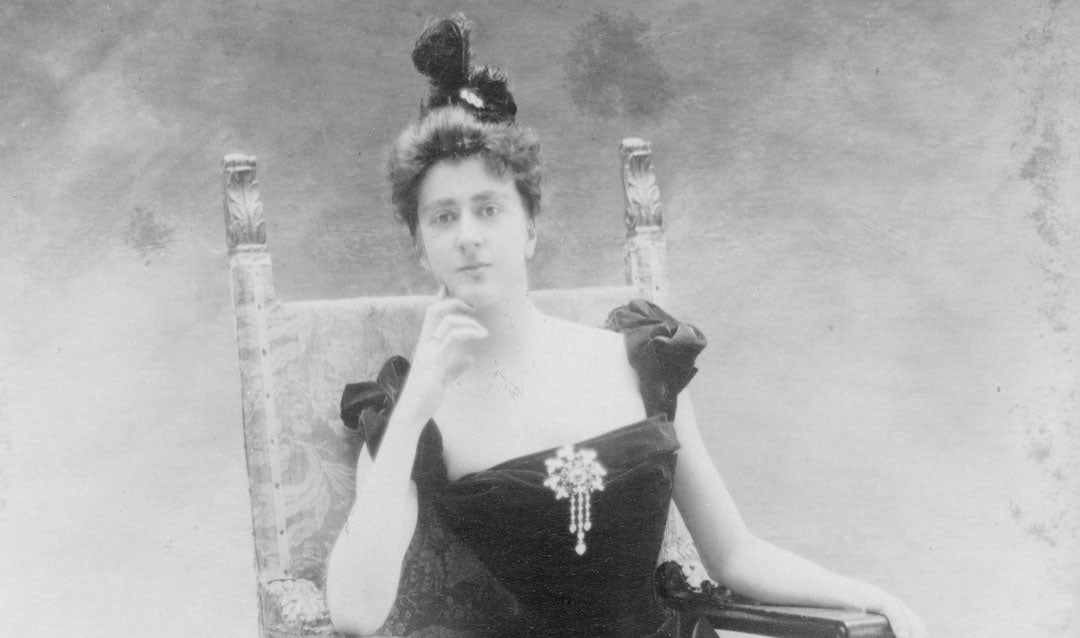 On May 31, 1898, the Asheville Citizen reported the following story in connection with the upcoming marriage of George Vanderbilt and his fiancée Edith Stuyvesant Dresser:
The wine with which the health of the bride is to be drunk at the wedding breakfast of Miss Edith Stuyvesant Dresser and George Vanderbilt Thursday has a history, according to the Washington Post. Many years ago the wine cellar of Daniel Le Roy, one of the pioneer summer residents of Newport, was famous, and large sums were offered for what remained of it when Mr. Le Roy died.
None of this famous wine was ever sold, but as the stock decreased Mrs. Le Roy directed that it should not be used except at the wedding of her grandchildren and their descendants, a certain number of bottles being apportioned to each.
"Once we discovered this story," said Jill Whitfield, senior marketing manager for Biltmore Wines. "We wanted to share the details so that everyone could enjoy it. It continues to inspire us as we create different styles of sparkling wines perfect for all celebrations," Jill said.
Isn't it romantic?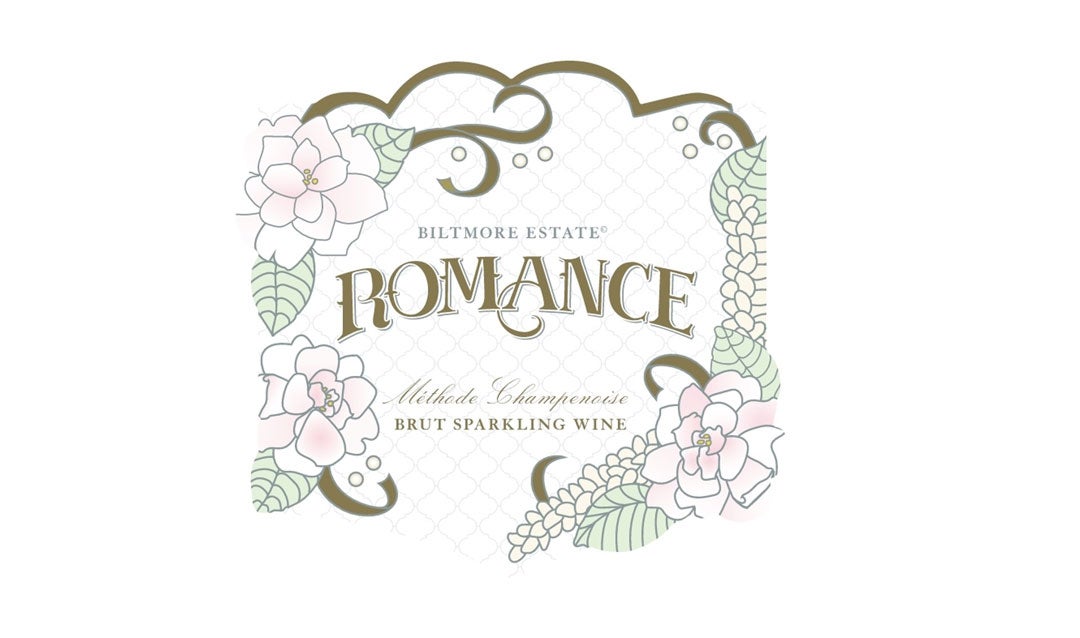 Our Biltmore Estate® Romance Brut honors that charming gesture. Romance is handcrafted from grapes selected from our California vineyard partners, including a hint of Pinot Noir that shows up in its delicate rosy straw color. The soft bouquet offers hints of citrus, apple, and brioche, while fine, tiny bubbles give way to flavors of white peach and a surprisingly creamy mouthfeel. Pair it with your favorite party fare including prosciutto-wrapped melon, chicken salad croissants, brie, and—of course—wedding cake!
In addition to being an exceptional sparkling wine, Romance features a lovely floral label that enhances any special occasion, from bridal showers and receptions to engagements and anniversaries.
Handcrafted in traditional style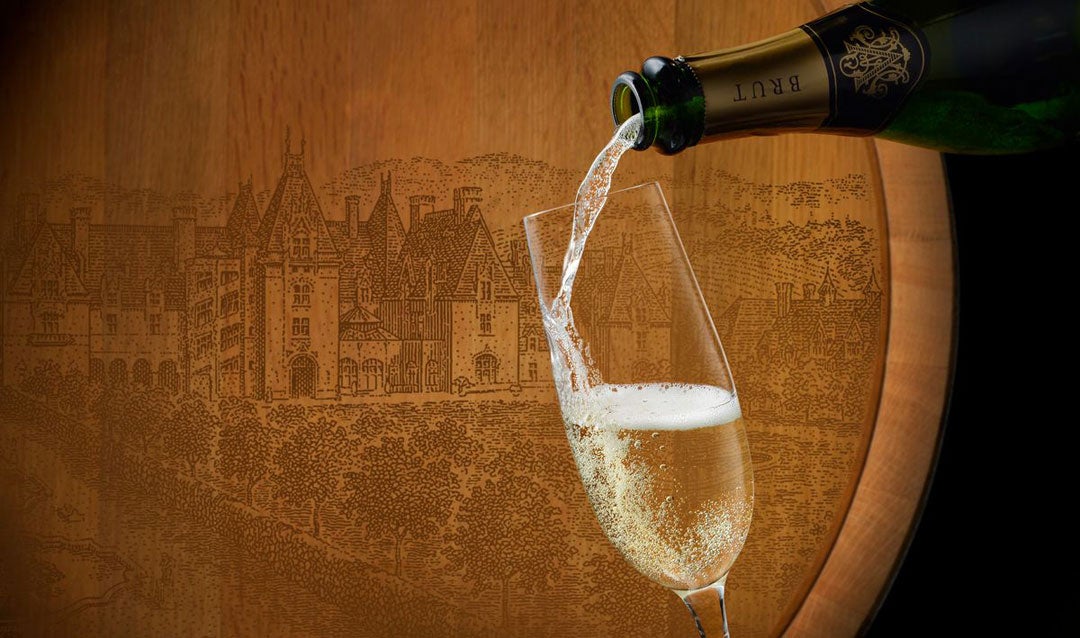 "All our sparkling wines are handcrafted in the traditional méthode champenoise," said Jill. "This process requires a secondary fermentation in the bottle, and is vital for developing the delicate bubbles that characterize outstanding sparkling wines."
Let the party bubble up!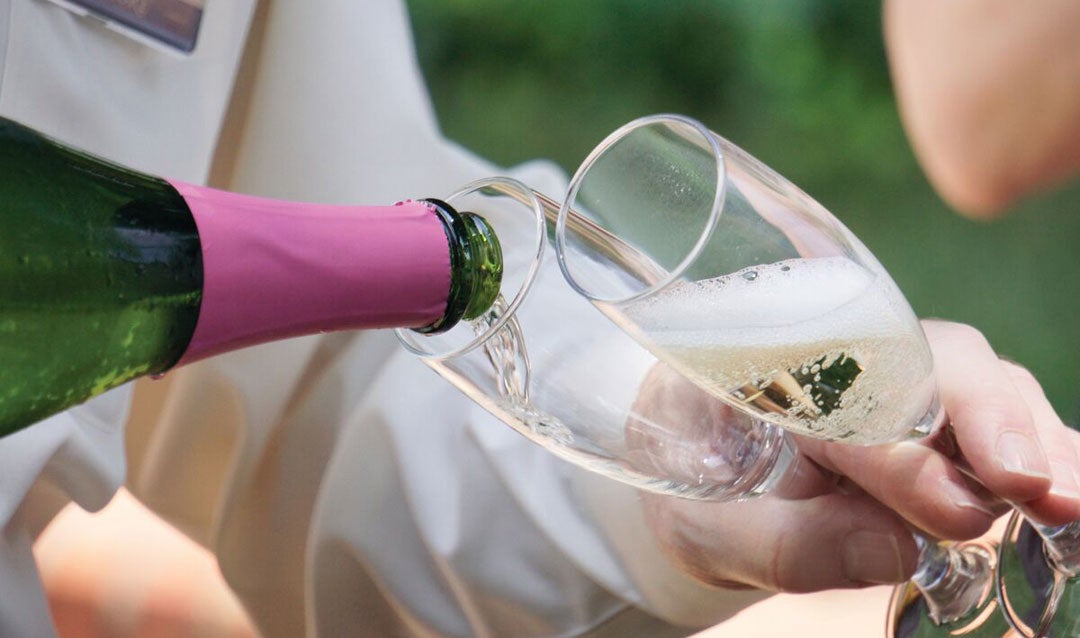 If you're looking for a versatile sparkling wine that pairs well with a surprising variety of foods, opt for our Pas de Deux® Moscato Sparkling Wine. "This semi-sweet sparkler has a slight orange aroma that complements its flavor profiles, plus flavors of wild strawberry and lemon," said Jill.
"Our Pas de Deux is a delightful addition to sweet treats such as fresh fruit, pound cake, and crème brûlée, and it's a perfect partner for spicy cuisines," Jill noted. "And it was recently awarded 90 points by Beverage Testing Institute!"
More great ratings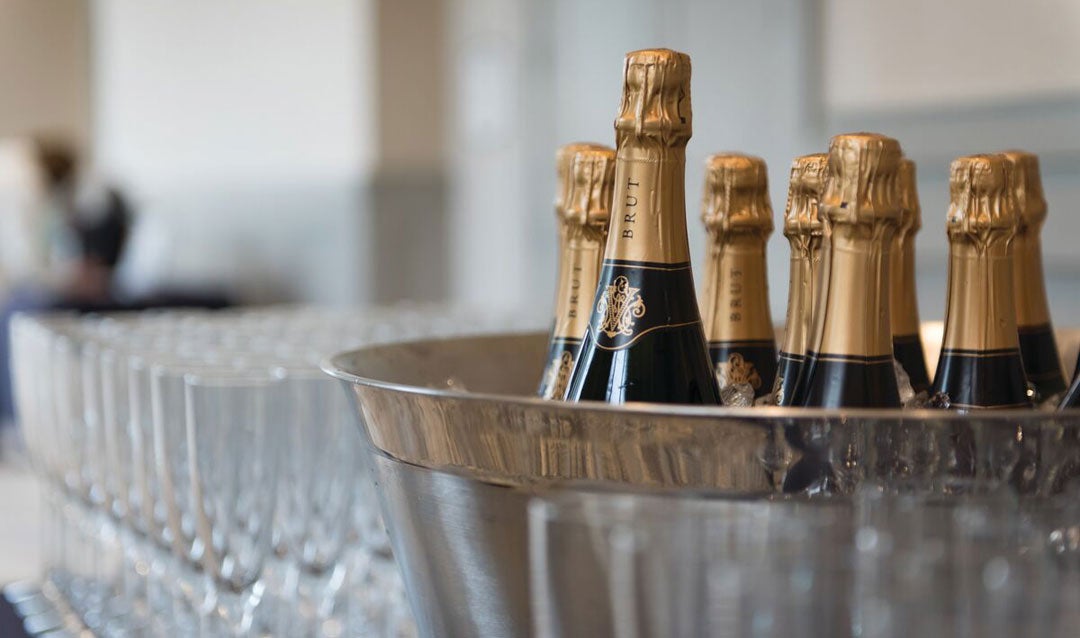 Our Biltmore Estate® Brut recently earned 90 Points + Editor's Choice from Wine Enthusiast, making it another excellent choice for celebrations or any occasion that calls for bubbly.
"It's a refreshing blend of Chardonnay and Pinot Noir ," Jill said, "and it offers a good balance of citrus and strawberries with hints of honey and apricot."
Our finest sparkling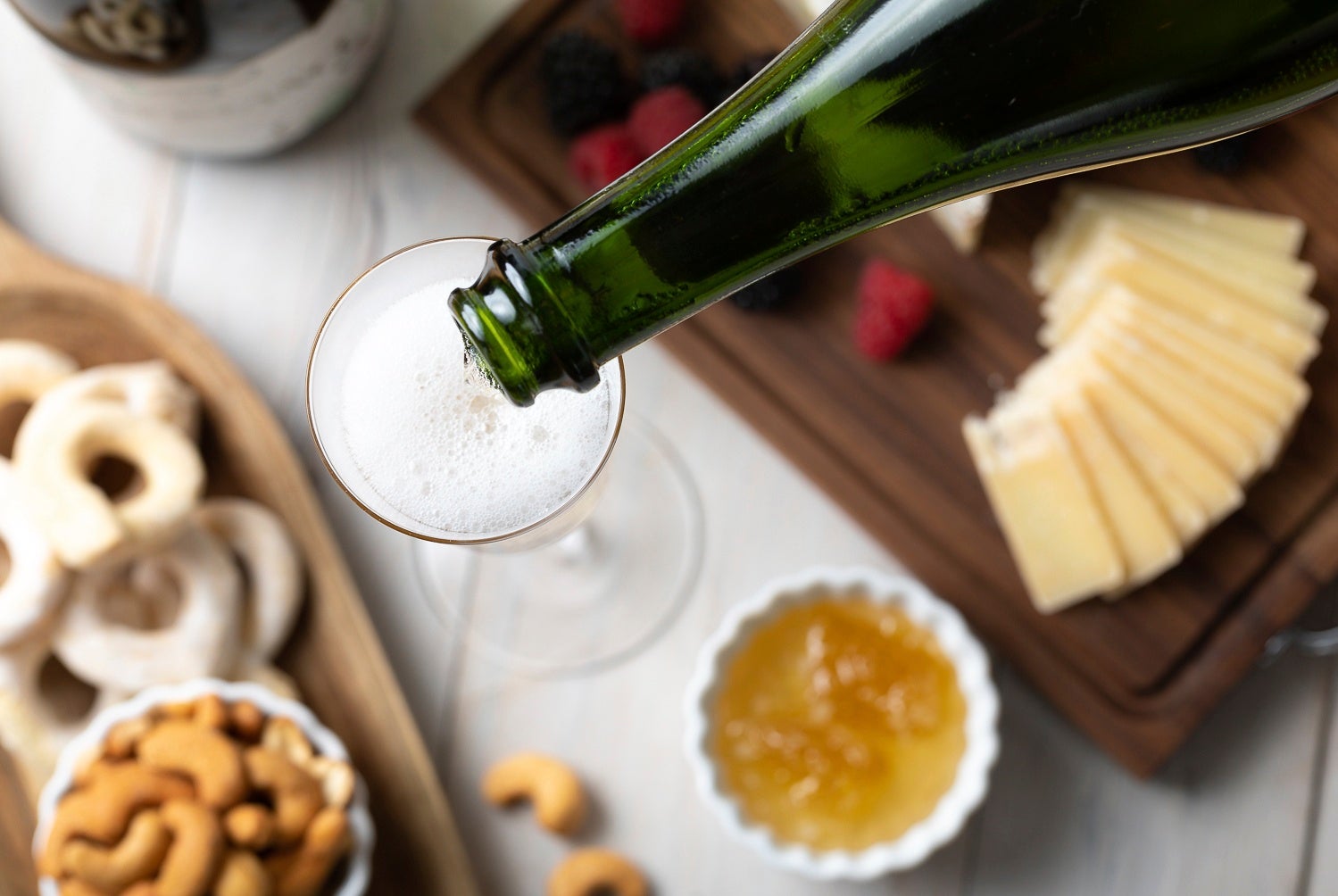 For a truly elegant gesture, Jill suggests serving our Biltmore Estate® Château Reserve Blanc de Blancs.
"This is our finest sparkling wine," Jill said. "It is crafted from North Carolina Chardonnay grapes and features tiny, elegant bubbles that burst to release tropical and citrus flavors. If you want to make an impression on someone special, this is the wine to choose."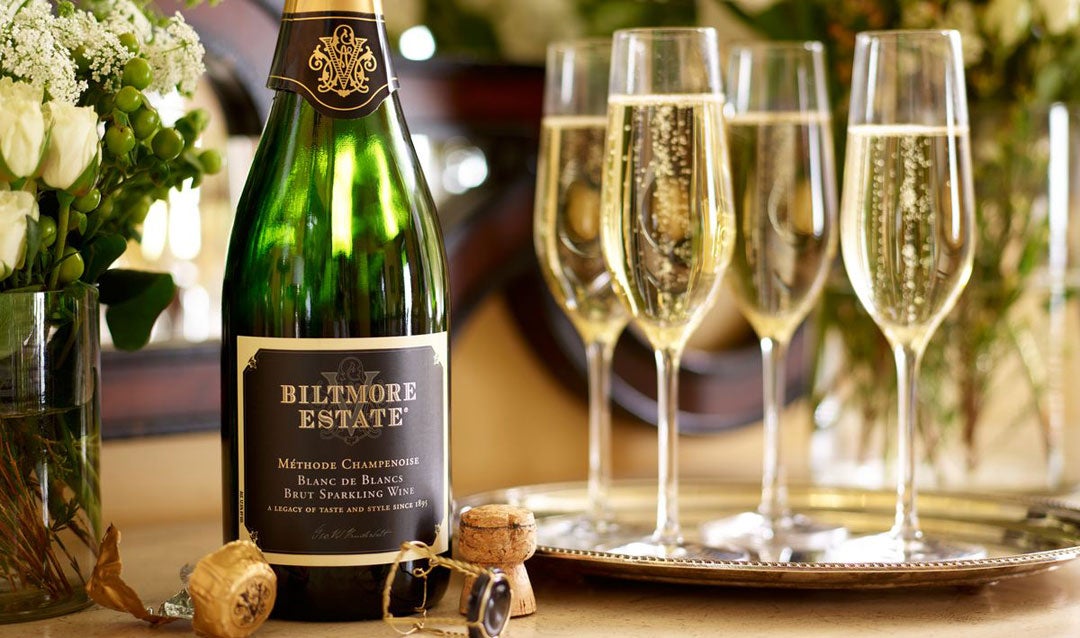 No matter what you're serving or celebrating, pair your good times with Biltmore wines!