When you're home for the holidays, hosting a virtual wine tasting is a great way to connect with family and friends whether they live around the corner or around the world.
Hosting a virtual wine tasting
Jeff Plack, Senior Director of Wine Production Operations, has created a helpful holiday how-to video for hosting a virtual wine tasting at home with our Virtual Wine Tasting Set.
"You don't have to be a serious connoisseur to host a tasting," Jeff said. "Just gather everyone together around their computers, phones, and tablets and start sharing!"
Planning process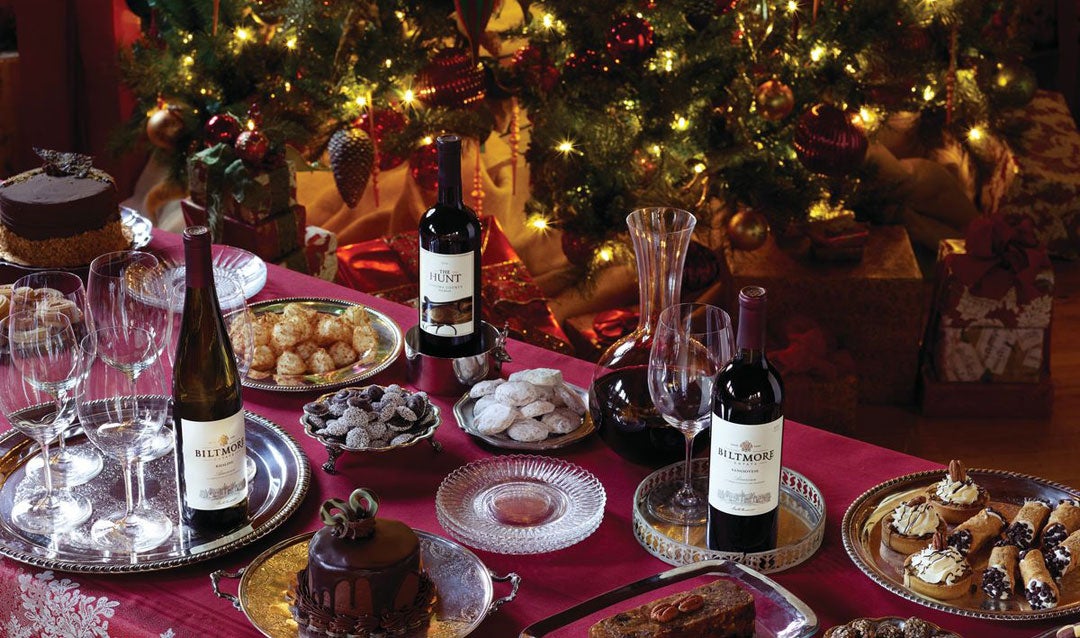 In addition to the video, Jeff also walks you through the planning process below so you'll have a checklist and other helpful tools.
"The simplest tastings usually include at least three wines," said Jeff, "like three whites or three reds."
Virtual Wine Tasting Tip: Send an invitation to join the online tasting ahead of time, and be sure to include the wine list and any other essentials your online guests will need to purchase or have on hand, including the following items:
Wines for tasting
Corkscrew
Glasses
White napkins (to help observe wine color)
Container for emptying leftover wine
Water and plain crackers for palate cleansing between tastes
Pen and paper for notes
Print-at-home wine tasting placemats (optional)
Choose a theme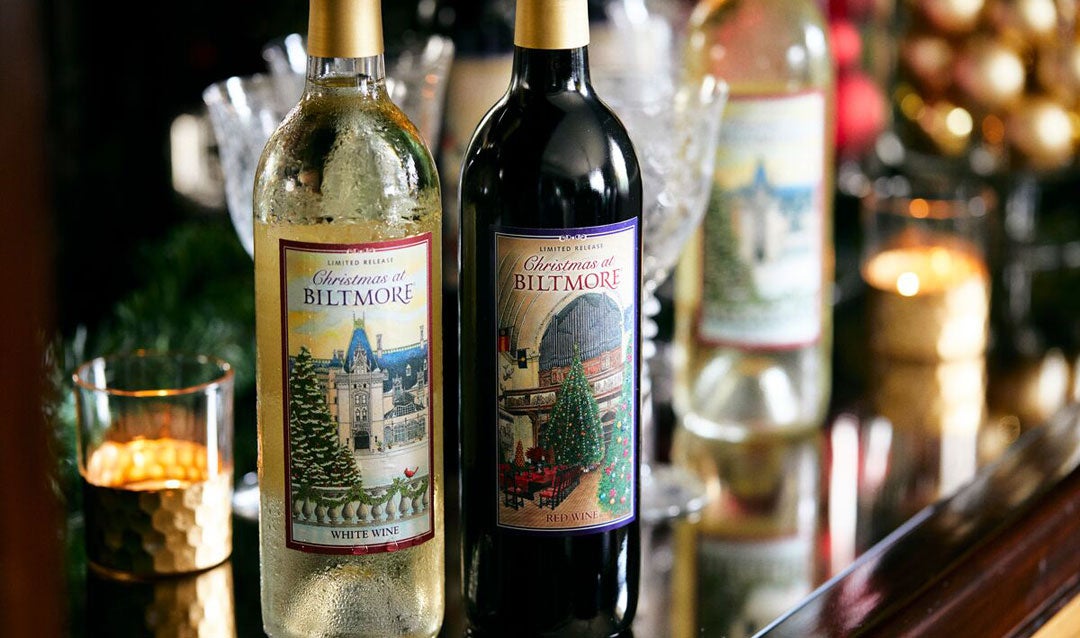 "For white wines, consider light and fruity options such as Biltmore Estate® Pinot Grigio and Biltmore Estate® Riesling. Or try a mix of our sparkling wines—we handcraft several different styles from lightly sweet to bone dry," Jeff said.
For a red wine flight, he suggests choosing bold reds like Biltmore Estate® Cabernet Sauvignon or unique blends including Biltmore Estate® Cardinal's Crest and Biltmore® Century Sweet Red Wine.

Virtual Wine Tasting Tip: For best results, begin the tasting with the lightest wine and end with the most robust one.
Bundle the joy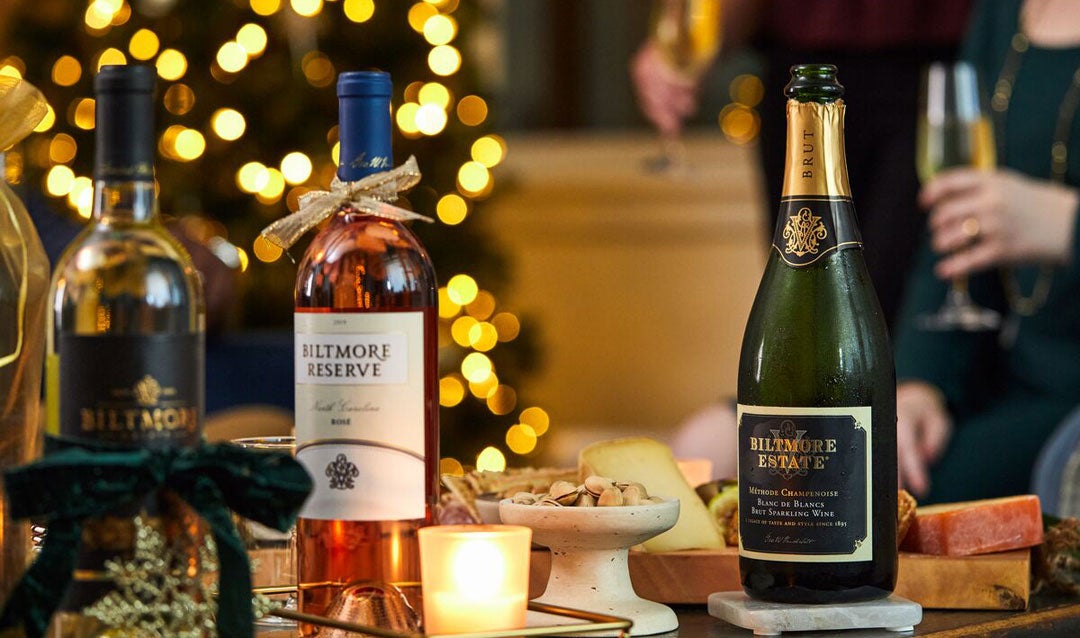 If you prefer a holiday theme for your tasting, check out our special offerings that help you pour on the cheer and bundle the savings:
Virtual Wine Tasting Tip: No one wants to be left out of the fun, so we suggest Biltmore Sparkling Red Grape Juice for younger guests or those who prefer a non-alcoholic option.
Sense and savor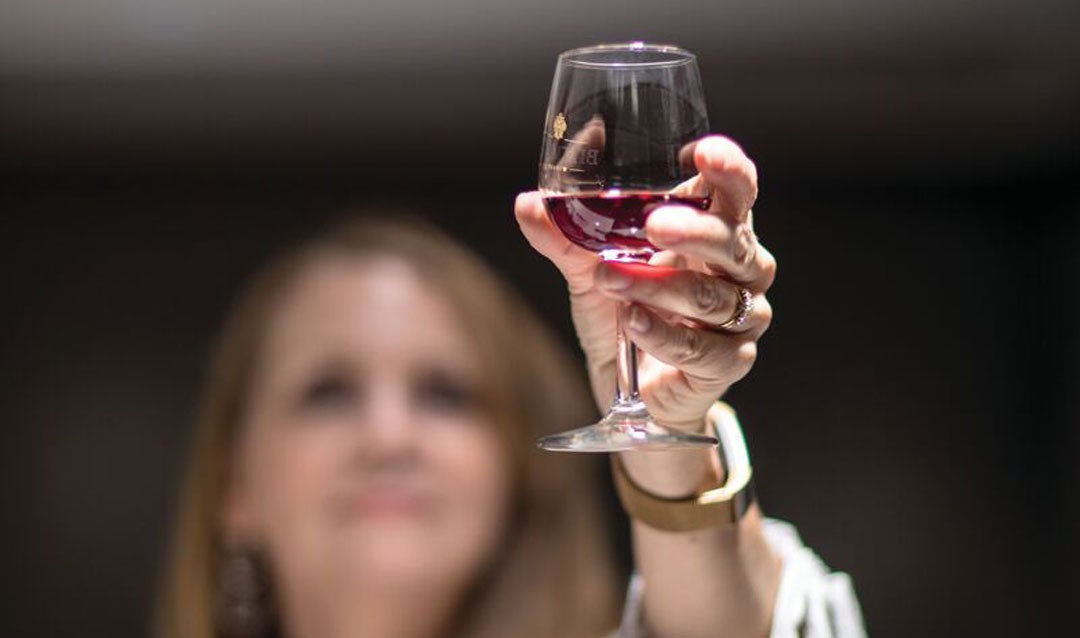 "Before tasting a wine, have everyone hold it in front of a white napkin or tablecloth to observe its color," Jeff said.
"Next, place the rim of the glass to your nose, inhaling deeply to smell the wine's aroma. After you've fully experienced the scent, take a sip and keep it in your mouth for a few seconds so that it comes into contact with all your taste buds," said Jeff.
Virtual Wine Tasting Tip: After savoring the wine by sight, smell, and taste, remind everyone to note their observations about what makes it unique and what they like about it.
Add ambience to your virtual wine tasting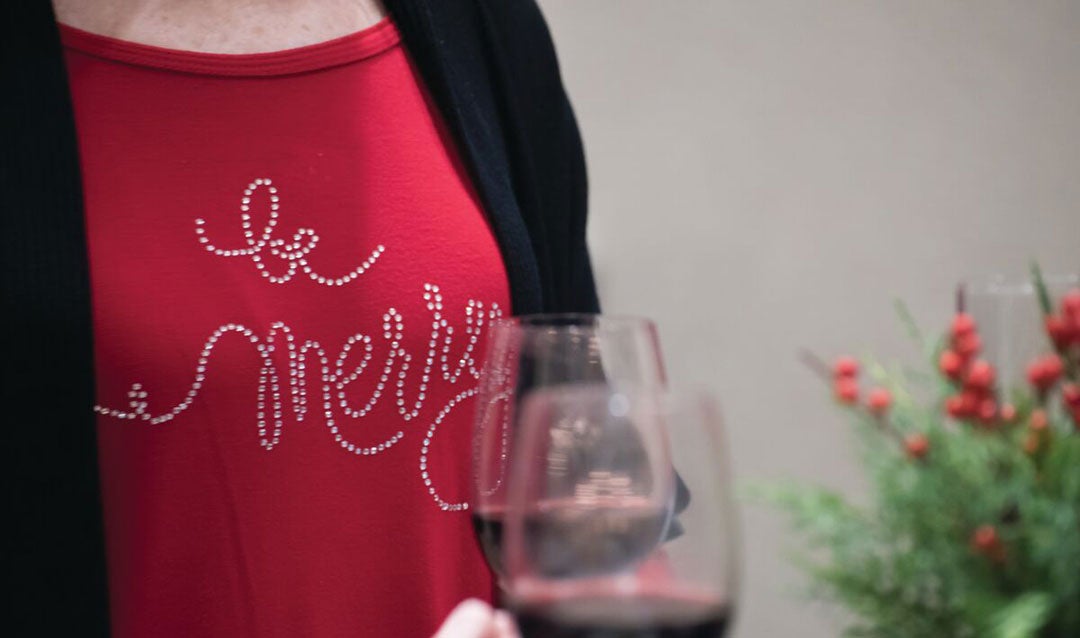 "As the host of the virtual wine tasting, you'll want to keep to keep things moving as you guide guests through the process," noted Jeff.
According to Jeff, you can help set a merry mood with a customized playlist of favorites like this one we created especially for holiday entertaining.
"After the virtual wine tasting ends, share it with everyone to remind them of the occasion," advised Jeff.
Pour on the cheer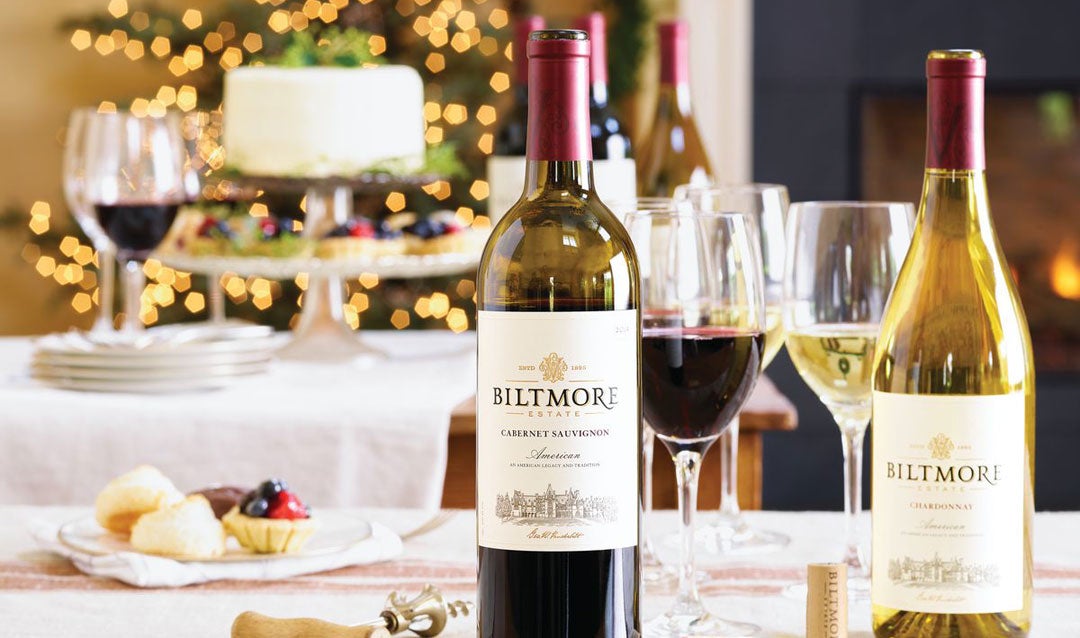 To enhance the experience further, consider combining your virtual wine tasting event with another holiday tradition such as your family's annual tree raising, Friendsgiving, or your neighborhood cookie swap. The possibilities are endless!
2021 Holiday Wine Guide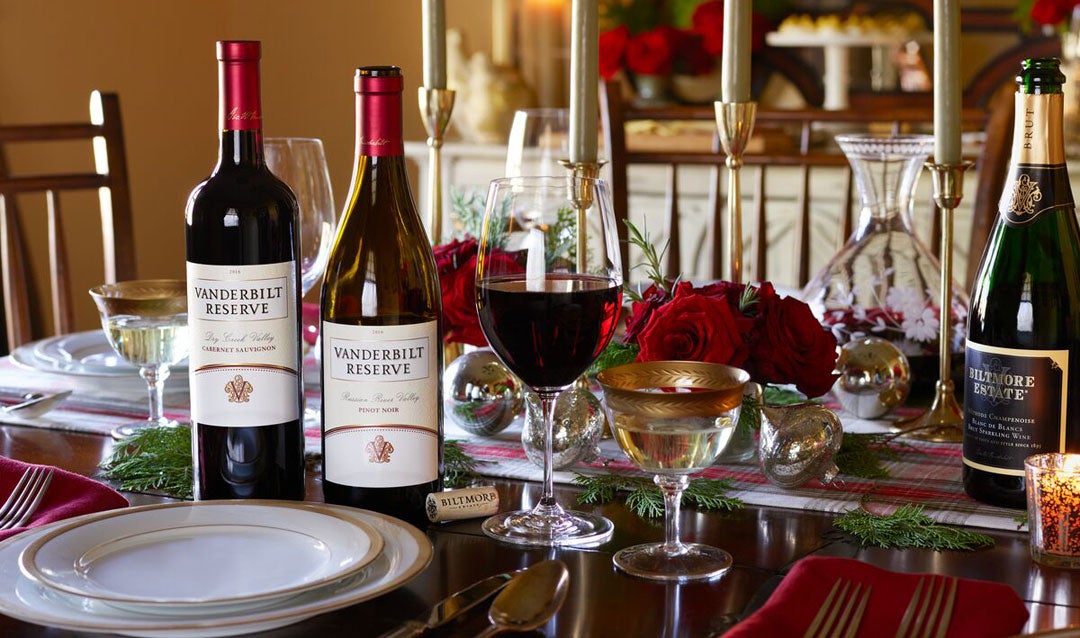 Whether you're hosting a party in person, traveling to visit family, or hosting a virtual wine tasting event, let Biltmore help you discover specially curated wine bundles, chef-inspired food pairings, and custom holiday playlists, plus tips, crafts, and videos that bring it all together.
In addition, you'll find all our award-winning Biltmore wines on the estate, online, and close to home with the help of our Retail Locator.